Panattoni builds and leases
Trends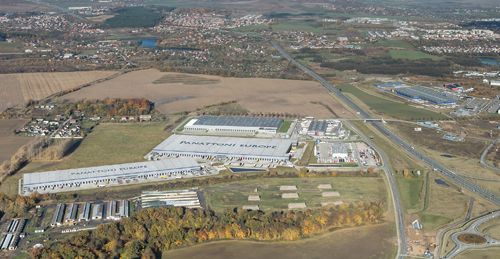 Panattoni Park Tricity South II should be completed by August
POLAND Panattoni Europe has sold five logistics parks with a combined 280,000 sqm to an undisclosed Asian investor represented by Savills Investment Management. The parks include Panattoni Park Poznan IV (86,500 sqm), Panattoni Park Szczecin II (70,000 sqm), Panattoni Park Warsaw North (54,000 sqm), Panattoni Park Warsaw South (38,000 sqm) and Panattoni Park Ruda Śląska I (33,500 sqm).
Following the transaction, Panattoni will stay on as the facility manager at all the properties in the portfolio. Panattoni has had no shortage of new tenants. Convenience store chain Żabka has leased a total of 13,500 sqm in two locations: Panattoni Park Poznań IV and City Logistics Łódź II. In June the chain will take up 9,338 sqm in Poznań and in September it will take up 4,179 sqm in Łódź. The two leases include cold storage facilities, warehousing and office space. "When developing the best possible centre, it is great to have a tenant with an open mind, who values our experience and is happy to rely on it. It has been our joint effort to build up a reliable business where we have paid specific attention to the supply chain, which began with the development of technologically advanced warehouse facilities," says Katarzyna Kujawiak, the development director from Panattoni. Panattoni Park Poznań IV is in the village of Komorniki between the A2 motorway junctions of Komorniki and Poznań Zachód. City Logistics Łódź II is just 5 km from the centre of the city and 4 km from the Łódź Wschód junction on the A1 motorway.
Rossmann takes more space
Drugstore chain Rossmann has leased 3,600 sqm of warehouse and office space in Panattoni's Warsaw South Janki logistics park near Warsaw. Rossmann already has a central distribution hub in Łódź and two regional distribution centres in Grudziądz and Pyskowice. The company will occupy 3,480 sqm of warehouse space with cross-docking facilities as well as 120 sqm of office space. Panattoni Park Warsaw South Janki is a warehouse park with a total area of over 70,500 sqm. It consists of two modern warehouse buildings at the Janki junction of the S8 express road, which connects the S2 express road with national road No. 7 that runs towards Kraków and Slovakia. Panattoni has also been busy with its development activities and has completed the first building in its Panattoni Park Żory complex 40 km south of Katowice. The 36,500 sqm hall is the only modern warehouse space in the Żory region and almost half of the space has already been leased. Cargo-Partner Spedycja signed a lease of almost 7,000 sqm in March last year while Piast Cargo is to occupy 2,700 sqm. An undisclosed company from the food industry has also taken up 5,500 sqm of space. Panattoni Park Żory will eventually comprise two warehouses with almost 84,000 sqm gla. Work is also starting on Panattoni Park Tricity South II. The first 25,000 sqm out of the 70,000 sqm planned in the two building park will be delivered in August 2020.
Orbico comes to Teresin
Panattoni is to build a BTS distribution centre for FMCG distributor Orbico of 25,000 sqm in Teresin near Warsaw. Orbico will also have the option to increase the size of its lease by a further 25,000 sqm. The new building is to be delivered in February 2021. Panattoni is soon to launch construction work on Panattoni Park Tricity South II. The first 25,000 sqm out of the 70,000 sqm planned in the two building park will be delivered in August 2020. On completion the Centre is to be BREEAM certified. Additionally the developer is about to start the development of the third and the fourth building of the City Logistics Wrocław I complex in Lower Silesia with the opening scheduled for mid 2020. The warehouses are to have 11,300 sqm and 10,900 sqm gla. City Logistics Wrocław I will eventually comprise six warehousing and manufacturing halls totalling around 99,000 sqm. Two buildings are to be built in the first stage, totalling 36,700 sqm and both buildings are already fully leased. Panattoni is about to start the construction of the Panattoni Park Konotopa III complex west of Warsaw. The project is to include two buildings of 20,575 sqm and 37,558 sqm. Work on the first phase should begin by the end of February and is to be completed this September. "One particular advantage of the park is its location: on the outskirts of Warsaw, just 13 km from its inner centre and 20 km from the city's Chopin Airport, and in the immediate area of the Konotopa junction. This is where the A2 motorway becomes the Warsaw ringroad," explained Marek Dobrzycki, the managing director of Panattoni Europe.