POLAND

Polish warehouses in record-breaking form in H1

Warehouse & industrial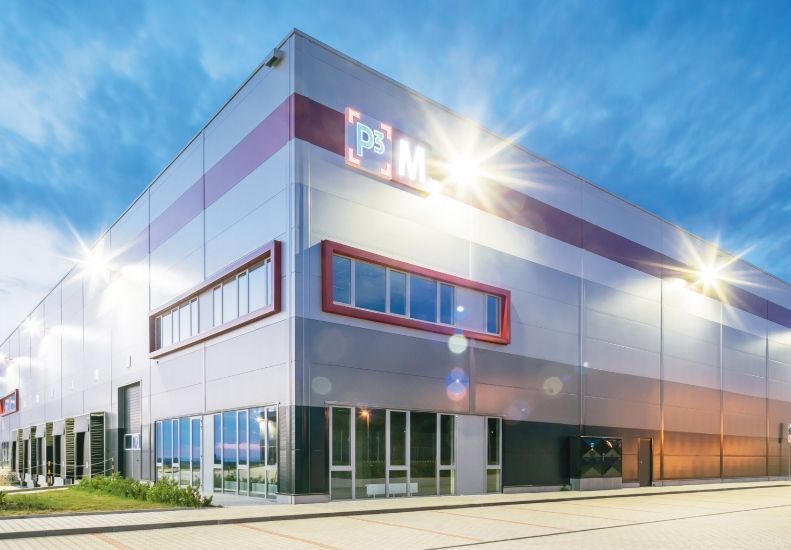 The sale of P3 Mszczonów to Elite Capital Partners was the largest investment transaction of H1
1 / 1
The Polish warehouse market maintained its robust momentum with a record 2.38 mln sqm leased on the Polish warehouse market in H1, according to Axi Immo's 'Polish Warehouse Market in H1 2020' report.
The gross demand was also 25 pct up on H1 2019. Warsaw led the way with 602,400 sqm leased, followed by Upper Silesia and Central Poland (396,000 sqm each) and Poznań (257,000 sqm). Gross take-up in Q2 2020, despite the lockdown measures coming into force, was as much as 50 pct higher than the same period in 2019, reaching 1.36 mln sqm. According to the agency, this was due to the boom in e-commerce trade and the several BTS transactions that were finalised in H1. Short term leases for 326,000 sqm were signed during H1 – the highest level on record. New contracts and expansions made up 73 pct of overall take-up, with the most active sectors being logistics (25.5 pct), electronics (18 pct), retail (14.5 pct), e-commerce (14.4 pct) and production (7.5 pct).
The largest leasing transaction of H1 was signed by an undisclosed e-commerce occupier at Panattoni BTS Świebodzin for over 200,000 sqm. Other notable deals included a 73,400 sqm lease by Euro Net at Prologis Park Janki, a new contract for 72,900 sqm signed by Amazon at Hillwood Łódź Górna, a lease by a clothing producer for 67,000 sqm at Panattoni Park Czeladź IV as well as a new 51,900 sqm lease by a confidential tenant at Exeter Park Stryków.
Tenant activity was very high in Q2 2020 due to the high number of BTS transactions that began earlier in the year and also due to exceptionally high demand for space used for e-commerce. Additionally, a record amount of space was leased on a short term basis – for under 2 years – between April and June. A total of 262,000 sqm was subject to temporary leasing agreements. Some tenants decided to fulfil expansion plans partly through temporary leasing contracts, in anticipation of market conditions normalising after the end of the Covid-19 lockdown period.
Anna Głowacz, the head of the industrial and logistics agency at Axi Immo
The volume of logistics investment transactions concluded in H1 came to almost EUR 1.2 bln and accounted for almost 40 pct of total investment in Polish commercial real estate. Among the largest deals were the sale of Mszczonów Park (158,000 sqm) by P3 to Elite Partners Capital, as well as the purchase of the Logistic City Piotrków (135,000 sqm) by Polish Logistics LLP, an investment platform established by Reino Capital, IO AM and Grosvenor Group. Yields on Polish big box assets are currently at the level of 6.25 pct, while prime logistics assets within Warsaw's city limits are selling at yields of 5.5 pct. Yields remained unchanged in the first six months of the year due to the stable nature of the sector, the robust occupier fundamentals and the high investor demand.
Although the real estate investment market in Poland is facing challenges into the near future, recent transactions give us grounds for optimism. Indeed, H1 2020 saw record investment volumes of around EUR 1.2 bln. In the next few quarters we are likely to experience further diversion of capital from the retail and office sectors to the warehouse sector. But the availability of prime product on the market will remain a challenge.
Renata Osiecka, the managing partner of Axi Immo
A total of 1.1m sqm of industrial space was completed by developers in H1 (up 9.6 pct on H1 2019), bringing the total warehouse stock in Poland up to almost 19.5m sqm. The highest level of completions was recorded in Warsaw (over 325,000 sqm), followed by Lower Silesia (200,000 sqm) and Upper Silesia (192,000 sqm). The three the largest new completions of H1 2020 were Panattoni's A2 Warsaw Park (103,670 sqm), P3's PepsiCo BTS in Mszczonów (58,500 sqm) and Hillwood's Wrocław East II (52,400 sqm). In terms of the pipeline, 1.77 mln sqm was under construction as at the end of June (-24 pct y-o-y). The largest amount of this is in Warsaw and Lower and Upper Silesia.
Rents remained unchanged in most markets in H1 2020. Average monthly headline rents for big box facilities ranged between EUR 3.20 and EUR 3.60 per sqm, while Warsaw-city remains the most expensive logistics location in the country (starting from EUR 4.8). Effective rents have decreased slightly during H1, mainly in regions with high vacancy and strong competition between developers. The lowest effective rents are still available on the outskirts of Poznań and Warsaw (Błonie and Grodzisk Mazowiecki).
We expect that total warehouse stock in Poland will exceed 20 mln sqm by the end of the year, but the number of speculative projects will be limited due to caution on the part of developers. The spotlight will be on the quality and financial stability of the occupier. Further declines in the amount of space available immediately should be expected. On the demand side, logistics firms and e-commerce players are likely to remain the most important sources of activity. Some occupiers will be concerned about the re-introduction of lockdown measures and may pre-emptively increase stockpiling to mitigate potential supply chain disruptions and delays in production.
Renata Osiecka