Flex office stock grows not only in large cities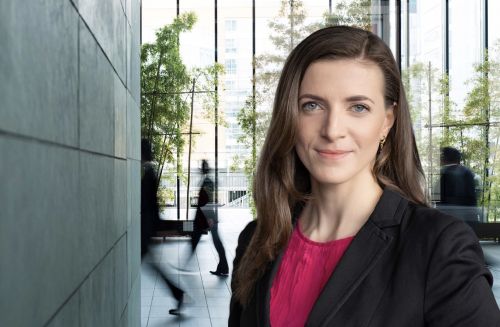 Flexible workspaces are going like hotcakes. Companies are enquiring about them in all large cities, but not only there. Serviced offices are also in demand in smaller towns, says Joanna Bartoszewicz, Senior Advisor, Office Tenant Representation, Newmark Polska.
Serviced and coworking offices have long ceased to be reserved only for start-ups, freelancers and small family-owned businesses. The pandemic, the war in Ukraine and worsening economic indicators have fuelled the popularity of flex offices among large and medium-sized enterprises. As a result, Poland's flexible office stock has been growing steadily and has recently surpassed 320,000 sqm. Such space is available in modern office buildings as well as in tenement buildings, banks, shopping centres and private homes.
Flexibility in demand
"Due to economic uncertainty, tenants are taking a cautious attitude to long-term commitments. It is quite difficult to make plans looking several years ahead and in particular to estimate the amount of office space that will be needed in the future. Flexible workspaces are the answer to this market dynamic. During traditional leasing processes clients very often ask whether a building also has serviced offices so that they can expand if necessary, work on short-term projects or hold a larger event or meeting," comments Joanna Bartoszewicz.
Demand is huge and most coworking and serviced offices boast occupancy rates of around 90 pct or higher. The largest providers continue to grow their portfolios and, according to the expert from Newmark Polska, new space delivered to this market is going like hotcakes. "Around 70-80 pct of such office space is leased before it is officially launched. Flexibility is in demand; this has also been noticed by investment funds and developers who are increasingly offering ready-to-occupy offices in their buildings for six, nine or 12 months. However, they come without service packages typical of flexible offices," says Joanna Bartoszewicz.
The office is where you are
The fastest growth in flexible workspaces is in Warsaw, Kraków and Wrocław. There is naturally strong demand for such space in city centres and in modern buildings, and in Warsaw – close to metro stations. However, according to Newmark Polska advisors, this trend has very quickly spread from top destinations to small and medium-sized towns.
"Social consequences of the pandemic have been an important driver of this market. During lockdowns many families decided to leave large cities to enjoy the peace and quiet and their own garden. At the same time, young people began to return to their family homes. Such migrations have always been one-way journeys, but with the massive adoption of online working most migrants did not have to leave their jobs this time. Numerous studies show that not everyone is able to work from home. The difficulty of separating family life from work life, working in a tracksuit and the lack of contact with other people have taken a heavy toll on many – they are potential users of serviced and coworking offices," says Joanna Bartoszewicz.
The adoption of online working practices has also enabled employers to tap into larger talent pools. However, they want the option of in-office working to be available also to employees living in smaller towns. For large corporations it is an important element of building a corporate community and culture. This is why companies are looking for flexible workspaces in Szczecin, Białystok, Bydgoszcz and Lublin, and in smaller towns of large conurbations such as Piaseczno, Pruszków and Grodzisk. Flexible offices very often grow to become regional offices or branches.
Typical flexible offices in smaller cities are sized between 800 and 1,000 sqm to meet local requirements. By comparison, large cities offer units with an area of several thousand square metres, sometimes spread over more than just one floor.
A different energy and scope of services
The flexible office sector is growing at pace in terms of both quantity and quality. Every flex provider is looking for the right niche and competitive differentials as regards proposed forms of cooperation, office appearance and services. Some emphasize their focus on user integration, fostering creativity, experience and opinion sharing, and arrange a variety of events such as motivational lectures or theme meetings, for example world cuisine days. Every office has a different energy.
"Tenants pay for workspaces in coworking and serviced offices, but services may vary significantly from provider to provider. For example, some providers may impose a number of limits and surcharges on the use of meeting rooms. Comparing several offers is difficult. This is why our advisors keep a finger on the pulse of what is happening on the market – they know various concepts of flexible workspaces and are able to match the right space to a tenant's needs and to assist in negotiating lease terms," says Joanna Bartoszewicz, Newmark Polska.
Costs and convenience
Flexible coworking spaces have been very popular until recently. Tenants still expect flexibility but are increasingly enquiring about workspaces in private offices. The average desk membership cost in serviced offices is 150-200 pct higher than in the case of traditional leasing. Monthly membership fees start from PLN 1,800 in Warsaw and PLN 1,400 in regional cities, and depend on the location and standard of a building and the exposure of an office.
"A cost analysis should look at what exactly the tenant gets in return. A membership fee in a serviced office will get the client a furnished high quality workspace very quickly, often on the next day. Amenities available to employees will include an equipped kitchen, a reception desk, a printing room, meeting rooms and telephone booths. And the tenant need not worry about internet access, utilities or office cleaning. Not having to see to all that, companies are ready to pay more as they are often able to save on the job of an office manager whom they do not need in a flex office," concludes Joanna Bartoszewicz.