Construction market in Poland to shrink 3-5 pct in 2020
Construction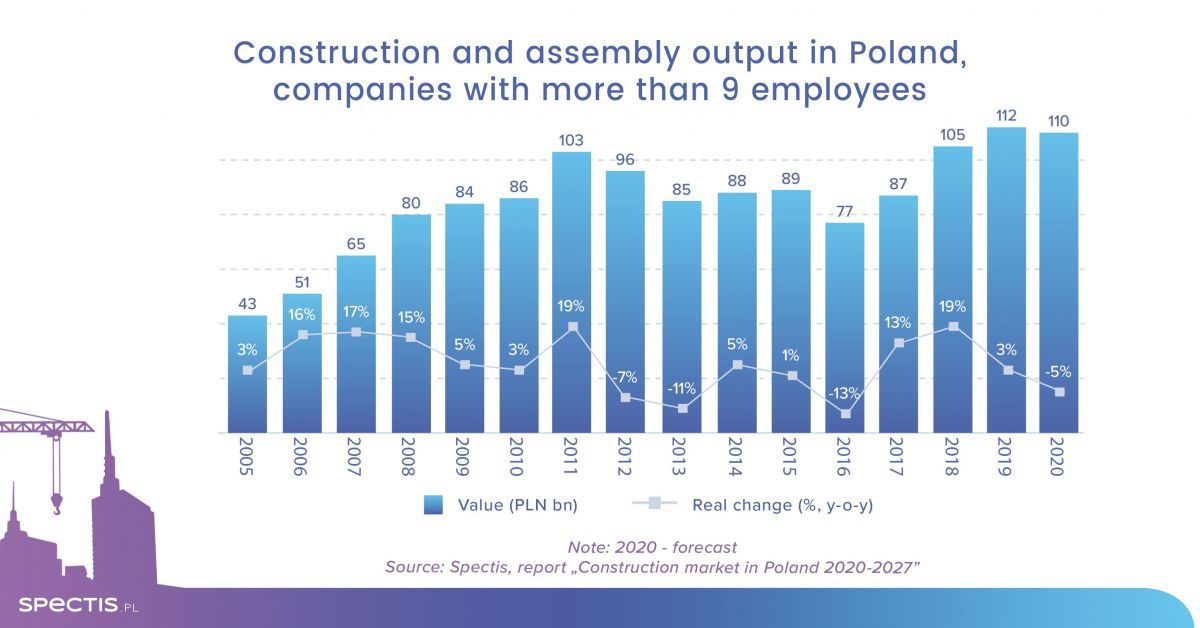 1 / 1
The Polish economy has already passed the low point of the short-term economic downturn.
However, the construction industry has not arrived at this point yet since it does not respond immediately to economic shocks. The industry is waiting for the next budgetary cycle of the EU to begin, but no effect will be seen on investment volumes before H2 2021.
Due to the relatively good performance of the construction industry over the first half of the year, market analysts have revised 2020 forecasts upwards. In its 'Construction market in Poland 2020-2027' Spectis forecasts that the real change in the market will be a fall of around 3 pct to 5 pct compared to 5 pct to 6 pct, as forecast last spring.
Unlike 2017-2019, the changes will not be driven by all three segments of the construction market over 2020 and 2021. The slowdown will have the largest impact on private construction. Companies with sizeable exposure to building construction will find it very hard to secure enough orders to fully utilise their capacity.
Out of the three construction segments, the non-residential sector will be hurt the most as a result of the coronavirus. However, the crisis has only propelled and aggravated the trends that were already apparent from the number of building permits issued in 2019 (down by 19 pct). In terms of supply, most non-residential projects that are already underway are progressing smoothly, without undue problems or delays. However, over the coming quarters, some planned projects will be put on hold.
As a result of the government's anti-crisis measures, the crisis is having a less severe impact on the growth of residential construction. Sharper declines in residential construction will also be averted as a result of the substantial contribution of the single-family housing segment, for which the downturn has been less severe than for the construction detached homes. Following a record 2019 with 207,000 apartments delivered, in 2020 the number delivered will again climb around 220,000.
Projects commissioned by GDDKiA and PKP PLK could be a major stabilising factor in the civil engineering construction sector over the next few years, while local authorities are likely to order fewer such projects. This should be partly offset by the government-led Local Government Fund, which has a budget of PLN 12 bln for the 2020-2021 period.
Therefore, public investment will be a major component in stimulating economic growth over 2021-2023, financed through the EU's Recovery and Resilience Facility for 2021-2023 (EUR 57 bln in grants and loans for Poland) and a seven-year EU budget for 2021-2027 under which Poland could receive EUR 67 bln in EU grants. At the same time, projects funded from the EU's 2014-2020 budget will be under development until the end of 2023. A combination of several major funding sources means that the civil engineering sector should keep the construction industry's growth solid over 2022 and 2023.