Rising to the occasion
Feature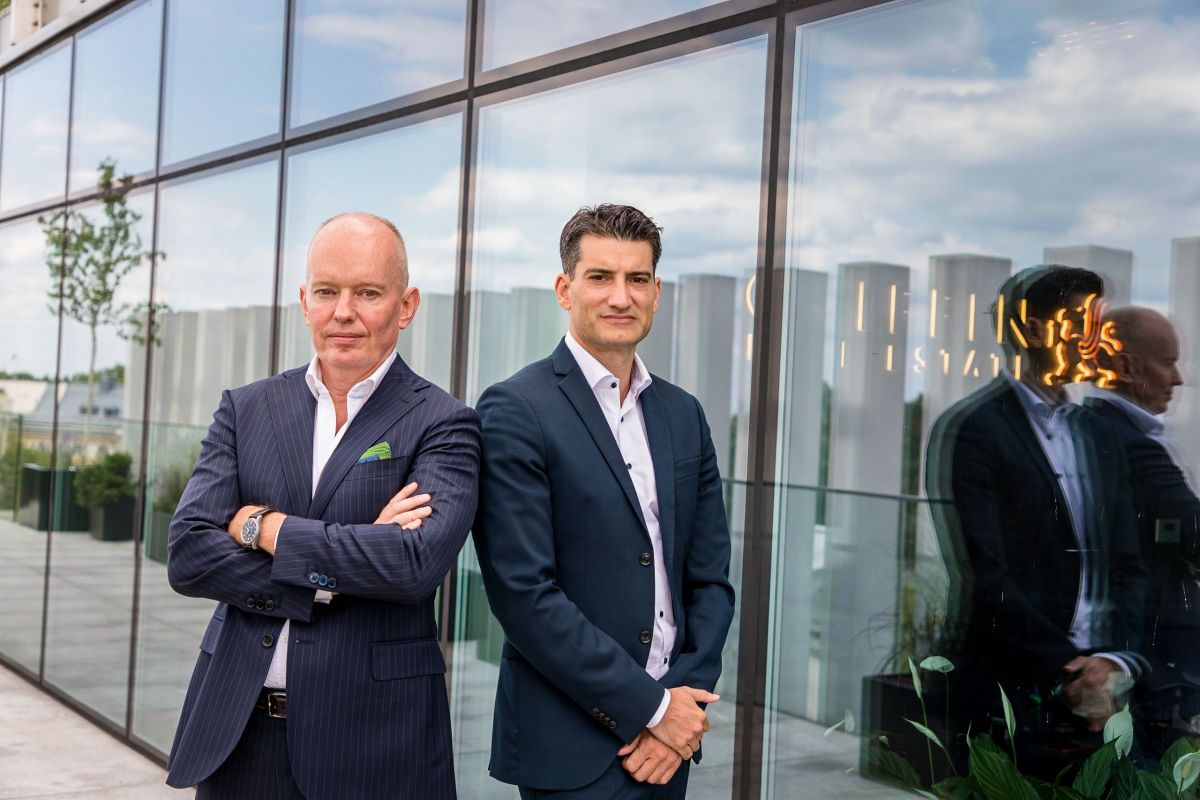 Maciej Dyjas and Nebil Senman of Griffin Real Estate
To gauge the real impact of Covid-19 on Polish real estate, we spoke to a number of market players and analysts about how it was possible to get through the worst of the lockdown, how the landscape has been changed by the pandemic, as well as the prospects for the future
If any of you are still able to remember how things were pre-Covid, you might just recall that at the end of last year a few commentators were warning of an economic downturn that might occur at any moment – and that the real estate market would have to prepare itself for this. What no one predicted back then was that this scenario would actually be brought on by a global pandemic.
And yet, although some Polish real estate sectors have clearly been seriously impacted by this (hopefully) once in a century event, the market has somehow struggled through it and in some cases even thrived. As restrictions have been eased and people return to their offices (or at least some kind of normality), the market has reactivated to a certain extent. Somewhat surprisingly, the H1 2020 real estate investment volume in Poland was one of the highest on record with around EUR 3 bln transacted. This may seem anomalous given the unprecedented nature of the pandemic, but an explanation is given by Paweł Nowakowski, the head of capital markets at Cresa: "Some of the transactions that closed in Q1 started at the end of 2019 and some that closed in Q2 began before the pandemic outbreak. Nevertheless, the investor appetite remains solid and there is a lot of money on the market and investors are quite busy with analysing opportunities in all asset classes. However, the global impact of pandemic, which is still to be estimated, has led to an expectation gap between seller and buyer that should slow down the transaction market in the short to medium term." Tomasz Puch, the head of office and industrial investment at JLL in Poland, is of much the same opinion: "So far H1 2020 was at the level of almost EUR 3 bln. We estimate that the full year 2020 will close with about EUR 5.0–5.5 bln worth of deals, therefore H2 is expected to deliver a result less than H1 2020, but this would still be top three result in history after the spectacular volumes of 2018 and 2019, when EUR 7.2 bln and EUR 7.9 bln were transacted respectively."
One company that is ideally positioned to assess the full impact of the pandemic is private equity firm Griffin Real Estate. Before the lockdown it had been regularly making the headlines for several years, as it expanded its managed investment platforms with a number of high profile acquisitions across the Polish real estate and private equity sector. These have included joint ventures such as with Kajima Corporation in 2019 to invest in its student housing platform Student Depot, with Hungarian investor Wing to buy a 66 pct controlling majority stake in Echo Investment, as well as with Madison International Realty for its logistics platform ELI. These acquisitions of different investment platforms were completed in February this year with the purchase of residential developer Murapol. "Since the pandemic started, everyone has had to step back and see what's new in terms of strategy," admits Griffin Real Estate's managing partner Maciej Dyjas. Fellow managing partner Nebil Senman adds to this: "Our focus pre-Covid was on executing these four transactions between May 2019 and February 2020. This involved taking in EUR 1.5 bln in terms of gross asset value and over EUR 500 mln of invested equity. With the impact of Covid-19 being from March onwards, we then switched our emphasis to the portfolio management of our new platforms. This would have been our plan regardless of Covid – if you acquire companies and assets worth over EUR 1.5 bln this needs active management to execute the underwritten business plans. In the last five years we have invested equity of more than EUR 2 bln and now have ten platforms with a gross asset value of over EUR 5 bln. When we set up and developed these different platforms, we had our base case business plans that had been agreed with our strategic partners and investors. These included downside cases and healthy liquidity contingencies to be prepared for a potential downturn."
Sheds full of roses
While many real estate sectors have suffered due to the pandemic, one that clearly hasn't is logistics, especially due to the boost given to it by e-commerce by the lockdown. This has already been reflected in Poland's H1 investment volumes, with warehousing making up EUR 1 bln compared to EUR 650 mln for offices. "Logistics was a smash in Q1 and will likely have a record Q3 and a moderate Q4, overall making 2020 a record year for investment in the sector," claims Tomasz Puch of JLL, who goes on to add: "Historically the office-to-logistics investment proportion was not more than 70/30. Interestingly enough, if we look at the volumes in the year to date logistics investment has overtaken offices. Having said that, this year office-to-logistics is likely to be 50/50, but this is also due to the lack of large scale core product trading in offices so far. In 2021 the situation could be different though, with a number of large office deals expected to close."
Griffin's own logistics platform, ELI, has been no exception to the recent success of the sector. It was set up with Redefine Properties in 2018 and now has a total leasable area of over 0.5 mln sqm. And despite the latest crisis, it currently has app. 130,000 sqm under construction and a future development pipeline of more than 160,000 sqm with its strategic partner Panattoni. In the next 3–4 years, ELI is planning projects with around 2 mln sqm. But as tenants feel the economic pinch, has this led to strained relations or a slump in leases? According to Nebil Senman: "Our facilities are situated in the most attractive logistics locations in Poland and, despite the pandemic, they keep on attracting new tenants, while the renewals of leases are also being secured. The best confirmation of this is that our standing assets and those under construction are almost 90 pct leased in spite of Covid-19. In H1 2020, ELI was able to secure almost 135,000 sqm of new leases to high quality tenants for 7–15 years – as well as to renew lease agreements for over 30,000 sqm."
Shaking up the shopping
In contrast to the seemingly sunny prospects for warehousing, the experience retail has had during the pandemic has been rather less positive. When the lockdown finally came, revenues and footfall went down drastically as shopping centres were forced to close, giving a further boost to e-commerce at their expense. Griffin manages two retail platforms, EPP and Chariot. The company acquired the latter in 2018 and immediately sold the bigger centres in the portfolio, which operate under the M1 brand, to EPP, leaving Chariot essentially as an operator of retail parks, stand-alone Auchan hypermarkets and DIY stores. According to Maciej Dyjas, this actually turned out to be to its advantage during the pandemic: "Luckily Chariot operates in one of the few retail segments not to be impacted by the pandemic. Around 90 pct of the DIY stores and hypermarkets are now performing better than pre-Covid. Supermarkets had to stay open and people suddenly wanted to buy more DIY goods. Operational performance was good during the lockdown and has also been good since. Auchan has prolonged the leases of its stores to over twelve years – a total of 83,000 sqm gla." For EPP, as a shopping centre operator, it was a different story. "EPP lost income during the lockdown. But it managed all of this very well: they didn't pay dividends to shareholders and they managed to negotiate deals with tenants. There has been a strong rebound in consumer confidence – it is already back to 80 pct of last year's footfall," reveals Maciej Dyjas. And as Paweł Nowakowski of Cresa points out: "The retail sector was already facing huge challenges even before the pandemic: e-commerce, changing consumer trends, to name but a few. Covid-19 has only deepened some of these problems, which has been reflected in reduced investor interest. Shopping centre owners need to adjust to the new normal and find a way to attract the tenants and investors once again. So far retail parks and convenience centres seem to be the most resilient to the current crisis and should bounce back first."
Griffin Real Estate took over its most prominent development platform, Echo Investment, in 2015. Compared to other property sectors, development is naturally more affected by the economic and business cycle, as the availability of finance fluctuates for new projects as well as for the purchase of such assets. "That's why we made sure from the very beginning that Echo Investment had a sufficiently large liquidity buffer for any potential severe downturn, as turned out to be the case with the pandemic," explains Nebil Senman. "And we have been able to maintain all development activities and deliver them on time, thus we have even managed to prepare two large projects ready for disposal. But, of course, in the wake of the pandemic we are now launching new office projects more selectively with a greater volume of pre-leases and secured financing. Acquisitions were frozen during the lockdown, but we have now re-started selectively buying plots for residential projects."
Flexible attitudes
Another issue thrown up by the pandemic for the office sector has been the positive experience many have had of working from home. Is this likely to result in a shift of sentiment, among both tenants and investors, towards such formats as co-working and flex offices at the expense of more traditional models? "Co-working as a part of the growing co-sharing economy was developing long before the pandemic and the current situation has bumped this sector even further up. I reckon that this sub-segment of the office market will continue to grow; however, I don't see flex offices as a threat to traditional office schemes. Tenants will still look for the security, stability and prestige associated with the 'possession' of their own office. Although there are investors who, after analysing the megatrends, have started to invest in co-working space, their attention will not be entirely shifted towards this sub-segment to the detriment of typical office projects," believes Paweł Nowakowski of Cresa.
Griffin Real Estate, along with Ares Management, bought a 98 pct stake in Polish residential developer Murapol in a deal that was finalised in February, just before the pandemic broke. This might now seem like not the best time to make such an acquisition, given the impact on the purchasing ability of potential home buyers and their ability to actually view them. But according to Maciej Dyjas: "Murapol's performance in this period was almost on the same level of 2019. There was a slowdown in sales in March and April, but they have since come back very quickly. Consumers have been withdrawing money from financial markets and funds, but this has been at least partially invested in what they regard as safe products, like apartments. During the lockdown, Murapol fully utilised the potential of its online channel. It was the first residential developer in Poland to introduce on-line reservations and meetings with customers on-line. It seems that selling flats is a good market to be in right now," believes Maciej Dyjas.
Going rental
One particular niche of the residential market that has been emerging in Poland over the last few years has been the private rental sector. Could PRS have actually benefited as people shy away from buying homes? Dariusz Węglicki, the managing partner of DaWeg Asset Management and the Poland country manager of Catella Residential Investment Management, certainly seems to think so: "Due to the Covid-19 crisis, PRS has definitely become one of the most attractive investment targets. Foreign investors, including Catella, which I represent in Poland, are considering various housing projects for renting out. Despite the pandemic restrictions, there have been several deals in the last few months, and residential developers have realised that institutional buyers can be as attractive as individual buyers, and, in the future, block buyers will make up a significant part of the sale of developers, as is currently the case in Western markets," he explains. But has the pandemic resulted in problems with tenants and contracts? "Some tenants were asking for cancellations and there was a slowdown for about four weeks," comments Nebil Senman about Griffin's PRS platform Resi4Rent, "but we were able to mitigate cancellations by moving tenants from larger into smaller apartments or compensating the cancellations by new tenants taking over the apartments. By moving the leasing process entirely online, from the viewing to the signing of the lease, the whole process regained its momentum and we ended up beating all our pre-Covid business plans. Our original plan to build at least 5,000 units has now been revised to 7,000 or even 10,000 units." "Catella has three projects in Poland and all of them got through the first few 'dry' months of the pandemic. Our luxury rental project in the Złota 44 building in Warsaw maintained its pre-Covid leasing level and is now on the growth path again. I think this was influenced by several factors, but most of all by our individual approach to the tenants. We talked with those tenants who reported financial problems, offering them rent relief in exchange for a several-month extension of their contracts. Other factors have been the availability of our managers for seven days a week and their ability to solve all technical problems. We also provided a special club card for tenants (the Prestige Card), to give them additional opportunities for activity, which is especially important when there are travel restrictions. A subscription to Netflix and a box of good wine delivered to their doors helped them survive the pandemic's early stages," adds Dariusz Węglicki.
The pandemic has encouraged certain changes not just in the way we work, but also in the way people study. Higher education institutions have had to close their buildings while students have been forced to go online to study. This could represent a continuing issue for developers of another growing niche in Polish real estate – the student accommodation market – while there has also been the added problem of ensuring levels of hygiene in dorms, both to comply with new government regulations and to reassure prospective tenants. "During the Covid period, Student Depot has performed better than we expected," insists Maciej Dyjas, who adds: "Students actually stayed in their dorms and weren't too keen on being locked down with their parents. The leasing for the next academic year has been slightly lower, however. Usually by August we would be fully leased, but it now looks like this will probably happen in October. We are still confident we can lease 100 pct of these beds. Even if you study online you still don't necessarily want to live with your parents. You're looking for independence. So students might generally still want to move into dorms – as long as their parents can afford it." The experience of Dariusz Węglicki has been very similar: "In August we have already seen a very large revival in PRS renting – and this is also the case when it comes to students, who even though they will mostly now study in a mixed mode are still making reservations and renting flats or rooms. In Catella's 'Trio Kraków' mixed PRS and student hall, the recovery can be seen in the many viewings we've been having and the at least dozen lease contracts that are being signed per week. We should have no problem renting out our 139 rooms in the student dormitory by the end of September."
Things can only get better?
So have things now returned to normal? In Nebil Senman's opinion: "It's too early to say whether everything is now back to normal. But it does seem that we are now on a recovery path." And according to Maciej Dyjas: "There was a stronger bounce back in July than people had expected. But nobody really knows when things will get back to normal. Retail has clearly been impacted, but is already well on the road to a complete recovery. The winners will be those who have the most focused, hands-on management and supervision. And the bigger companies should also win out, since access to capital will be crucial. And, since bad times tend to breed distrust, those with strong shareholders, such as ourselves, should also come out of the crisis well."
Apocalypse not now (or ever)
Agata Sekuła, the head of retail investment for the CEE region at JLL
The 'retail apocalypse' was buzzword that was being used before the pandemic simply to attract readers' attentions. But it had nothing to do with reality of retail in Poland. Malls are still recovering from the lockdown, but generally at a faster pace than many had predicted. According to the Retail Institute, in July 2020 on average the shopping centre footfall was at the level of 78 pct of that recorded in July 2019. It is important to mention that footfall is not returning at the same speed to all retail assets, so we have been seeing centres recording footfall even higher than in 2019 as well as those below the 78 pct average mark. Importantly, the conversion ratio continues to be strong, confirming that customers visiting malls are actually shopping – in June the average turnover reached 85.1 pct of the June 2019 figure. Again, not all retail categories are enjoying the same speed of recovery and there are those that will take much longer to get back on track. In terms of e-commerce, it constituted 5.6 pct of overall retail sales in Poland in February 2020, before the pandemic and the lockdown started. In April 2020, when all retail except essential services closed, online sales grew to 11.9 pct; but with the partial and gradual re-opening in May, this fell back to 9.1 pct and by June was down to 7.7 pct. The future of retail is all about omnichannel, but with shopping centres still playing the most important role.