Echo goes shopping at Tesco
Trends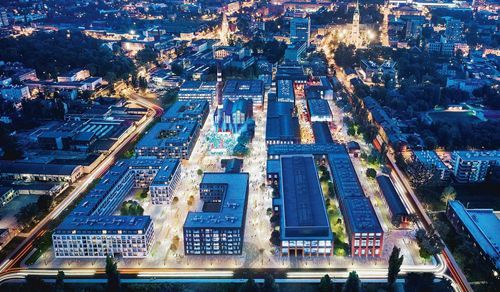 The Fuzja centre in Łódź will eventually comprise 20 buildings
POLAND Echo Investment has signed preliminary agreements to buy three first generation shopping centres on ul. Opieńskiego in Poznań, ul. Widzewska in Łódź and ul. Kapelanka in Kraków, where it plans to build around 240,000 sqm of mixed-use space, including offices, retail and 4,000 apartments.
The existing shopping centres, which are all currently operating, are to be managed by Echo Investment until construction work can begin. Tesco's offices and retail space in Kraków will remain open until they are relocated to a new building that is to be developed on the site. The projects in Poznań and Łódź will also remain open until all the permits have been granted and construction can begin. Echo Investment plans to create space for the stores on the sites with the new mixed-use projects. "Most space in Poland's big cities is already highly developed and so land that has a clear legal status with good transport links that is either covered by a spatial development plan or set aside for a specified usage is in short supply. To acquire large, really attractive plots, we are now purchasing older generation shopping centres that are embedded within the city, with locations that can be used for new purposes," explains Małgorzata Turek, Echo Investment's management board member responsible for investment. At the end of last year, Echo also bought a Tesco centre on ul. Komisji Edukacji Narodowej in Warsaw's Kabaty district. This is to be the site of a mixed-use project with apartments, retail and services.
Fujitsu signs up
Echo has also recently signed a lease with Fujitsu Poland Global Delivery Center, which has leased 16,300 sqm in the Fuzja office complex in Łódź. Until now Fujitsu's IT centre has been based in two Łódź locations. The tenant is to move in by the end of 2022.
Fujitsu Poland Global Delivery Centre opened in Łódź in March 2009 as a key location in the Fujitsu global service network. In 2016 the company opened its second Łódź location. The centres provides remote IT infrastructure management service for global clients (end-clients and data centres), application services, R&D for new technology and innovative products, as well as financial and accounting management for Fujitsu branches. It supports 119 leading brands from all sectors: finance, banking, automotive, services, industry/production and telecommunications, year-round, 24/7. Its service desk (first and second line support) operates in 21 languages, including English, German, French, Hungarian, Italian, Turkish, Slovenian, Greek and Czech. "We asked our employees about their dream office. The survey conducted by the Colliers International team clearly indicated they wanted a campus. Fuzja will make this happen. It will give us a place where the entire Fujitsu team will be able to work under the same roof in the very heart of the city, go out for lunch when off-duty, hold team-building events, go for dinner with clients, and quickly do their private errands – this is our dream come true. We are already counting down the months until the move," says Piotr Jankowski, the managing director of Fujitsu Poland Global Delivery Center. The tenant was advised by Colliers International and Act BSWW. Fuzja is eventually to comprise 20 buildings, 14 of which are to be developed through converting buildings already on the site. Echo Investment, is to create 90,000 sqm of useable space including 600 apartments in four buildings, around 40,000 sqm of office space, stores, restaurants, and service points. City squares with green areas are to be created over an area of almost 4 ha. Two residential buildings with 274 apartments are being built in the first stage, which should be completed by early 2021.