The show must go on
Feature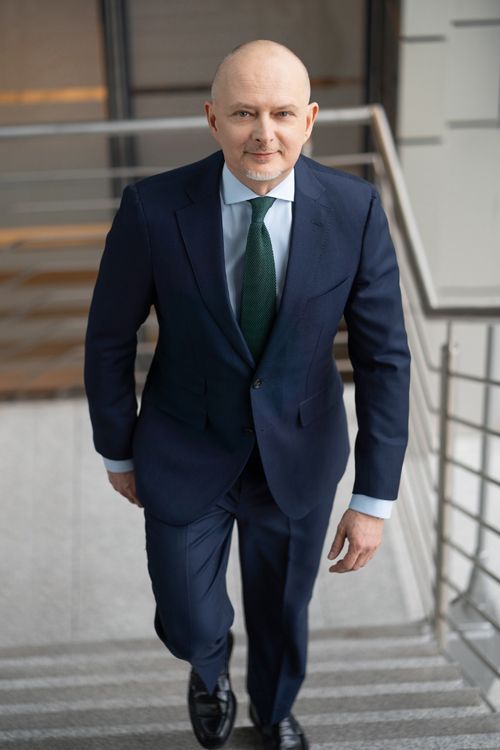 It is still hard to believe what has happened in the last few weeks. The world has not stopped spinning, but we now are faced with the prospect of living with the impact of the pandemic for the foreseeable future. We spoke at length to Daniel Bienias, the head of CBRE in Poland, about how the company has made it to the top as well as its plans for the future. And it was this part of the interview that took on an entirely new emphasis
Tomasz Szpyt-Grzegórski, 'Eurobuild CEE': In February, CBRE celebrated the 20th anniversary of its Polish operations by holding a conference with guests from around the world. How did this event go?
Daniel Bienias, head of CBRE in Poland: It was very good. It was an opportunity for us to give our clients a global view of the market and talk about the future of the sector and what could shape the market.
And how did those attending the February conference see the future of real estate?
Very positively. We have seen significant growth on this market over the last twenty years. The forecasts for the future were also optimistic.
In the meantime, however, a pandemic has broken out, the economic effects of which are still hard to guess. What could we expect to happen next in the real estate sector?
The current situation will unfortunately have a negative short- and medium-term impact on the commercial real estate market across Europe, that is if the outbreak is brought under control within a reasonable time. And I firmly believe that it will be. Initially, the main concerns were centred on the restrictions on travel and the movement of goods between the Europe and China, which mostly affected supply chain and tourism. As the spread of the virus increases in many parts of Europe, governments and companies have encouraged people to limit their social interaction. The restrictions on travel and the switch to remote work have become the norm in the corporate environment. European governments have tightened borders or closed them completely as they attempt to stop the spread of the virus. All these factors will have an impact on the entire economy, including the real estate market.
Many people are now predicting an economic crisis. Are they right to do so?
This is a difficult question to answer, but I'm optimistic in this respect. The approach of the European Central Bank and other central banks to monetary policy suggests that we will see a lowering of interest rates and that they will be kept at a lower level for longer. Furthermore, many countries are introducing further fiscal easing in order to support businesses and have come up with protective packages for their economies. The combination of these factors should minimise the effects of this difficult situation and should stimulate the economy or at least slow down the decline in its growth. The market is also more transparent than it was more than a decade ago, which also reason to be optimistic.
Which real estate segments are now attracting investors the most?
Offices are in the most stable situation.
Are 4 pct yields still feasible on the Warsaw office market this year?
This could be difficult under the current conditions. However, the situation is interesting for warehouses, which are gaining in popularity, partly at the expense of retail. It is with warehouses that we should see the largest increases in investment and development over the next few quarters. And added to this there are now local players who want to get a slice of this cake.
How can you operate in the kind of rapidly changing situation we have had over the last few months?
More work will be needed if we are going to see results similar to last year's, but I can still see the potential for growth on this market, especially when it comes to advisory. A few years ago housing was being talked about as a market that was not really that interesting for large investors. Now companies such as ours are paying close attention. The first few deals have already emerged.
You're talking about the private rental sector?
Yes. I don't think we'll start selling apartments, but may start selling residential blocks, who knows? It all depends on how we will come to see the potential of this market. However, we certainly are and still want to be present in the PRS. We are also looking at the homes for the elderly segment, which is currently non-existent from a transaction point of view, so it's difficult to obtain financing there. It's still in its infancy, just like medical care homes, but it shows that the opportunities on the real estate market are out there. Perhaps the legislation needs to be changed, but the market abhors a vacuum. If there's a niche that can be filled, investors will do it. And we will follow them.
However, the market cannot live on alternatives alone…
True, but our company is based on growth. We are constantly thinking about what we can do better or differently. We will always look to do this, so alternatives are a way of increasing both our market share and the range of our expertise. Last year's main engines were, of course, offices, warehouses, and retail – even though some people had been forecasting the death of this segment. I don't agree – retail has been undergoing profound change and will continue to redefine itself. We even saw an increase in turnover in this sector last year.
CBRE's strategy has also been changing. In what way?
A few years ago we changed our strategy – we no longer divide work into leasing, investment advisory and consulting. Of course, we have service lines, but now we mainly look at each sector. We focus on providing clients in a given sector with the services they currently need. If leasing is not so strong in a given year, we can provide something different; if difficulties emerge on the investment market, we think about how to prepare these products so that they can be traded once prosperity returns.
How long has CBRE been operating in this way in Poland?
We had been preparing to do this for several years and we made the changes in 2017. Each change requires time and a transformation in people's mentality. The fact that we are now in a leading position on the market proves that these changes have had their intended effects. Our market share shows that this position is no accident.
I understand that this has translated into profits?
We don't make changes just for the sake of change. However, it's always a journey into the unknown. If something goes wrong, you have to draw the right conclusions and do something else. I've been the managing director for five years and we've done all sorts of about-turns. It's not like we introduce something dogmatically, regardless of the effects. We don't approach the business this way, we try to respond quickly to a changing business environment.
People are the key to success. What's the current situation with human resources?
This is not a simple issue. However, if you don't regard people as one of a company's primary assets – especially when it comes to knowledge and the human factor – then success is impossible. This issue is one of the key elements of our strategy. We want to have the best people on this market and that is whay we achieved over the years. We listen to our employees, we survey them every year and we examine their involvement, asking them what bothers them and then try to remedy this. A few years ago, we also decided that we wanted to employ people from outside the real estate sector in order to add value to what we do. It was a very good step to take.
From which sectors?
Finance, the 'big four' accountancy firms... people migrate to us and also do so from the tenants' side. We also manage to keep them. When I came to the company – almost a decade ago – CBRE employed around 70 people in Poland; now there are almost 500 of them. This is a significant increase.
Was it difficult to move from working for an owner to being in an agency?
No, it wasn't. Both CA Immo and CBRE were different companies then. For me it was a very good move. In my opinion, CBRE was a very strong brand at the time, but when I got into the details, it turned out that in Poland this organisation was not as strong as it seemed from the outside. I was responsible for offices at that time. It was a very long way from a market share of around 4 pct back then to over twenty now – we achieved this in six years. At that time, it wasn't important to me how the company appeared, but what its potential was. And the potential was there at CBRE and it was huge. A decade ago, the Polish market was not developed at all and we were able to grow quickly by using our global scale and by tapping into local appetite on the market. Our revenues at that time were 80 pct dependent on corporate clients. But, the company did not have much in the way of relations with local businesses. As a result, when business came to a halt in 2008 corporations scaled back their operations – and there was not much to do in our company. So we focused on the developing our business locally, working with a large number of tenants, just like we did with investment and technical consulting. We started gradually introducing this approach. Of course, I'm not disparaging those who worked in the company in the first decade of its operations in Poland – many are still working for other real estate companies, but my story with CBRE is about the last ten years. Several important people came to the company in the same year as I did, and we started to reshape it together. Others joined over time. The last decade in the company's history has been impressive and we have the appetite for more.
Can you point to the turning points in your company's development?
Setting up a property management department in 2011 was of key importance. It was established as a result of purchasing several companies in the CEE region and employing experienced professionals. We started building on this basis. We have become a partner for large investors by investing in management. When I started working at CBRE, regional markets were an amazing discovery for me. We initially focused on Gdańsk. I follow this rule of thumb: try something out, don't over-invest, and then decide whether to continue. It turned out that it was worth it and we started opening offices in Kraków, Wrocław, Poznań and Łódź, and later in Katowice. Geographically, we now cover the whole of Poland. The acquisition in 2015 of Global Workplace Solutions (GWS) from Johnson Controls, a company in the facilities, real estate and energy management sector, was a big step. Because of this, the range of the services we provide now includes general facility management. The next milestone in the development of our consultancy services was the purchase of the ING RE platform by CBRE GI. CBRE GI is one of CBRE's largest clients globally and in Poland. We also invested in the development of outsourcing. We rented a building on ul. Domaniewska in Warsaw, which is now the workplace of almost 1,000 people serving our clients as well as the group itself. We have also focused on technological development, although we have not reached our target yet. However, we are growing rapidly in this area.
What's your target?
This has two aspects. Firstly, we are investing in tools for our employees to make their work better and more efficient. Secondly, we are investing in tools for our clients, such as digital building management, creating a community, monitoring energy consumption, and so on. We are doing this together with our clients, without whom it's difficult to think about improvements.
What challenges are consultancies currently facing?
Adding value, sharing knowledge and working with clients and partners are of key importance. The second issue is the integration of services. The client should see CBRE as a single entity rather than individual companies, departments or individuals. I cannot imagine not being able to respond to the needs of customers. If we were stuck in rigid divisions, we would never have been able to move forward. This constant change is therefore a challenge, but it is being properly addressed and managed.
What are the risks you should be aware of?
The day of the agent who is only suited to particular parties is now over. A multi-dimensional approach to the client's needs is needed. Regulations could be a certain obstacle – especially on the investment market, which lacks local capital investing in real estate.
Will there be more or less people working at CBRE in 5–10 years?
It's hard to say. We have an appetite for further growth, but I don't know if this will mean greater recruitment. However, certain knowledge-based services will be hard to replace with computers or robots.
What are CBRE's plans for the near future?
We are entering into partnerships with various types of companies. We are developing in the design & build field, but according to a slightly different model than our competitors and, I think, a very interesting one. We've signed a strategic partnership agreement with Forbis. We are also working closer with Rednet, with whom we signed a strategic partnership last year. However, I don't expect there will be any major takeovers. We operate in a different way. We analyse the market, the needs of our clients, look for new systems and work out how to add 10 – 15 pct to what we achieved in the previous year. This approach means paying attention to many small details, but they can make all the difference.
Would moving CBRE out of Rondo 1, where the company has been based since the completion of the tower, also be one of these details?
This is true – in spring 2021 we plan to move to The Unit skyscraper, which is being developed by Ghelamco. We will be occupying 4,000 sqm on three floors, from the 30th up. Our new office will also be a showpiece for the latest technology and space designed to meet the different needs of employees.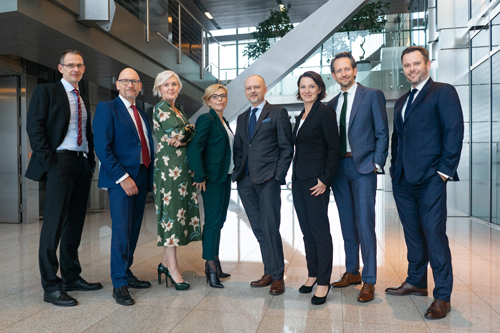 [from left to right] Maciej Wójcikiewicz, Jonathan Steer, Magdalena Frątczak, Agnieszka Steć, Daniel Bienias, Joanna Mroczek, Łukasz Kałędkiewicz, Piotr Karpiński
The right man in a crisis
Daniel Bienias started working with CBRE in June 2010. Initially, he held the position of office director, where he was responsible for negotiating on behalf of clients. Since August 2015, he has held the position of managing director for Poland. He specialises in lease agreement renegotiations, tenant representation, real estate consultancy, market rental strategies, cash flow analysis, project management and investment sales. Prior to joining CBRE, he worked for CA Immo as a marketing and leasing manager. He also worked at Perfect Properties as head of commercial real estate. Daniel graduated from The University of Szczecin in marketing and management and went on to study real estate valuation at The Warsaw University of Technology. He has also completed a course in construction and real estate at Sheffield Hallam University.