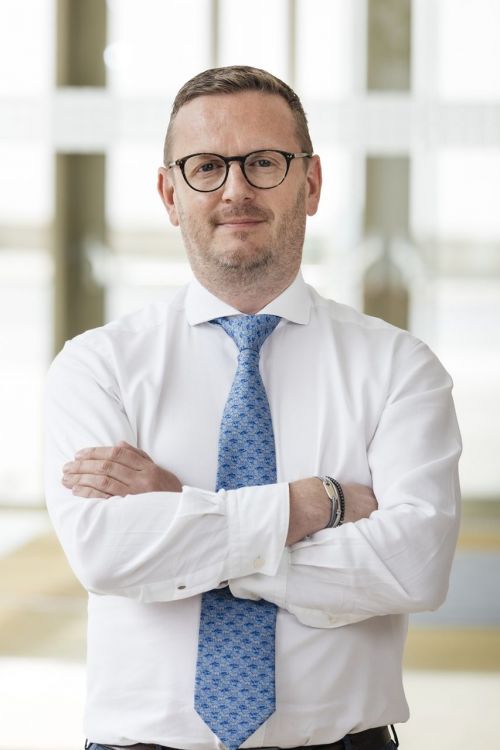 Matthew Lunt, CA Immo's head of asset management for Austria and the CEE region, tells us about the Austrian real estate investor's continuing strategy for the CEE region, how Covid has impacted this, and his favourite cities in our part of the world...
Would you care to explain to us your new strategy?
Matthew Lunt, CA Immo's head of asset management for Austria and the CEE region: Our strategy hasn't changed – we are still focused on the same core markets. We're paying more attention to whether the assets in our portfolio meet our core strategy of being a prime institutional office owner. We're therefore likely to see more capital rotation. There are a number of indicators – such as the changing market dynamics, maturing markets in Central Europe, ESG and our net carbon-zero targets – that are driving this. CA Immo's goal is to sharpen our focus on large, modern office properties in prime locations in our core cities, and at the same time on increasing our portfolio's quality and management efficiency in a sustainable manner. A good example of this strategy is the acquisition of Postępu 14 in Warsaw's Mokotów district in November 2020 for almost EUR 90 mln. The 35,000 sqm property is one of the most state-of-the-art office buildings in Mokotów and gives us perfect exposure in this strong submarket. It offers green solutions like clean energy from wind turbines as well as the use of rainwater to cool the AC systems, Postępu 14 meets the highest sustainability standards and supports our transition to low-carbon, sustainable business operations. A number of sales transactions have been taking place in our non-core markets and our non-core sectors. At the end of last year we sold our only office building in Zagreb and disposed of retail assets and some land in Austria.
What smaller assets are there left to sell?
We sold a 5,000 sqm property recently in Hungary and we have other buildings in other markets that are similarly-sized. In terms of activities, we are only the masters of our own ship when it comes to disposals. We are actively involved in a number of sales processes across the region and, since I joined the business a year ago, we have taken a closer look at a number of other buildings. We are in a competitive market, and obviously we have more control over the outcome on the sales side.
How has Covid changed your approach for the region?
As owners, we are all focusing right now on how we bring people back to their offices and how we want people to use them. We've just completed two developments in Prague, which we constructed through the pandemic. Our approach has been on more holistic improvements, creating more terraces and more roof gardens. The offices we have delivered, which I walked through last week, are for the Magic Circle law firm and I would say they are no different in terms of how they are divided between cellular offices, meeting space, collaboration space and social space than when we completed another office for another law firm in Warsaw in 2019. I think we are still navigating through how people are going to use the office in the future. What I can say is that we have had very few hand-backs of space, where people have said we are not going to use the office at all in the future – and where such downsizing has occurred it has been on a minimal, insignificant scale. In fact, at the same time as many of the contractions that we are seeing we are also seeing expansions. In the first six months of 2021, we signed a total of 14 lease agreements for our office projects in Warsaw, strengthening the cooperation with existing, long-standing business partners and acquiring new tenants. Almost 9,000 sqm of high-quality workspace was leased in seven office buildings. One of our largest tenants in Warsaw has expanded by 10 pct. There is also a tenant in Prague that has essentially quadrupled the leased space. Another tenant, who took up their occupation at the beginning of 2020 with 2,500 sqm, has increased their space by 100 pct within 18 months. We have a number of hotels in our portfolio that are not within our core focus, while retail and amenity services have obviously struggled more as they rely on offices being used and we've had one significant travel business that unfortunately went bankrupt. But apart from that, we remain resilient in the face of the challenges posed by Covid.
Does CA Immo's approach differ in a big way by country?
Generally, no. All cities have different characteristics. Germany makes up app. 50 pct of our assets in terms of value, and we also have a large development business in Germany due to historic deals that were done there a few years ago when we bought a massive land bank, mostly around Berlin, Frankfurt and Munich. We are now developing our tenth building of the new Europacity office district in Berlin. Generally, we haven't got as large a development business in the CEE region. These markets all have different characteristics in terms of risk and returns. But there are some very stable mature markets, such as Austria and Prague as well as Warsaw, where there is a lot of supply. It's a much more dynamic city in terms of development, but it has become the regional driver. And then there's Bucharest and Budapest, which offer a different dynamic. Together with our German business we have a good blend of core and core-plus assets all delivering what we believe is the right mix in terms of returns.
On a more personal note, which is your favourite city in the region?
Well, I live in Warsaw. I think they all have interesting and unique characteristics. In Budapest, it's the local wine. That always makes it a pleasant place to visit. I love the beer and sausages in Prague. Warsaw's been my home town for 22 years. I've not spent much time in Bucharest. Vienna is Vienna! It is a fantastic liveable, walkable, workable city. Ultimately, most of them are just attractive because of the people. I've been lucky enough to make good friends in all of those cities.
Interview: Alex Hayes