When a million just isn't enough
Office & mixed-use development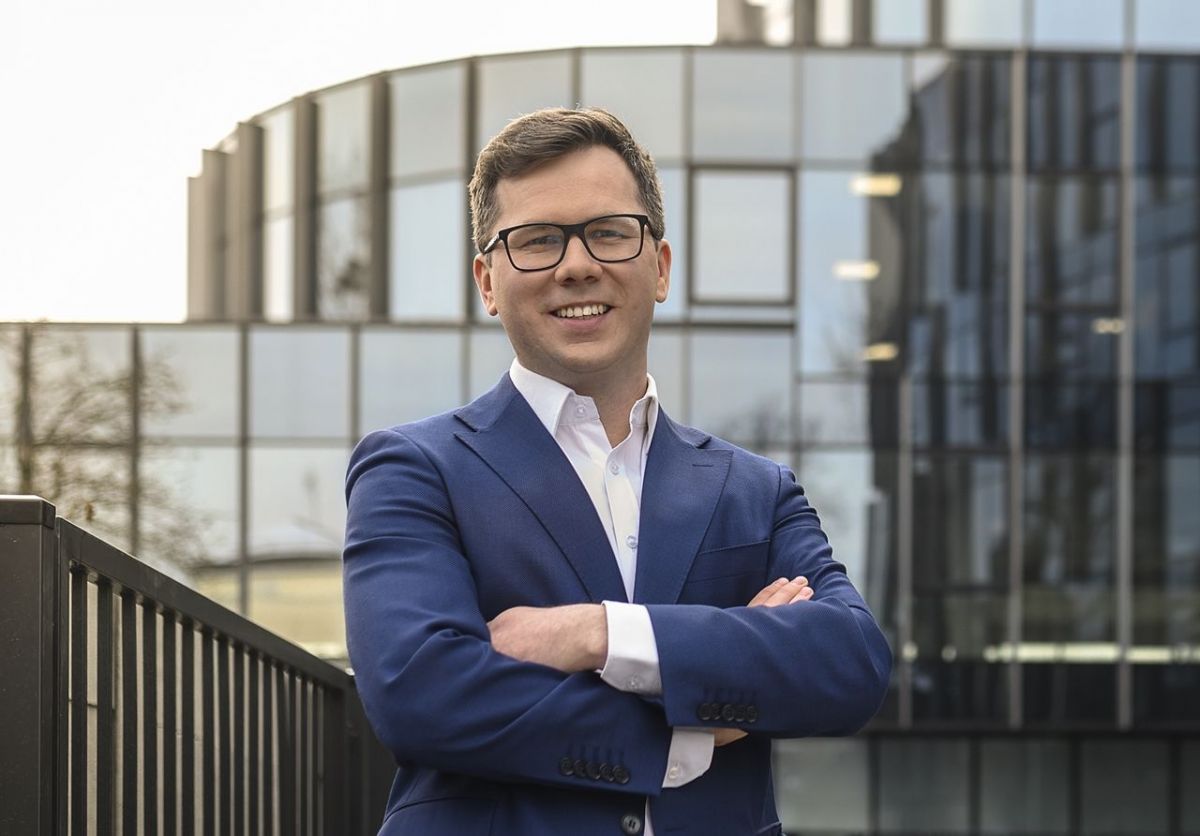 Rafał Malarz of Cavatina Holding
Polish developer Cavatina is one of our home-grown success stories. After a string of impressive developments across the country, it has now listed on the Warsaw Stock Exchange. So, we spoke to chairman of the board, Rafał Malarz
Tomasz Cudowski, Eurobuild CEE: If the last two years of Cavatina Holding had been a movie, would it be a western where the good guy wins out, or a disaster movie where everyone dies at the end?
Rafał Malarz, chairman of the board, Cavatina Holding: I'd say it would be a stylish thriller. It certainly sometimes verged on being a thriller – I'm mainly thinking of the start of the film, the outbreak of the pandemic. This was a real challenge, which the heroes rose up to face like real men and came out unscathed. I'm referring to the whole development market here. There have been a lot of plot twists. In 2020 we registered record sales for our buildings, while in 2021 Cavatina Holding passed a milestone in the company's growth when we debuted on the Warsaw Stock Exchange. And our commercialisation figures for the first quarter of this year – and not only these – clearly show that the company is in superb form, so we can talk about there being a happy ending.
Over this time, what has been the biggest challenge for the company?
I think the most difficult time was the first few weeks following the outbreak of the pandemic, when uncertainty and hesitation took hold of the office leasing market. As an office developer, this is what we had to contend with the most. Many people at that time were going overboard in predicting the death of the office in its traditional form – most staff were working from home, so why would anyone even need office buildings? Time has shown how premature these assessments were – high-quality office buildings are needed like never before, as they have become, for example, indispensable tools for integrating teams, conceptual and team work, and attracting new talent to companies.
But you don't deny that developers have had to change their approach to tenants?
Of course, we have all become much more flexible and more sensitive to the specific needs of our tenants. Complimentary services and competencies are now playing a far more important role. However, our company already offered a wide range of such services a long time before the pandemic.
Everyone has been saying that for years. How come your company has an advantage in this regard?
Our two main pillars are own general contracting and comprehensive design teams. I'll give you an example – you might say it's quite a minor one, but it'll give you an idea of what it's all about – we have our own design studio. We are no longer living in the days of huge open-plan offices everywhere. Every organisation has its own way of operating, its own style. Employees also have their own individual preferences. Our office space can be fully modified and we can ensure this because of our own internal team that designs the core and shell of our buildings and then we adapt the space within the building to individual tenants' needs. And I would even go so far as to say to fulfil their individual dreams. Moreover, we can already see that even our older buildings that were completed before the pandemic haven't lost any of their functionality and allow companies to freely adapt the space to their changing expectations and to cope with new challenges.
You operate in seven large local markets, but not in Warsaw. Why not? I can quite understand if you feel wary of the market in this city.
We're not fazed by anything, not even by Warsaw! [laughs] We built our flagship Chmielna 89 project in the centre of the capital, where PKO BP bank leased almost the entire building. When the lease was signed, in 2019, it was one of the largest office market transactions in Polish history. That same year the jewel in our crown found a new owner. It's true that we are based in Kraków and active in the country's biggest provincial markets – and as a result we are part of the trend for international corporations to expand their presence in these cities. And they are looking for qualified staff and require large amounts of space. There is a reason why when combined these markets can match the development potential of Warsaw. When it comes to the biggest city in Poland, we are working on new acquisitions and planning documentation, but we want to continue to expand in secondary cities – we already have the strongest position on those markets, where we want to build a property portfolio with a total area of 1 mln sqm by 2025, including projects completed, under construction and with building permits.
Do you have your own favourite city or project?
No one can tell you which of their children they love the most! [laughs] And I've been working for this company from the beginning, so I feel an emotional bond with almost each of our developments. Each one is different. Each has different memories connected with it. Each of them required a different approach and I love them all equally.
Maybe in that case I should ask which of your children has been the greatest challenge to raise?
That would be Global Office Park. This is a huge mixed-use project, an icon of Katowice with excellent communications. The people of the city love it and the commercialisation process is going really well, despite the difficult market. Three buildings have been completed, including two office towers, while a third tower – a residential block – is close to completion. We are also paying just as much attention to Quorum in Wrocław. This project is also going to change the entire face of the city – and not just the Odra riverside, where it is being built. The 140m office tower will be the second tallest building in this city, the regional capital of Lower Silesia. Another great challenge that I'm proud of is Cavatina Hall in Bielsko-Biała. This is a project in a smaller city, but is an excellent example of our approach to business, which could be summed up as: 'Not just business and not just the office business'. Cavatina Hall comprises not only the first class A office space in the region, but it also has a world-class concert hall in terms of its architectural design and the quality of its construction – and also when it comes to the musicians who perform there and the people who come to listen to them. Every concert sells out instantly. That's a real pleasure – being able to create a building that has such a powerful impact.
This seems like a good time to ask you about social responsibility. Not long ago you published an extensive report on ESG, even though nobody expected it of you...
Yes, we broke ranks! [laughs] We've always been actively engaged in protecting the environment and have always supported local communities. Green reporting up until now has been good practice but a free choice. Now it is becoming obligatory and unavoidable. Obviously, it also has a direct impact on operational prospects and financial results. Our ESG report was very much welcomed and what's really pleasing is that it was the banks and financial institutions that reacted best of all.
How do you feel about the future of the market? Are you more hopeful than fearful?
I'm an optimist when it comes to business and development opportunities. Any concerns we have are mainly due to the current economic situation, but I'm not worried about my company. Two years ago, the pandemic turned out to be an unexpected game changer, now it's the war in Ukraine. It's very difficult to predict anything, so you need to keep your eye on the market, react to events and do your own thing.
One of your goals is to have a portfolio of 1 mln sqm in three years. Do you have others? Are you going to enter new markets or segments?
I don't think we are going to leave Poland – our market is deep and promising enough for us to count on the profits we can generate from it. We definitely want to expand the scale of our activities and consolidate the structure of our company, build up our team and gain new know-how.
And you're not tempted by those geese that keep laying golden eggs at the moment – PRS and warehousing?
The scale of our activity on the office market is so vast that we want to focus mainly on this sector. When it comes to PRS, we trust our associates Resi Capital, a company that has not been operating long but already has some big successes under its belt in creating a high-quality portfolio. So we operate in tandem by creating well thought-out mixed-use projects with mainly office functions. We will leave warehousing to the others. We see the office market as stable and promising and we feel we are very strong in it. That 1 mln sqm portfolio in three years is within our grasp. So we are going to continue, methodically and cautiously, ascending that peak.