Growing stronger
Interview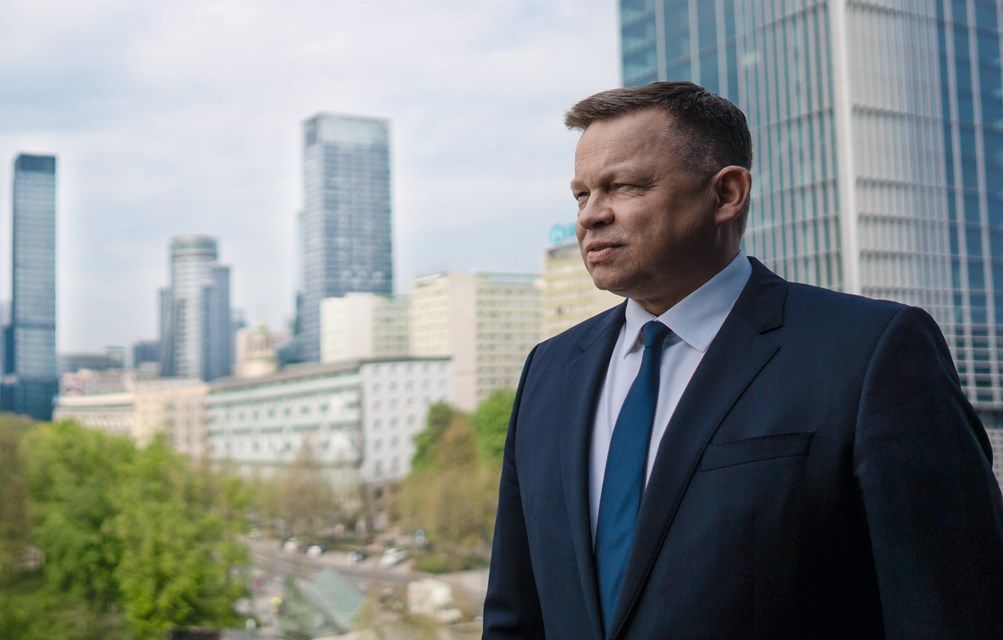 Piotr Kaszyński of Newmark Polska
Despite the difficult conditions over the last years, he has managed to build a strong team that has made a name for itself on the market – while the rebranding of the company at the height of the pandemic came as a real surprise for the entire sector. Piotr Kaszyński, the managing partner of Newmark Polska, talks to 'Eurobuild CEE' about the advisory's growth, consistency and successes
Tomasz Cudowski, Eurobuild CEE: We last spoke less than two years ago, around the peak of the pandemic. What do you remember about that time and what do you associate it with now?
Piotr Kaszyński, managing partner, Newmark Polska: With challenges, no doubt about that. The pandemic, the first of our challenges, turned our professional, economic and private lives upside-down and significantly changed the way we do business, communicate and socialise. We have clearly redefined many things and reset our priorities. Our enterprise, resourcefulness and relationships were put to the test during the pandemic. I think that we passed that test both at the micro-level (in terms of individual businesses and families) and at the macro-level (as the humankind). As regards our company, we posted record revenues in the first two years of the pandemic, because many firms still wanted to grow, occupiers' needs did not diminish and the demand for trusted advisors grew stronger – even large companies with long histories became aware of the new challenges that were sometimes beyond their control. The second unforeseen development was the outbreak of the war in Ukraine. Despite the obstacles at hand, the sector and the Polish society continued to perform admirably. But it is still uncertain how the war in Ukraine and the process of uncoupling Russia from the global economy through sanctions will unfold. The third and most recent challenge is inflation, which has been rippling across the global economy. We will soon find out how it will feed into growth, the money supply, the labour market and consumption. Investors in capital markets have currently taken a 'wait-and-see' approach as rising financing costs limit where and what to build for rent to make a profit. Many investment funds are reviewing their investment cycles to adapt to the current and complex market reality. The ongoing economic situation is dynamic, but we hope the worst is already behind us.
There's a lot of uncertainty around. When do you think the key issues for capital markets will become clearer?
Many of the key issues for capital markets are likely to become clearer by the end of June, or maybe a little later. By then, developers and landlords will know how to obtain financing for new projects and acquisitions, and how this will impact rental rates.
Will rents rise?
It's too early to say. As you might know, there's also an upcoming undersupply in the Warsaw office market – this is expected to continue from late 2023 until early 2025. And this is something we will all have to confront.
You have rebranded to Newmark Polska, which was a surprise to many. What prompted you to do this?
We seized the opportunity to grow under a strong new brand. We succeeded in this challenge and have established our market position with Newmark extremely well. Our team is efficient, recognisable and successful. We have been able to capitalise on our many years of experience and in-depth sector and market expertise. Our agreement with Newmark has provided us with access to enhanced infrastructure, technology and product offerings that will allow us to better serve our clients' needs. Newmark serves some of the world's largest corporations, particularly as a leading advisor in international capital markets. The platform's strong network of offices gives our advisors and clients even greater access to global businesses and investors.
Does the new brand, which was previously unknown in Poland, give you any other competitive advantages?
Today, we are under the wing of one of the world's largest commercial real estate advisory firms – it is stock exchange-listed, dynamic, trustworthy and stable, with a good financial standing as well as strong structures and fundamentals. It gives me immense comfort and satisfaction to see our organisation move on to a higher level. Newmark, based in the US, is a global and highly competitive platform, and the company is rapidly expanding its presence in Europe. Our collaboration with Newmark represents a substantial opportunity for our team to expand our service capabilities and serve more clients.
If I could just refer to the title of our previous interview with your company: 'Always on the tenant's side' – do you still exclusively represent tenants?
We are well-prepared and able to serve all sectors, with tenant representation being at the core of our business. We are well-recognised, competitive and have more flexibility. We are highly driven sector experts with a passion to prioritize our clients and their projects.
Newmark Polska has also been busy recruiting new staff. Which teams are you expanding?
We are recruiting actively, but selectively. We are strengthening our core capabilities in advising tenants in the office, industrial and warehouse markets. We are also aiming to develop and broaden our services and business in capital markets, real estate valuation, market research and advisory.
And you are continuing to strengthen your presence in regional markets such as northern Poland…
Northern Poland is a strategic area for our operations on account of the strong interest in the region among Polish and cross-border investors and its well-developed seaport, road and rail infrastructure. Newmark Polska is also planning to grow stronger in Kraków and Wrocław, which are very promising markets. Our considerable experience, already present in those regions, has prompted us to continue to expand our teams of advisors.
Which sectors do you still have the most confidence in? Does industrial still lead the way?
Newmark Polska has confidence in warehousing and the industrial sector in general. Poland continues to provide a solid platform for large manufacturing, logistics and warehousing companies, as the conditions are more well-suited than in Western Europe. The Polish market is very mature and professional, and – after two years of pandemic limbo – tenants are now aware of their needs and specific requirements, simplifying their processes and promoting experienced advisors. As for warehousing, I do believe that there will still be high demand for warehouse space in ten and even twenty years' time, as long as we maintain stable and sustainable growth.
Are you optimistic about the future of the economy and the real estate market?
Although the global economy is facing difficult challenges, I am very optimistic. The war in Ukraine has had many repercussions around the world – it has rocked commodity, energy and food markets. With Asian supply chains less reliable, the Western European and US economies are exploring alternative markets as well as manufacturing on-site, which leads to increased expenditure and operational difficulties due to workforce shortages. The supply chain barriers in Western Europe and the US makes Central and Eastern Europe a competitive and well-positioned market – with the land, workers and the conditions required to build solid supply chains.
What do you consider to be your biggest professional success of the last two years?
Business development, winning the market, expanding our client base and building a leading and competitive commercial real estate firm. And, above all, building a strong team. Newmark Polska is composed of professionals who have demonstrated resilience, unrivalled professionalism and engagement in key projects. I am confident that together we will grow stronger.
A capital man
Piotr Kaszyński, the managing partner of Newmark Polska, has over 25 years of experience in the real estate market. Previously, he was the managing partner of Cresa Poland, which he successfully established and led for more than four years. He also worked for many years for Cushman & Wakefield, where he was an equity partner, the head of the retail department and the head of capital markets in Poland. Piotr has been responsible for the development consultancy and the leasing of more than 60 prominent retail properties in Poland, as well as investment transactions in excess of EUR 600 mln, and in the process has won many prestigious awards.