Together into the future
Feature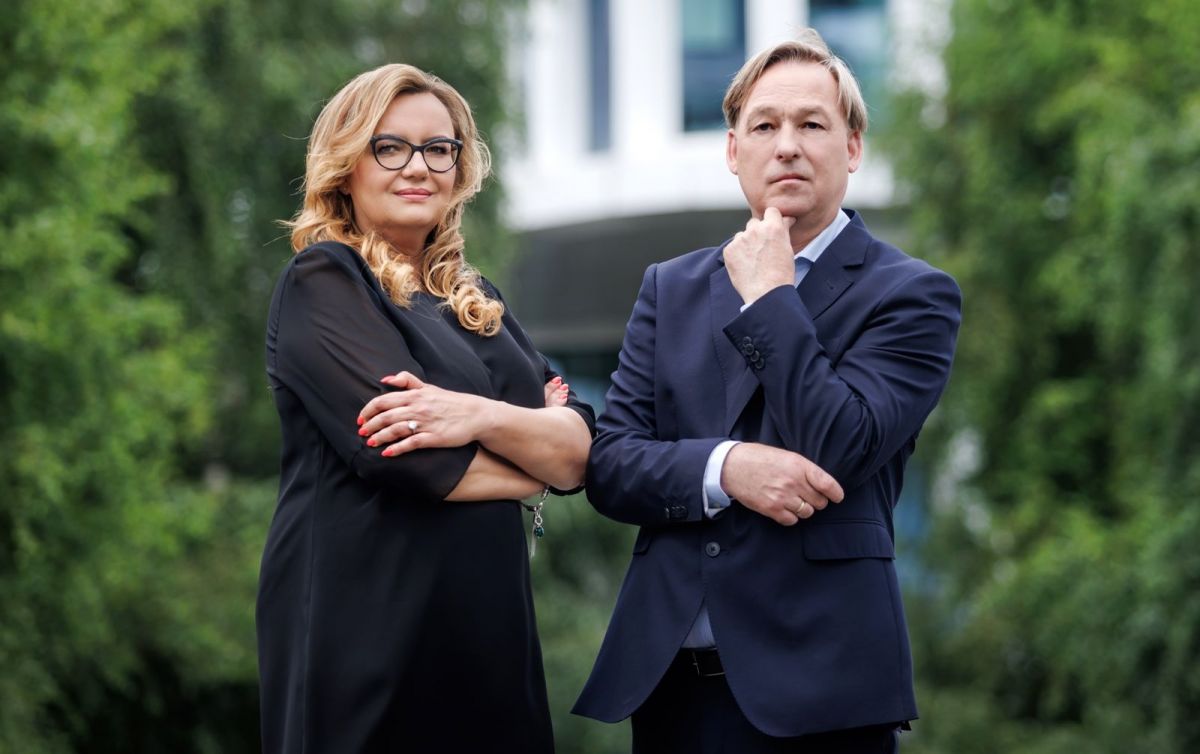 Iwona Krzemińska and Roger Andersson of Vastint Poland
In an exclusive interview, Iwona Krzemińska, a board member and senior legal counsel, and Roger Andersson, the managing director, summarise the first three decades of Vastint Poland, while revealing that they have new projects in the pipeline – including multi-functional and hotels – and giving us their forecasts for the Polish real estate market
Tomasz Cudowski, 'Eurobuild CEE': As we sit down to talk, it's the 30th anniversary of the establishment of your company. It is hard to summarise such a long period, but what do you think Vastint's three biggest achievements have been during this time? What are you particularly proud of?
Iwona Krzemińska, a board member and senior legal counsel: We are proud of our team! The company's success to date is down to our co-workers, and it will be they who will push Vastint to achieve the further milestones we are aiming at. Our team comprises people with diverse backgrounds, perspectives and experience, but together – or tillsammans in Swedish – we should go on from here to forge an even more glorious future.
Roger Andersson, the managing director of Vastint Poland: We have managed to build a portfolio of properties that is currently valued at EUR 800 bln. We intend to maintain a long-term ownership and management interest in our developments, thus ensuring that they are successful. The third thing we are particularly proud of is our vision to create distinctive urban environments inspired by how people like to work and live. Vastint develops thoroughly thought-out projects that fit into the local context, are environmentally friendly and provide a sense of belonging to a larger community. Isn't that great?
One of your office concepts, the Business Garden, has been implemented across several national borders. Do you build them identically in all these countries, or are there any specific differences?
IK: In addition to three Polish cities, they have been built in Riga, Vilnius and Bucharest. Soon, another project is to get underway in Milan. Despite the differences in the layout and "architectural expression" of the buildings due to the local conditions, all of these complexes offer workplaces with the same characteristics and values, which are fundamental to the Business Garden concept.
RA: The name Business Garden acts as a label that guarantees certain qualities – high quality office space, functional and emotional benefits for tenants, as well as the sustainability principles we adhere to as a responsible developer. The focus is always on people, no matter where the complex is situated. A common brand helps build awareness and customer loyalty when it comes to our innovative projects.
The other sectors you operate in are hotels and residential. The hotel sector has been slowly coming out of its hole. What is its future, in your opinion?
RA: Vastint Group is one of Marriott's largest franchisees in Europe, which is now operating in eight countries, with over thirty-five hotels that accommodate an average of 2 mln guests a year. In Poland, we have built three hotels and another four are in the pipeline. Due to the profile and location of our hotels, the outlook is rather optimistic. The situation seems to be slowly returning to pre-pandemic levels. According to forecasts, 2023 should see a renaissance of tourism, when the results could be at least as good as in 2019.
And as for homes – will you be selling them to individual buyers or are you targeting PRS instead?
RA: Vastint debuted on the residential market in 2020. We expect, that as our portfolio of residential projects grows, that we will consider a range of options, including plans for investing in the PRS sector. This is an interesting alternative to traditional leases and we are now looking at it closely. For now, we are focusing on our Waterfront project in Gdynia, where 126 apartments will be handed over to individual buyers next year. The sales process will begin once the construction process is completed, with the apartments to be handed over in a standard of finish that will allow them to move in on the first day after the purchase. This innovative approach regarding the sale of the apartments in the Riverview estate has been warmly received, while the finishing styles we are providing have also won the approval of buyers.
There's still the completion of some of the largest projects in your company's history ahead of you, including city-forming complexes. Let's start with the most impressive of these – Stara Rzeźnia in Poznań. What stage has this project reached and what makes it unique? And in addition to that, this project was also something of a marketing challenge – were you not afraid to take it on?
IK: As regards the formal side of things, the City of Poznań is working on the master plan. This is expected to be voted on in the middle of next year. With the aim of being a partner for the city in this discussion, Vastint is conducting advanced work on the conceptual design. We are spending a lot of time consulting with the monument conservation department on the renovation of the old buildings. This will help us to obtain a preservation permit in the future, which is a prerequisite for applying for a building permit.
RA: Stara Rzeźnia is a new district of Poznań that is to be built on the site of a former slaughterhouse and will significantly reshape this part of the city. It will feature carefully restored post-industrial historic buildings with an unusual atmosphere and high-quality aesthetics, which will be complemented by modern architecture. The multifunctional complex will provide space for the coexistence of workplaces, homes, culture, retail, restaurants and public services. We aim to create a vibrant destination where people will enjoy staying from their morning coffee to their midnight drink. I strongly believe in the success of this project. Stara Rzeźnia forms a natural continuation of the city's current residential structure and is one of the most prestigious addresses in Poznań. It is also an ideal place for many companies and small businesses interested in operating their businesses from the city centre. Even the name, which is associated with the former function of the place, is an asset from a marketing point of view, as it strongly emphasises identity and history, which we have great respect for.
Where did the idea for Airport Village in Warsaw come from? Multi-functional complexes next to airports have yet to become especially popular in Poland, let alone across the CEE region.
IK: Vastint acquired the 15 ha plot on ul. Żwirki i Wigury six years ago. The site next to Chopin Airport provides excellent connections to all parts of the city due to the well-developed road infrastructure, including expressways and the motorway. Furthermore, our plot is located entirely away the landing/take-off paths, so there are not going to be any problems with related noise. Projects next to airports are not common, so we were aware from the outset that this one required a special approach. A careful analysis of the neighbourhood, the traffic and the acoustics was carried out, resulting in an overall concept based on Howard's concept of the garden city. We are creating a new local centre – a place that is people-friendly, open, functional and self-sustaining.
It's now time for a few words about Vastint's strategic plans for the next 30 years. Is it even possible to make plans for such a long period these days?
RA: Another decade lies ahead of us, when some things will remain the same. But we still intend to pursue our long-term strategy, focusing on developing and managing assets in the commercial, residential and hotel segments in order to achieve critical mass in particular markets. Over time, we will provide details of our plans and adapt them to the existing market situation.
And what do you think the future holds for the real estate market over the next few years? Have the recent dramatic events – the pandemic and the war in Ukraine – changed the rules governing the market?
RA: We have been seeing negative side effects of these developments, such as rising material prices and labour shortages, which have led to soaring construction costs. Inflationary price increases and the continuing interest rate hikes have curbed demand for housing from individual buyers. However, I am sanguine about the health of the Polish real estate market into the long term. High-quality, certified buildings will continue to attract new tenants and investors, and, after a period of stagnation, the housing market should also undergo a rebound from the current situation it finds itself in.
If you had a few million euros to spare, which real estate sector would you invest in? Or would you spend it on something other than real estate?
IK: Real estate still has a high potential for value growth and is therefore a safe investment. Vastint is pursuing a diversified development strategy, and I would stick to that when investing in plots for large commercial and residential projects.
RA: I have always been interested in real estate, professionally and privately, and from my experience I know that securing the right location is extremely important for success. If the investment had to be in Poland, I would invest in a waterfront location for a residential development.
And finally, could you tell our readers about your personal plans for the next few years?
RA: I will be staying in Poland for a few more years and enjoying the fruits of all our efforts over the last few years, as we launch several new exciting, major projects.
IK: I think this will be an excellent time to focus on the personal development sphere, in addition to legal support for the company.


ABOUT VASTINT POLAND
The company is part of the Vastint Group, an international organisation operating in the real estate market in Europe. The cornerstones of Vastint's operations in Poland are the development of both commercial and residential real estate for further active management.