In a happy place
Interview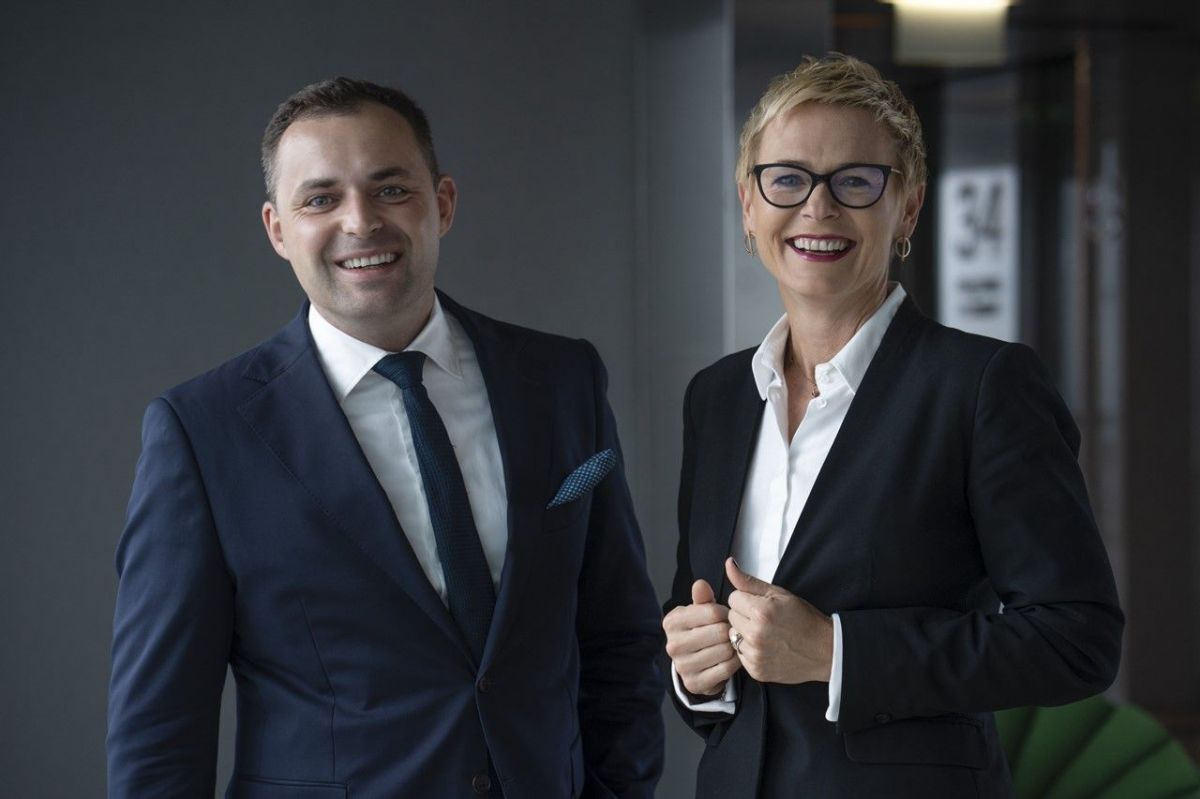 Bogi Gabrovic, the country CFO, and Piotr Flugel, the country construction director and COO of CTP in Poland, reveal in an exclusive interview the development plans of the Czech industrial developer for this country, the advantages of their build-to-own model, the crucial role of ESG, and the impact on the sector of rising costs
Tomasz Cudowski, 'Eurobuild CEE': You're a relatively new player on the Polish warehouse market. What encouraged you to enter this country?
Bogi Gabrovic, Poland country CFO, CTP: It was a natural step in our development after starting in the Czech Republic and Slovakia and later entering other EU countries. In our opinion, Poland is ideal for growing a warehousing business – it borders Germany, one of the largest consumer markets in Europe, while the labour costs are still relatively low, and the skills and abilities of local staff are high, which just demonstrates the constant improvement in the education levels of the population. Since 2011, Poland has been a secure market for investment. The sectors and trends that are driving this growth might change – depending on the period, this might be e-commerce, industry or nearshoring – but there's always enough fuel for this sector.
Piotr Flugel, Poland country construction director and COO, CTP: I also have to mention that we have been encouraged to take this direction in our growth path by some of our international clients who need a trusted partner in furthering their businesses in other countries, since they continue to work with us in these other markets. Our faith in Poland is well demonstrated by the fact that CTP's strategy is for a full five years. We want to end 2026 with 3 mln sqm gla leased out in our portfolio.
That's very ambitious. What kind of experience do you intend to use for this expansion – what know-how are you bringing to the table?
PF: We are a build-to-own developer, which means that what we construct is always of the highest of standard. It's important for us to have durable and effective buildings in our portfolio. As a result, I can proudly declare that the average lifespan of a CTP building is 40 years. In the markets where we are more established, we also make use of the fact that we act as our own general contractor for our own developments within our group. This makes us highly effective and provides us with benefits due to economies of scale. Managing the purchase of building materials and construction internally gives us complete control over the investment process and all the costs. One day we want to bring all of this to Poland, but as a new player here we are still just building up our structures and so we are working with external contractors.
BG: It's also necessary to point out that as a group we can draw on our almost 25 years of experience, which means that we have many tried and tested models for working with clients, but at the same time we approach each of them as individuals.
You've been active in Poland for more or less a year. What have you managed to achieve in this time?
PF: In the first half of the year we bought 2.5 mln sqm from 7R, on which we can build around 1.25 mln sqm of leasable space. These sites are mainly in such logistics hubs as Warsaw and Upper Silesia and so they have well-developed road infrastructure. Part of the portfolio we bought also includes two projects under construction in Katowice and Warsaw. At the end of June, we had a Polish land bank of over 2.9 mln sqm in total and we estimate that it will take us two to three years to develop all of it. We have just under 0.5 mln sqm under construction, with new buildings in four locations: Iłowa (Lubuskie province), Katowice, Warsaw and Zabrze. We're also preparing the development of the third stage of a project in Opole and to start work on subsequent projects in different regions of Poland.
BG: The first opening we're preparing for is in Kobyłko near Warsaw and we'll be able to provide you with further details of this soon. When we started our work in Poland in 2021, our company here had seven employees. Now we have 54. This is all happening just as the information we're getting from the market is that many developers are slowing down and limiting their pipelines – they are slimming down their projects or suspending them in fear of an imminent recession.
How are you going to cope if this happens? And what about your sources of finance?
BG: We are convinced that we will. The cost for us of raising capital is relatively low, so we're not afraid to invest – even in speculative developments. We're building up a portfolio of ready-made solutions for our future tenants. Our projects are 50 pct financed through leasing out existing buildings, with the other 50 pct coming from what we raise from the stock market – we've been listed in Amsterdam since March 2021 – and from green bonds.
By the way, do you, just like all the other major players, believe in ESG?
PF: Everywhere we are present we take care of both the needs of our tenants and of the local community. The larger our project, the more integrated services and facilities we can add. Among these are the communal areas we call Clubhouses, which are open to the local community – they each have a canteen and a medical clinic, but they are also places for sport and recreation. In our biggest developments, such as CTPark Bratislava, we are also building office modules and apartments for rent at accessible prices for the employees of our tenants. What we are talking about in these cases are complex business parks that combine many different uses in a single place that you can also spend time in after work. This is the approach to building logistics and industrial complexes that we want to bring to Poland.
BG: All of our buildings have reinforced roofs on which solar panels can be installed. We are also the only industrial developer in Europe to have had our entire portfolio of standing parks – 100 pct of them, about 10 mln sqm – BREEAM certified. But ESG is not just about how sustainable our centres are. As Piotr mentioned, it's also about being responsible to our neighbours. That's why at CTP we work with local communities, and so our parks have an open character and form a shared ecosystem with their surroundings. Warehouse parks cannot be, as they once were, closed, unfriendly enclaves. We create places where we can meet the local residents who make up most of the employees of our tenants. We support local initiatives and work with local schools. A few years ago the concept of building communities emerged in office real estate, but now it is coming over to warehousing. We are definitely at the cutting edge of this trend.
Do you have a specific recipe for success – a unique business model?
BG: I don't know how unique it is, but it's certainly effective. The key feature that makes us stand out as a developer is the fact that we are developing a network of high-quality industrial parks that we will keep in our portfolio. This long-term approach ensures that our goals are in line with those of all our stakeholders, including our clients and the local communities surrounding our CTParks. We have set up teams specially tasked with reacting to all the needs of our tenants. We constantly invest in our parks to maintain the quality we have created. We build long-term partnerships with our clients to support their growth and to respond to operational demands as well as sustainability needs. We develop specifically what our clients order and then we support them throughout the entire period of their operations – and this often spans several decades. We can react quickly to changing tenant needs, because in certain periods companies may require less or more space. With us, all of this is possible.
When it comes to the formats of such buildings, what do you prefer? Do you target any particular group of tenants?
PF: As I said before, we do not just build warehouses in our parks. We put up halls that are ready for production as standard. Nearshoring has really taken off as a trend, as is proven by the number of enquiries from production companies that we receive. China is no longer so cheap or secure when it comes to the continuity of the supply chain. Our potential tenants are producers of components for the automotive and packaging industries as well as for clothing, pharmaceuticals and cosmetics. In addition to those. pet store chains and other companies also need cold storage facilities – and I'm not just talking about large corporations. We are willing to work with small production companies that are not ready to construct their own buildings but are able to grow in our parks.
BG: It's also worth mentioning that the development of our parks in Europe is mainly being driven by our clients. At the moment we have around 1,000 tenants and 85 pct of our current operations result from our clients being happy with their relations with us – in other words, they are expanding from within our centres.
Construction costs have rocketed this year. Hasn't that made your ambitious plans to raise finance for new projects much harder to achieve?
PF: CTP as a group is financially very strong. Our reported profit for the first half of this year came to EUR 490.2 mln after tax, which is a rise of 160 pct on the previous year. We've maintained our financial liquidity within the organisation and this has fully secured the development of our new projects.
BG: Building costs are, of course, going up, but this affects all developers and we all have to take this into account in our business plans. Fortunately, after the large rises in material and contractor costs, prices are now stabilising at levels that still allow us to pursue our plans. However, what we're not going to be able to avoid as a result of construction price rises is rental growth, which can already be seen across Europe. Rents in Poland over the last few years have been particularly low, so the situation on the construction market has resulted in a normalisation of rental costs here.
What in your opinion is the future of the market? What's going to be the biggest challenge for the warehousing sector in the years ahead of us?
BG: I think that this is a fantastic period for warehousing in Poland and we are going to continue to witness growth in the sector for a long time regardless of economic disruptions, even when they are global. The whole world will be looking for the attractive rents and skilled labour that can all be found here. Of course, the warehouse boom that we've had since 2020 is slowing down, which is natural. But the Polish economy continues to require a greater supply of real estate to meet the challenge of shortened supply chains and the trend for nearshoring. So this is a key time for ensuring that the infrastructure is in place to take advantage of this growth and the potential for more businesses entering our country. It's still a good time for experienced developers like CTP.
PF: From what we can see, the biggest challenge is going to be ensuring that our tenants have energy security. We are looking for solutions that will give them this, and in our parks we already have systems in place to ensure their continued operations even in emergency situations. In addition to this, right now we are doing research into how to produce and store energy, which will give us control over its cost and availability.
Are you completely preoccupied with running your business, or can you sometimes find time for yourselves?
BG: My children live in different parts of the world, so if I want to go on a foreign holiday all I have to do is visit one of them – although they prefer it when their mother gives them fair warning of a visit. But I have to admit that I don't like being away from Poland. It's rare in professional life to have built up a real estate portfolio of a few million square metres from scratch. And to do it for an organisation like CTP gives me immense energy for further action as well as a level of satisfaction that can't be compared to anything else.
PF: When my children were asked what their dad's hobby was, they replied that it was work. There is something to what Bogi said. The opportunity to develop such an ambitious project virtually from nothing, building up a team based on the experience of the founder of CTP, while at the same time developing 0.5 mln sqm gives you a unique kind of motivation. However, in my spare time I try to spend time with my family, to go running around Lake Rusałka in Poznań, and in the winter to occasionally go snowboarding.
***
The brains behind CTP Poland
Bogi Gabrovic is responsible for building up the company's Polish portfolio (which currently comprises a landbank of over 2.9 mln sqm) as well as its local team and the expansion of the business in this part of Europe. She has over 25 years of experience in assessing projects, raising capital and managing assets, risks and funds. Bogi has worked for international firms in the US and Europe, often leading their expansion, reorganisation and capital development plans.
Piotr Flugel is responsible for building up the company's portfolio as well as drawing up a comprehensive strategy to drive its business results and development for the CEE region. Piotr has worked in real estate for twelve years and is experienced in team management, construction project development and implementing long-term sales policies. He focuses on project management, growing the business, and supervising and optimising all the company's operations.