From minor to major
Small talk
Interviewer: Tomasz Cudowski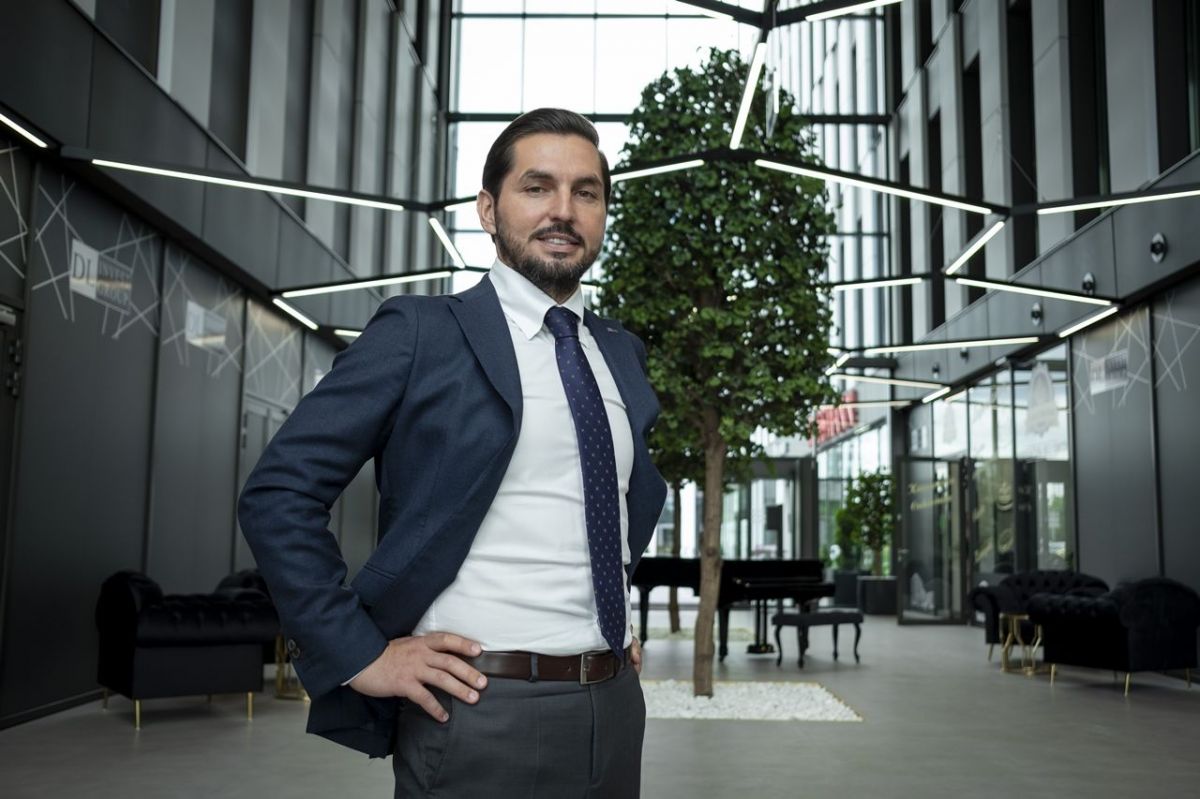 Dominik Leszczyński of DL Invest Group
Dominik Leszczyński, CEO, DL Invest Group
You now have assets worth around PLN 1 bln across Poland, a partnership with DHL and your own co-working chain – but just three years ago hardly anyone had heard of you. How has a local firm from Katowice been able to grow so fast in such difficult times?
Dominik Leszczyński, CEO, DL Invest Group: This is the result of consistently following a strategy over a number of years of building up a commercial property portfolio with solid revenues. And because we become deeply involved in each one of our projects, we have little time left to communicate to the wider world about what we are doing, so yes indeed, perhaps very few people have heard of us [laughs]. We started by trading in land and then started to build small retail parks, most of which were less than 2,000 sqm gla and we've still got most of them in our portfolio. We follow a 'build & hold' strategy: preparing our developments by ourselves and then we also commercialising and managing them alone.
There's been a lot of talk recently about your partnership with DHL. How did you manage to get together with such a heavyweight player?
It took a long time. At a certain stage, we realised that we had become a mature company and so we began to look around for a partner, one that would bring out our basic competencies and bring us added value for our tenants. The negotiations with DHL took a year and a half. They scrutinised us very carefully from a legal and a tax standpoint as well as in terms of what we could technically accomplish. As a result, we are now in a joint venture with the largest logistics chain in the world.
Do you have enough land for this?
Our land bank currently amounts to around 2 mln sqm, of which 1.6 mln sqm we have prepared for logistics projects. Our land bank is mainly in Upper Silesia and Podkarpacie province, but we've also got projects in Szczecin, Gdańsk, Łódź, Kraków and Teresin. This last month we've been developing a three-building warehouse complex of 100,000 sqm and, at the same time, we've been finishing the construction work on four BTS buildings for InPost, Hanex, Hutchinson and DHL.
You've already mentioned that you also have retail buildings in your portfolio…
Yes, we have 13 retail parks, which have done well in these difficult times. They are all fully leased. Right now we are extending two of our parks.
… and you also have office blocks.
We've got five completed buildings, including DL Piano with 17,000 sqm, which we've just handed over for use. We also have two projects under construction: DL Tower and DL Prime. Most importantly, over the first half of the year and during the Covid period we signed 33 lease contracts, including a ten-year deal with Ista for 8,200 sqm. This is one of the largest office leases in Upper Silesia signed over that period. And it's with this tenant in mind that in December we're going to begin construction work on the 19,000 sqm DL Prime office building in Gliwice. We've also started our own chain of serviced offices – DL Spaceś. The development strategy we've been following since 2019 should double the value of our assets from PLN 1 bln to PLN 2 bln by 2024.
That's ambitious. Haven't you had to revise these plans since the outbreak of Covid?
As I've already said, we have a large land bank and we want to achieve our goals by building on it. During the pandemic we have been testing out our organisational abilities and competences to deliver services to our tenants and I'm proud to say that our team of over 120 people has been able to do this very well. Of course, all the time we are assessing the potential risks, such as a complete lockdown.
You've built up your internal commercialisation structure considerably. Has it proven to be effective during the pandemic?
Absolutely, yes. We have three sales teams of our own that are responsible for leasing out 92 pct of our real estate space. We can react quickly and in many cases effectively to changes in the market, such as the need to rapidly sublease vacant space. We have our own facility management service and also what we call a concierge service, which is a quick reaction force made up of personnel who take on all the different kinds of problems tenants might have, from burnt out light bulbs to more specialised support, such as legal services.
You don't just develop new buildings though, you also do renovations.
Yes. For example, we've modernised the PZU building in Częstochowa and also the Reinhold building in Katowice, which we took on when it was virtually empty due to extensive refurbishment. Today, after almost two years, it is fully leased and we are building the DL Tower just next to it. Our portfolio also includes one pearl of Silesian architecture: the Old Post Office in Gliwice, which dates back to 1903. We've completely renovated it and we've leased out all of the space of around 8,000 sqm. When we want to charm an investor, that's the building we take them to.
And what building would you take someone to in Silesia that isn't your own, if you were a local architectural tour guide?
I really love the Polish Radio National Symphony Orchestra building in Katowice – it's brilliant. It's the kind of modern architecture that really makes an impression, both inside and out. On the other hand, there's also the old Szopienice district in the city, which has beautifully preserved industrial and residential buildings. It's really worth seeing, so I invite you to come to Upper Silesia – both for business and for pleasure.