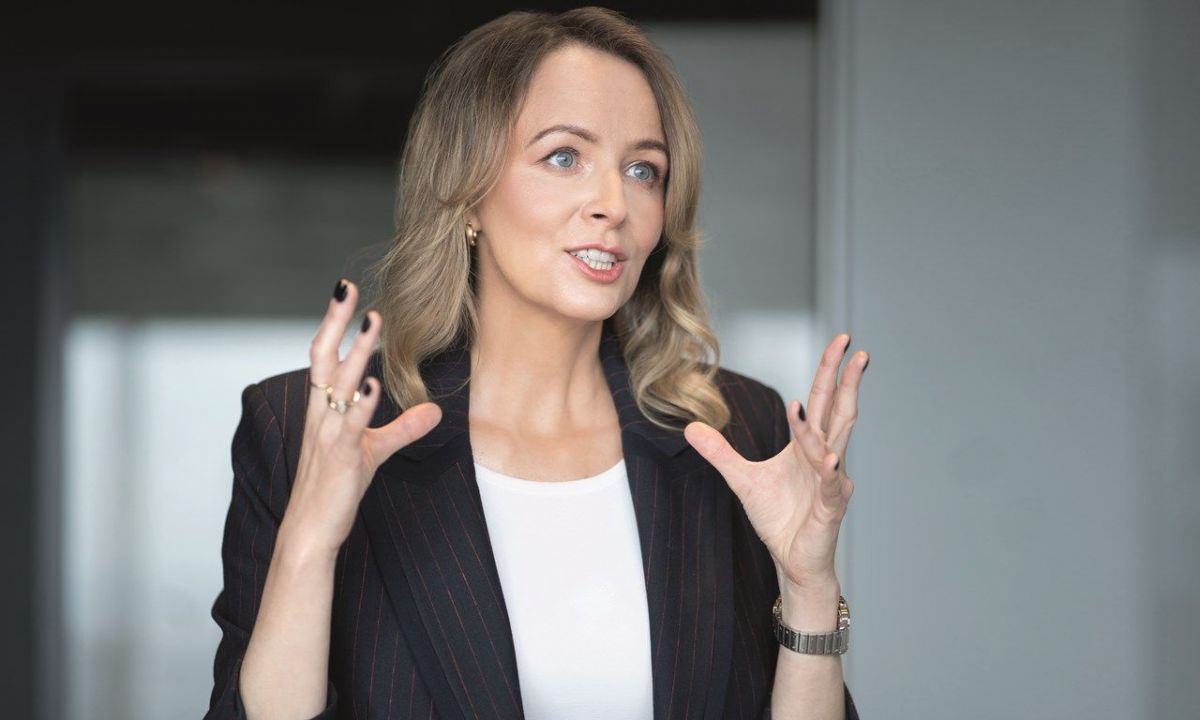 Magdalena Kowalewska of Immofinanz
Magdalena Kowalewska, the country operations manager and a board member of Immofinanz in Poland, in an exclusive interview for Eurobuild talks about the new flexible office formats that have just been launched in buildings owned by the company
Tomasz Cudowski, 'Eurobuild CEE': Immofinanz has just announced its bold entry into the flexible office segment. Is this a good idea when many offices – both traditional and coworking – are still empty?
Magdalena Kowalewska, the country operations manager and a board member of Immofinanz in Poland: We made the decision to offer such space long before the pandemic, and the market trends over recent months have confirmed that this direction is the right one to take and how very promising it is. From the very beginning, Immofinanz has aimed to provide options that meet all tenants' needs – both in terms of location and standard. Our portfolio includes buildings with the highest standards, such as the Warsaw Spire on the Rondo Daszyńskiego roundabout, as well as those that are already fully-leased, such as Empark in Warsaw's Mokotów district. Initially, our entry into the flexible segment was a natural consequence of the development of the formats we offer. The pandemic strengthened and accelerated a number of trends in the office market, for example, home office, which existed before but has been flourishing for a year. Similarly, with flexible space the leasing model allows companies to react faster and more effectively in a crisis. We believe that the ideal model for tenants at the moment is to have a mixture of traditional space and access to flexibility under the same roof – this allows us to respond to a company's needs on an ongoing basis. This is important, for example, when it comes to mergers and acquisitions, which have become an increasing trend during the pandemic and generate the immediate need for additional office space. The same is true for companies that set up teams for specific, temporary projects. They need to rent additional office space quickly and near their original premises, and at the same time not to be bound by a traditional, five-year contract. This is in essence what we now offer – flexibility that complements traditional leases, that is, two formats available in one place from the same owner.
Let's take a closer look at the fine details. What kind of flex space does Immofinanz now offer and how will it stand out from the competition?
Two concepts have been launched in our buildings since April: mycowork, which is traditional co-working space with shared areas, and myoffice, which is space that has the features of a private serviced office. The first of these offers three options: mydesk – a specific desk assigned to a specific person, myroom – a private, separate room (e.g. for a project team) and myflex – a flexible, unassigned space in any myhive building with a mycowork surface. Of course, all mycowork options provide access to a complete range of services and benefits. In turn, with myoffice you have private, dedicated space that comes with comprehensive infrastructure – its own reception, conference rooms, focus rooms, a lounge, a kitchen, a server room and toilets, but also with the full range of services. This is a novel package for the market, with areas from 250 sqm that can be rented immediately, for just one month. We are testing out this option ourselves, because Immofinanz's new offices in myhive Warsaw Spire operate under this system.
What have been your impressions so far? Has the operator been to your satisfaction?
Yes, we have no complaints! [laughs] We provide really great conditions that allow tenants to focus on their work. We've ensured that both myoffice and mycowork offices have, among other features, desks with electronic height adjustment, access to natural light in all the rooms, and independently controlled air-conditioning. We have also invested in making sure the acoustics are just right, using glass with the right specifications and sound-absorbing ceiling panels and lamps. And we've ensured that there is a minimum of 10 sqm per desk. Importantly, our new space is fully compliant with health and safety regulations.
Are you employing community managers?
I can say with some confidence that we have taken community management to the next level. This is true of both our coworking space and for all our myhive buildings. Community management was one of the stand-out features of our myhive brand when we brought it to Poland over four years ago. We have some outstanding professionals who, in addition to more traditional events, can offer our tenants a wider range of special events hosted by well-known specialists in the field of personal and professional development. We often say that through what we offer in this area we are taking on some of the responsibilities of our tenants' HR departments – taking care not only of entire companies, but also of the development of individual employees. As we like to say: "You take care of your business, but leave us to take care of the office and your employees."
Okay, now for a really important question: what kind of coffee do you have in your coworking space?
Only the best – roasted no longer than a week before use. What makes me especially happy is that a Polish company based in Wrocław won the tender to supply coffee to all the myhives in Europe.
Since early April, new concepts have been introduced to myhive Warsaw Spire and myhive Park Postępu, and will soon appear in myhive Nimbus... these are not the cheapest locations, and you have also added the word 'premium' to how you market this.
Well, from the very beginning of our office market operations, Immofinanz has not competed in terms of price, but quality. But when you look more closely at the value of the individual services provided in our 'all inclusive' format, our rates are not excessive and are justified – as any CFOs that scrutinises what we offer carefully would tell you. The rental price, of course, depends on various factors – the space occupied, the number of people in the company, or the length of the lease; but, for example, I can say that a myflex desk in myhive Park Postępu with a one month contract costs EUR 150.
Apparently, you have already offered these new options to some of your permanent tenants. What kind of response have you had to this?
It was very positive, as can be seen by the fact that the first contracts were signed at the end of February and in early March, even though there was still a long time to go before the space was available. Tenants value their independence and the opportunities offered by additional flexible space. On the one hand, corporations are open to outside contacts, but on the other, they are protective of their strategic spheres of activity, and so they can combine traditional offices with mycowork or even myoffice – having a separate office on flexible terms as a second option and just around the corner a cool community that holds interesting events overseen by a community manager.
Did your tenants give you some hints about how to organise your coworking space? Have you had time to fix a few things?
I find this feedback particularly valuable, because thanks to our tenants we've been able to make some improvements to the way we communicate about the flexible space we offer. We've discovered that companies are quite knowledgeable about coworking space and ask precise, specific questions – so our information about this has to be concise and to the point. All the signatures on lease contracts are proof that we have been good students.
How much office space are you planning to open under these new brands this year? Will you be mostly doing this in your own buildings or are you planning to acquire existing flex chains?
Ultimately, we want to provide our entire portfolio with mycowork and myoffice space, but we will take a methodical approach to the roll-out of these concepts, according to the current market demand. As for growth through acquisitions, at the moment we are focusing on our own properties. But for the next myoffice openings, I can reveal that we are preparing such space in the myhive Crown Point and myhive IO-1 buildings in Warsaw and are planning to do the same in other locations.
Ambitious plans. But the competition is also quite active...
In fact with myoffice we are still a pioneer in this segment, that is, complete, private offices available to lease for a minimum of one month. The threshold for entering this business is very high, since you have to be the owner of a significant office portfolio.
Do all these new office products mean that Immofinanz is switching its focus to this market? What about your retail projects? And haven't you considered dipping into warehouses, which are currently the tastiest morsels on the investment market?
Our company stands firmly on two legs – office and retail. When it comes to offices, we intend to continue to expand our myhive network, while for retail we are planning the further expansion of our Stop Shop retail park network in Poland, by both building and acquiring new locations. Warehouses are not our part of business in Poland, so we have no plans to develop in this area.
How do you think our sector will recover from the pandemic? If I'm not mistaken, you are rather optimistic about the prospects?
We certainly are. I have a lot of confidence in the real estate market. The pandemic has been ruthless in exposing its weaknesses, but has also highlighted its strengths. This is a phenomenon that has been seen in every crisis – we come out of each upheaval a bit battered, but much wiser. New formats will certainly emerge, because the pandemic convinced us to turn to hybrid and flexible models. And it has also taught us to be more creative. A good example of this has been the growth of e-commerce, which will continue to complement traditional retail – both spheres have to cooperate rather than come into conflict with each other, because it's only through cooperation that growth is possible. Just like with people.
***
Twelve years a leader
Magdalena Kowalewska began her career at Immofinanz in 2009. Since then she has held the position of head of asset management for offices and logistics in Poland, country manager for offices and logistics in Poland and in 2016 she became a member of the board and country operations manager, in charge of overseeing the entire Polish real estate portfolio of the company, which is worth over EUR 1 bln. Currently she is responsible for all the operational departments of Immofinanz in Poland, including asset management, leasing, development and centre management. Her activities focus on two strategic areas of the company's operations: office and retail real estate. Magdalena is also responsible for the areas of HR, marketing and PR in Poland. In recent years she has successfully implemented the development strategy of three Immofinanz brands on the local market: the myhive office concept, Stop Shop retail parks and Vivo! shopping centres. She graduated in marketing from the University of Chicago, as well as in international economic relations from the Warsaw School of Economics and English language and literature from the Jan Kochanowski University in Kielce.