Heads in the cloud
Technology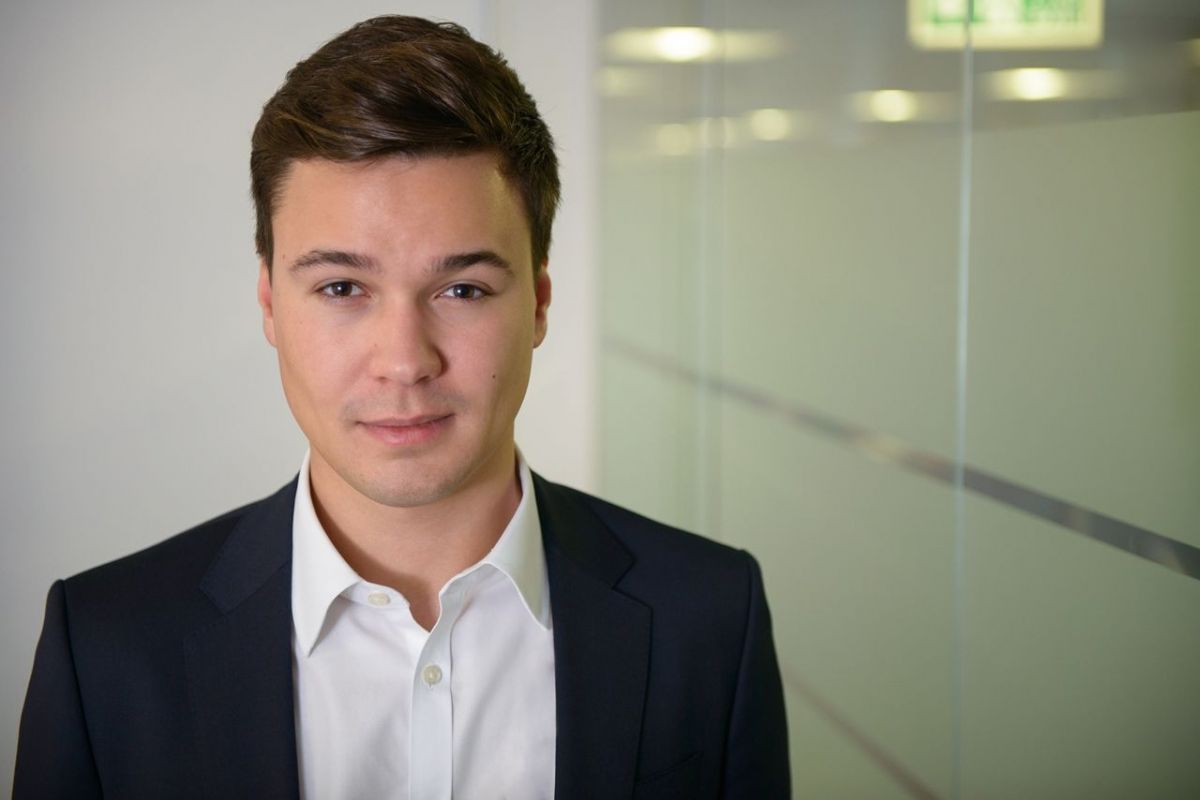 "I don't believe that any average developer could just enter this market and expect to be successful just like that," suggests Oliwer Goliński, a data centre expert at 7R
Data centres are not much talked about and often seem to be hidden away from the glare of publicity – but the demand for them is strong and looks set to grow and grow
In May last year, Microsoft announced a USD 1 bln investment in what it has dubbed the 'Polish Digital Valley'. Much of this is to be spent on building a data centre region in Poland, which is to be developed in a strategic partnership with the country's cloud service provider Chmura Krajowa. However, Microsoft is not the first tech giant to roll out its services in Poland – it has already been beaten to it by Google Cloud, which has also signed a strategic partnership with Chmura Krajowa and officially opened for business in April this year. Overall, Google's investment amounts to USD 2 bln. Against such a backdrop, it should hardly be surprising that Cushman & Wakefield's 'Data Centre European Secondary Markets' report published at the beginning of the year identified Warsaw as a hot spot for data centre development. At the time Joanna Sinkiewicz, the head of the industrial and logistics agency at Cushman & Wakefield, declared: "We are now witnessing a revolution in data centre development. Large companies and governments alike are continuing with their technological transformation on an ever larger scale. This is also confirmed by the figures – hyperscale cloud spend alone was an EUR 8.7 bln business in 2019, with an anticipated rise to an incredible EUR 50 bln by 2024. Paradoxically, the pandemic is likely to accelerate this transformation as a host of new locations have joined the data centre landscape across Europe and the world. Tech companies are now focused on European capitals such as Warsaw, Vienna, Madrid, Berlin and Prague."
At least three different types of data centre exist. There are data centres that just service the computational needs of their owners, as well as colocation centres and cloud service centres. Co-location is the classic form of data centre, in which clients lease physical space to install their servers, while cloud services are where clients do not own their own servers but pay directly for their computational needs. One colocation provider active in Poland is Beyond.pl, which recently announced plans to expand its centre in Poznań. Upon completion, the centre will cover 45,000 sqm and its capacity will have expanded from 8.6 MW to 42 MW. "In terms of meeting the current demand, we are predominantly focused on Western Europe. Beyond.pl can offer a superior proposition to the Western European market. We are a facility that is Rated 4 certified (ANSI/TIA-942) and there is no other such facility in the EU – except for two in Italy. Being halfway between Berlin and Warsaw, we are very well-positioned geographically from a connectivity perspective – actually directly on the fastest route between Frankfurt and Moscow. Round trip latency to Frankfurt from our facility is 11ms. Berlin and Warsaw are each 4ms. And then comes the cherry on the cake – we are 100 pct powered by green energy," reveals Wojciech Stramski, the CEO of Beyond.pl. One of the most important measurements for the industry is PUE or Power Usage Effectiveness, which is the ratio of the total power consumed by a data centre divided by the power used solely by the servers. The lower the PUE, the more efficient a data centre is – and obviously a score as low as one is impossible to achieve. "We have one of the lowest PUEs on this side of the continent (1.2) and our energy prices in Poland are 14 euro cents (inclusive of PUE) vs Germany, for example, with 30 euro cents per kWh. This allows us to provide our customers with significant cost savings," adds Beyond.pl's CEO.
Not just cheap electricity
Indeed, in its original report Cushman & Wakefield stated that one of the main reasons for the growth in demand are the country's relatively low electricity prices. However, according to Wojciech Przybylak, a land specialist in the industrial and logistics agency at Cushman & Wakefield, electricity is not the only consideration. "Firstly, a location must meet a number of security requirements, including the distance from main roads. Some of these requirements are set out in the standards that have been drawn up for data centres. Another aspect that is relevant to some data centres is their location competitiveness: as is the case on any market, the location should offer some competitive advantages. And finally, telecommunications infrastructure must be available, as this has a significant impact on the choice of location for data centres. To sum up, the location is dictated by a range of factors where electricity availability is as important as security and competitiveness," he says. And indeed, when it comes to security, this is of major importance in the development of data centres. "In planning a data centre project, security is a key factor in the choice of location – it is vital that data centres are located at an appropriate distance from infrastructure, such as telecommunications, roads and railways. Data centre planning must also take account of various risks, including natural disasters. Security also comes to the fore when planning a building's structure and its power supply sources – data centres must be built to operate unaffected by power cuts and other disruptions. All the elements that are critical to the operation of a data centre are duplicated and constructed to be easily replaceable when necessary. Furthermore, many such facilities are now equipped to withstand various types of attacks. Data centre projects are so big and the content held in server space so precious that data centre planning requires that as many risks as possible are foreseen. These factors are critical to a data centre's resilience and very often determine the final shape of data centre projects."
No comment
According to datacentermap.com, there are 33 colocation centres in Poland, ten of which are in Warsaw, but figures are hard to come by because discretion for the industry is very important. "Data centre projects, probably like no other type of real estate development, like to be kept low-profile. It is no coincidence that news about such projects in Poland tends to appear in the media only after the first ground has been broken on them. Keeping the name of a client undisclosed for much of the development process is also de rigueur. A good example of how important confidentiality is can be seen in the fact that some clients even object to having their logos on their buildings and often refuse to disclose their collaboration with partners working on such projects in their portfolios," points out Kamil Żach, a senior negotiator at Cushman & Wakefield. One example of this is warehouse developer P3, which has announced that one of the tenants in its Błonie park is a data centre. However, when asked to reveal its identity for this article, P3 politely declined as this was confidential information, but also adding that providing premises for data centres is a field they are keen to explore further and they are still building up their expertise in this regard.
Polish warehouse developer 7R has, however, recently announced that this is a service that they do offer. "To develop data centres requires a specific know-how and a deep understanding of these facilities. I don't believe that any average developer could just enter this field and expect to be successful just like that. For 7R the decision to enter this market was strategic and it reflects the group's growth strategy for the next several years. It is tied to our warehouse and industrial space businesses but is really a very different type of industrial space, so we have had to invest in internal know-how and people to be able to compete in this field," explains Oliwer Goliński, a data centre development specialist at 7R. When he was asked whether it was a natural business line for a warehouse developer to move into, he replied: "We're not really solely a warehouse provider. A large part of what we do is to develop large technologically-advanced industrial space. We do production centres and R&D centres as well. A lot of this involves delivering these mission-critical facilities that businesses need to support their key business operations. I think this is important when you think about data centres because they are also mission-critical. They require uninterruptable operations 24/7 and there is zero room for mistakes. And a tier IV data centre can only be offline for less than half an hour each year."
Greener than green
When Oliwer Goliński was asked how a building that simply transforms electricity into heat could possibly be green, he replied: "All this electricity is being used to run applications and there would possibly be an even higher carbon footprint if these applications were not run. Take, for example, our video conferencing conversation right now. If we weren't doing this via some server, I would have to travel to see you. With other business meetings in the past sometimes you would have had to fly to London or Frankfurt. I see data centres as an enabler of being environmentally friendly, rather than something that just uses up electricity."
Wiesław Wilk, a member of the management board of Polska Chmura, is of a similar view: "I agree that data centres consume lots of energy just to generate computing power. However, modern facilities successfully use passive energy sources, such as solar power. They also leverage their location, by generating passive heat loads or by recuperating server heat to heat the building as well as to provide hot water. Such facilities operate in harmony with the natural environment and are rightly called 'green' data centres. Along with avoiding any negative environmental impact, the reuse of the server room heat in offices enables the heating and air conditioning costs to be reduced, which also generates genuine savings for data centre customers. That is why I believe the presence of specialised data centres such as ours is hardly an environmental threat, since sustainability is embedded in our member centres' DNA. Actually, I would be more worried about non-specialised and non-centralised server rooms. After all, they also consume energy to process data, but do not have the appropriate technology or know-how to manage it skilfully and ecologically." And this point is echoed by Rafał Bakalarz, the director of sales, marketing and ICT development at Netia: "It is not the large amounts of energy the data centres consume that is challenging, but rather the ever-increasing energy that is used by IT devices, servers and computers. In many ways, data centres are valuable from the point of view of the environment. First of all, data centres have much lower PUE ratios than a local office server room. For professional data centres, this ratio is between 1.3 and 1.65, which means that the server consumes 30–65 pct more energy than it needs. In office server rooms, the ratio is usually between 2 and 3, which means that in extreme cases three times more energy is consumed than is actually needed for the device. Thus the use of data centres actually reduces energy consumption." There is no doubt that for this industry green issues are as important as in any other. "Becoming as green as possible is genuinely aligned with the industry's interests. It means using less electricity, which translates into lower operational costs. The industry is continuing to innovate in this regard and I would expect either the energy efficiency to go up so you can compute more with less energy, or that the power used for the cooling and maintenance will significantly go down in the future. Many operators really do want to be as green as possible. It gives a competitive advantage because many of their clients care very much about CSR and sustainability. They have their carbon footprint reduction goals. Their clients demand this, so operators have to be as green as possible," points out Oliwer Goliński of 7R.\
Demand for data
"In terms of floor space, Polish data centres rank quite far behind those in Western countries. However, since we are a younger and developing market, we have newer centres that are more energy and cost-efficient. We can also combine experience with a fresh perspective. The adoption of critical business applications in the cloud is progressing faster in our country than in our neighbours to the west," insists Marcin Gwóźdź, the CEO of data centre owner Polcom. One of the reasons many businesses are moving into the cloud is because of its scalability. "Let's say you're an e-commerce store and over Christmas you have a huge spike in traffic. If you had your own hardware you would have to have enough capacity to support your peak time, but if you buy public cloud you can just scale it up and down depending on your needs," points out Oliwer Goliński of 7R.
But the main point is that the demand for such centres in Poland is simply bound to grow as it grows globally. "The number of global data centres in 2020 reached 541, and 176 more are under construction or being commissioned. By the end of this year, the number of large (hyperscale) data centres in the world will be more than 700. Over 2021–2026, the global data centre market is expected to grow by more than 4 pct," adds Wiesław Wilk. If anything, Oliwer Goliński of 7R sees even more potential for growth: "As society becomes more digital and as we leverage new technology that we invent every day, it is really hard to imagine a future without data centres becoming more prevalent everywhere. If we want to go full science fiction, although not that far ahead – give it ten years maybe fifteen – things like self-driving cars will slowly have become a reality. In California such technology is currently being tested out. Each car has to do so much computation relying on big data. It is not really possible for every car to have its own computer inside powerful enough to do so many computations in real time, so this is going to have to be solved by having a car connected to a 5G tower close to the road. Then it will communicate with a data centre in real time in milliseconds, in order to calculate the route and analyse the video data from the cameras in the car to see if you're not going to crash into something. Every city is going to need these kinds of data centres or otherwise a self-driving car would just crash into a tree or cause an accident." Already, according to Wojciech Stramski of Beyond.pl, meeting the demand has become something of challenge. "If you look at the demand growth in Western Europe, which is our target market, our 42MW campus is not going large enough for those markets. So maybe in the near-term we will have some more announcements to make regarding our expansion," he says.