Up, up and away
Warehouse & industrial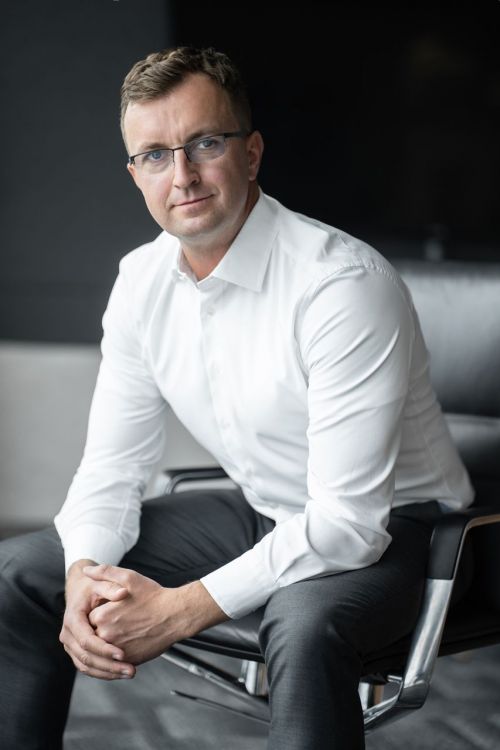 The e-commerce-driven boom in the warehouse sector begs the question of how long the party is going to last. It's true that the logistics infrastructure for servicing online retail is only just emerging, but the investment and development markets are already feeling the strain
Almost 3.4 mln sqm of warehouse space was leased in the first half of the year, once again smashing all the records. Moreover, according to Savills, the end of H1 also marked the first time ever that more than 6 mln sqm was leased out over a twelve-month period, with the total space transacted reaching 6.25 mln sqm. Although new records are being broken and the sector has just had its most successful half-year ever, many experts are saying that these figures are the result of deferred demand. "Throughout the pandemic, many companies were thinking about what to do next – whether they should lease space or not, what the world was going to be like after the pandemic, and whether their businesses would recover. But suddenly, the demand that had been very much dampened during this period came back," points out Radosław T. Krochta, the president of the management board of MLP Group. When this deferred demand has been met, the leasing figures will no longer look so impressive. "The heightened demand is going to keep going as long as it stays propped up by the pandemic," states Robert Dobrzycki, the Europe CEO of Panattoni.
The start of the road
The question is, what comes next? No matter how much the pandemic has bolstered the leasing figures, those who are involved in the warehousing market have little to worry about. It appears that we are going to have strong growth for some time to come, although not as spectacular as in H1 2021. This is largely due to the logistics infrastructure for servicing online retail still being under-developed. Robert Dobrzycki believes that only a few per cent of the space needed has been built in Poland so far to meet the demands of a growing market. "Even in Germany, construction for e-commerce is still at the very beginning and Poland is quite a way behind Germany," says Panattoni's CEO. Of course, the main driver behind the development of warehousing is the switch from traditional forms of retail to e-commerce – and this trend shows no sign of petering out. "In my opinion, we are only at the beginning and this trend is going to continue for a long time," predicts Robert Dobrzycki.
Will Percival, an associate of Savills' European investment team in London, points out that the tipping point experienced in the UK, during a pre-pandemic surge in occupier demand for logistics space, was when online sales reached 10.7 pct of the entire retail sales volume. "That was an important moment because we saw that the demand for warehouse space from online retailers and 3PL providers started to rise dramatically. When you relate that to Poland, e-commerce penetration is on the verge of reaching that same tipping point. Pre-pandemic, e-commerce's share of total retail sales in Poland was 5.6 pct (in January and February), whereas during the lockdown it climbed to as high as 11.9 pct. Poland, therefore, is close to that point where the demand from online retailers and 3PL providers is really going to take off," he says.
The UK is obviously already much further down the road than Poland in terms of the development of e-commerce. E-commerce's share in retail sales in the UK grew to as much as 36 pct during the lockdown period, which allows us to conclude that its e-commerce sector is roughly three times more developed than it is in Poland now. The current Polish level of slightly above 10 pct was reached in the UK in 2012/2013. "In Poland, the market is only in its infancy in terms of what will happen with new modern space over the next ten years. My gut feeling is that we are still at the early stage of the cycle in terms of what will have to be built over the medium term. But this is not a boom cycle that will suddenly stop and dry up – and suddenly there will be enough warehouse space in Poland," insists John Palmer, the head of industrial investment at Savills' Warsaw office.
Not just online retail
According to Savills' estimates, online sales in Poland account for around 15–20 pct of the demand for warehousing space, while Axi Immo places the figure even higher. According to the latter, e-commerce accounted for 23 pct of the demand for warehousing space in H1 2021. Only logistics companies took a bigger share, of around 30 pct, although it has to be remembered that a large part of their activities also involves services for e-commerce. Traditional retailers only accounted for 22 pct of the market, which was followed by production (8.4 pct) and construction and interior design (both 5.5 pct). Among the 15 largest transactions over the period, eleven were for space that was to either wholly or partially serve online sales.
However, according to John Palmer, the strength of the Polish warehouse sector didn't start with the boom in online retail. The sector has had strong fundamentals for a long time. "The great thing about the Polish market is that Poland has a population of almost 40 mln people and its GDP is not simply reliant on exports. Poland enjoys strong domestic spending that is continuing to grow. Today Poles have more money in their pockets. They are spending more and the short-term knock-on effect of this is more demand for warehousing. So the development of the market is not just due to the growth in e-commerce, but that of the entire economy," explains John Palmer. Tom Listowski, the head of the industrial and warehouse department for Central and Eastern Europe at Cresa, also believes that the sector is extremely attractive for foreign investors. "We are witnessing demand from a wide spectrum of sectors and companies of various countries of origin, whether that's the USA, Germany, the UK or France. More recently we are seeing some companies from Eastern Europe and also Asia entering Poland either directly or via strategic logistics operators. Of course, Polish companies will also play a large role, as they too will gain momentum and expand their operations across the country," he says.
The future in the east
The rise in domestic demand is also not only key to the development of the warehousing market but also for e-commerce itself. Even though many companies have located their warehouses alongside the country's western border (including Amazon in the towns of Świebodzin, Kołbaskowo and Okmiany, as well as near Wrocław, Poznań and in Upper Silesia), the demand is now moving westwards. "We're beginning to see a change. In the beginning, warehouses in Western Europe mainly served the growing Polish e-commerce market. These were large fulfilment centres, where picking and packing would take place for parcels to be sent to e-commerce customers. Now large buildings are already being built to serve Poland. You could even say that an entire ecosystem is being built for the Polish market," says Robert Dobrzycki. This network comprises fulfilment centres as well as the cross-docks that serve them and a whole network of buildings nearer to the consumer to service last-mile deliveries. John Palmer is of a similar opinion: "I think Poland in the past was seen as perhaps a gateway into Europe and as a location for e-commerce requirements for other countries, whereas now it is going to be predominantly driven by the domestic market and the increased fulfilment of those orders," he claims.
Robert Dobrzycki holds the view that fulfilment centres are increasingly going to appear in the east of Poland: "The road network has already been partly built to the east and soon we will be able to reach every corner of the country from the east of Poland in a single day. In terms of one-day deliveries, the east is a good enough location – but it's even better when you look at the labour pool," he insists. One-day delivery to the customer is also the reason for centres serving Western Europe being built in the West and not in the middle of Poland. "The boundary for fulfilment centres that can still serve Germany and Western Europe lies somewhere between Poznań and Łódź. Any further east and you can't guarantee one-day deliveries," adds Robert Dobrzycki. The situation might change with the advent of driverless vehicles, as this should extend the distance a lorry can cover in a single day.
A chance for logistics
Without a doubt, logistics firms are also benefiting from the growth of e-commerce. Many companies that trade online prefer to hand over their logistics to the experts than deal with all the issues related to deliveries themselves. "In many cases, e-commerce companies need a huge workforce and it seems that logistics firms deal with this problem better. As a result, the trend is to hire specialised logistics firms, which are often more clued up about the labour situation. That's why e-commerce clients are now one of the pillars of their business," explains Robert Dobrzycki. One example of how big such contracts can be is DHL's lease of 105,000 sqm in Poznań to service Zalando. The trend is also for larger buildings: "E-commerce buildings, especially when it comes to the major players, are much bigger than they have ever been before. Buildings of 100,000 sqm these days are certainly not uncommon," points out the CEO of Panattoni.
These days more tenants are insisting on green construction practices to fulfil their environmental, social and corporate responsibility policies – otherwise known as ESG. "A lot of the current focus is on implementing environmentally-friendly solutions to reduce carbon footprints and also utility consumption, for example heat pumps, photovoltaic installations, the recycling of water and improved thermal insulation," says Tom Listowski. Such policies are having two significant effects on investment: they are generating demand for modern space and forcing landlords to invest in upgrading the buildings they've already built. "We're modernising our parks and we have large capex budgets for them to fulfil a really high standard. We're changing the docks, the ventilation system and the heating and we're installing solar panels. This is all very important because these days you can't expect warehouses to stay how they always were and expect them to remain attractive to tenants," insists Radosław T. Krochta. For this reason, MLP is working on a programme to environmentally certify all of their older buildings so that in two years' time they will all have BREEAM certification with ratings of at least 'Good'. "It's worth pointing out that older buildings often benefit from excellent locations, since in the past such halls were built much nearer city centres," points out Radosław T. Krochta.
Time is precious
It has become clear lately, mainly from their behaviour, that many e-commerce companies are operating under heavy time pressure. "These days clients want to occupy the space right now. The speed, effectiveness and flexibility of the project are the most important factors for them. We have to be ready with the property and the permits to start the construction work as soon as possible," explains Robert Dobrzycki. These days companies expect more flexibility from the developer in terms of the opportunities for future expansion, which means the developer must be able to produce more space when needed. They also expect the building to be constructed to their standards and specifications. "Often they will even demand modifications to a project, even while it is being built – and this is extremely important to them because their businesses change so quickly and their needs are continually evolving. This is an additional challenge faced by the developer," points out Robert Dobrzycki. The reaction speed also depends on the strength of the developer. The size and scale of larger companies often means that they have more power to make demands of their general contractors and hold more sway over them. "It's important how attractive a developer is for a general contractor, especially when there are issues with labour and materials. An attractive developer has more possibilities and can better manage the development process, having better access to supplies. This guarantees that the deliveries are on time as well as later stages of the project. The experience of the contractor is also important as well as the ability to secure financing for the building quickly," argues Robert Dobrzycki.
Radosław T. Krochta also stresses the importance of the time factor. "It seems that at the moment we are going to build more on a speculative basis rather than on the basis of pre-leases. We haven't done this for several years, but currently there is a lot of demand for ad hoc space. Previously, these processes were better planned, but these days tenants can appear and ask for space right now," he says. MLP's CEO believes that this is only be a temporary trend. "This phenomenon is due to the pandemic related- disruption and results from the demand being deferred," he claims.
Undoubtedly, e-commerce companies are set to continue speeding up and shortening their logistics chains. Time and quality of service are the main areas of competition in this sector and in this respect it's certain that sellers are never going to stop chasing each other. "It's hard to say exactly what is going to change in this regard, but whatever happens, it's sure to have some effect on the specifications of the buildings," believes Robert Dobrzycki. Location is also set to grow in importance. "Now it's become clear that if a developer has a good site, the project has a 60–70 pct chance of being successful," adds Radosław T. Krochta.
As more warehousing is built, the supply of suitable building sites shrinks. "We've been helped over the last few years by the extension of the road network, which has meant that previously unattractive sites can be used for warehousing projects. If, however, demand remains at such high levels into the long term, supply problems could then emerge similar to those we can already see in Western Europe," admits Robert Dobrzycki. Is the problem really so serious that it could prevent developers from meeting the constantly growing demand for warehouse space? It seems not. Currently, there is a record-breaking 3.36 mln sqm of warehouse space under construction in Poland and still no sight of anything that might bring this booming market back down to earth.