Pedalling into the future
Events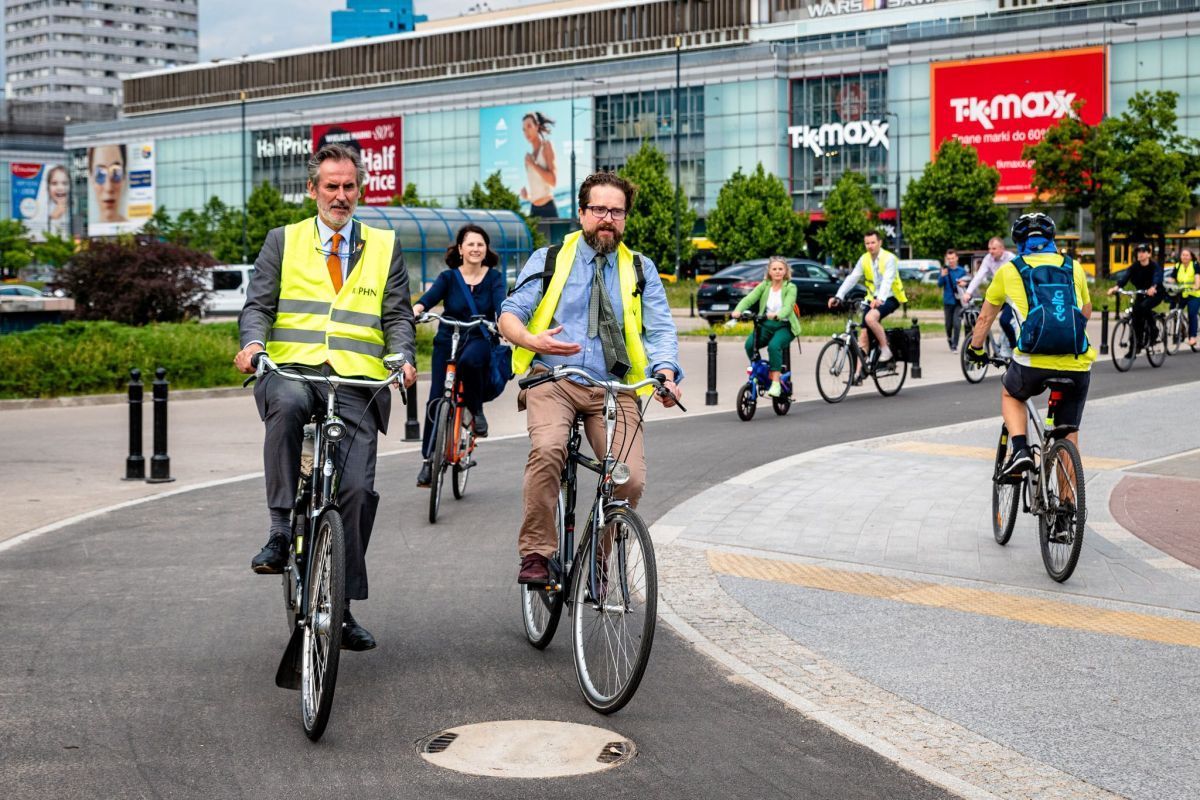 There was supposed to be a deluge with thunder and lightning. But only a couple of drops fell – and that was before our 6th Suits on Bikes ride through the streets of Warsaw. Although a few thousand buckets did eventually come down once we had finished cycling, the weather was clearly on the side of 'Eurobuild' and those taking part and, in spite of all the global challenges, had given us a window to help us promote sustainable transport
Overall, around a hundred people took to their bikes on June 9th, some in suits and some in rather less formal attire. "I need to have a word with my colleagues at the embassy. I was told that this event was called Suits on Bikes," remarked Walter Oostelbos, the deputy head of mission at the Dutch Embassy, with a little regret as he looked upon our eclectically dressed group. His Excellency himself had turned up in a rather elegant suit, but this didn't stop him from completing the entire route with ease, as a result of his solid training and diplomatic experience. Walter Oostelbos turned out to be an exceptional participant of Suits on Bikes, as this year's event was honoured to have The Embassy of the Kingdom of the Netherlands as its honorary patron.
At around 5 pm we set off onto the streets of Warsaw in three groups along three routes from three Warsaw office buildings. The patrons for the starting points were the event's main partners: Polski Holding Nieruchomości, Immofinanz and Portico Investment Management.
The first group set off from the brand new Skysawa office tower, developed by Polski Holding Nieruchomości next to the Rondo ONZ roundabout. "The building has been completed and in the last few days we've been granted an occupancy permit," announced Magdalena Kacprzak, the marketing, strategy, investor relations and PR director at PHN. "We have also recently received some excellent news – our complex has been awarded a BREEAM certificate with a rating of 'Outstanding' and record high points for a Polish building. When we were designing and later building Skysawa, we always included cyclists in our plans. There are more than 200 parking spaces for bikes within the building, a locker room and a special elevator for the cyclists themselves," she pointed out.
The next team started out from Plac Europejski under the Myhive Warsaw Spire, where a colourful armada of bicycles were provided by the owner of the skyscraper, Immofinanz, in collaboration with The Bike Company. "The number of bikes we have has grown every year. We began just a few years ago with 50 bikes and now we have 110," Przemysław Wardęga, the senior PR and marketing manager of Immofinanz in Poland, informed us. "We provide them free of charge to our tenants and encourage commuting by bike. During the pandemic, we encouraged people to cycle as a safer form of getting around the city. Joining the Suits on Bikes campaign is integral to our strategy to promote cycling," he added, explaining that he himself comes to work by bike and has sold his car.
Immofinanz's bikes are provided free of charge for 24 hours (or for 48 hours over the weekends) to employees of the companies that lease space in its Myhive office buildings. They can take them home and bring them back again, while during the day they can leave them outside the office. "We service them every spring," added Przemysław Wardęga.
The third group gathered at Portico's head office. "I'm a cycling fanatic," revealed Paweł Pawlak, the CEO of Portico. "Each year I go on a ten-day cycling trip with friends and colleagues – and we've done this around Ukraine, Lithuania, Greece, Sicily, Sri Lanka and Portugal."
Some of those who took part in the event did so on their own bicycles, some on Immofinanz's, and others were able to ride city bikes provided by Nextbike. Cargo bikes also formed part of the procession, in one of which sat the youngest participant of the event, just a few months old but without a murmur of protest, in a trailer behind his mother. The Zielone Mazowsze organisation was also there to look after our safety and lead the ride. For a number of years now it has promoted sustainable transport and has played a crucial role in establishing cycle paths in Warsaw.
"Generally speaking, bike traffic rose by around 20 pct during the pandemic and it's now getting rather crowded on the bike paths," Krzysztof Gubański of Zielone Mazowsze and the author of the One Car Fewer blog, told us. "The modern standard for large cycle paths is that they should be 3m in diameter, but even so, some that have recently been opened are wider, such as the one that runs along ul. Marszałkowska. It's worth noting that such projects take a long time to see the light of day. From concept to completion, they can take from 3 to 5 and sometimes even as long as 10 years," he explained. The best paths to cycle down were those separated from both pedestrians and road traffic. We also felt safe on streets where road traffic was restricted to 30 km/h.
This year's ride for all three parties came to end at the Norblin Factory, where we were greeted by Jakub Poniatowski, the finance director of Capital Park, the firm behind the development. "We've gone one step further for our Norblin Factory project by providing an underground area for parking bikes," he explained. The Dutch diplomat in our entourage got to test out this machine himself. Not only did he bravely feed his bicycle into it, he also managed to get it back (or so we heard) after the event's finale.
Once we had left our bikes behind us and completed our stroll through the Norblin Factory, during the discussion that followed we got to hear the diplomat's opinion on Warsaw's cycle paths. "I cycle in Warsaw every day. Without my bike I wouldn't have got to know even half of the places around the city," he admitted.
During the discussion, we also heard a presentation by Krzysztof Gubański of Zielone Mazowsze on strategies to encourage employees to get on their bikes. Gifts were presented to each participant, kindly provided by our gift sponsors: natural cosmetics producer Sylveco as well as Portico – a book about the Ukrainian cycling expedition. A lottery was then held sponsored by Trigar, after which we were able to chat more informally over a few drinks and food, altogether a pleasant end to the evening before returning home. And some of us still had to cycle quite a few miles to get there.
A photo report of the event can be found in the Eurobuild photo gallery.