Four wheels bad, two wheels good
Small talk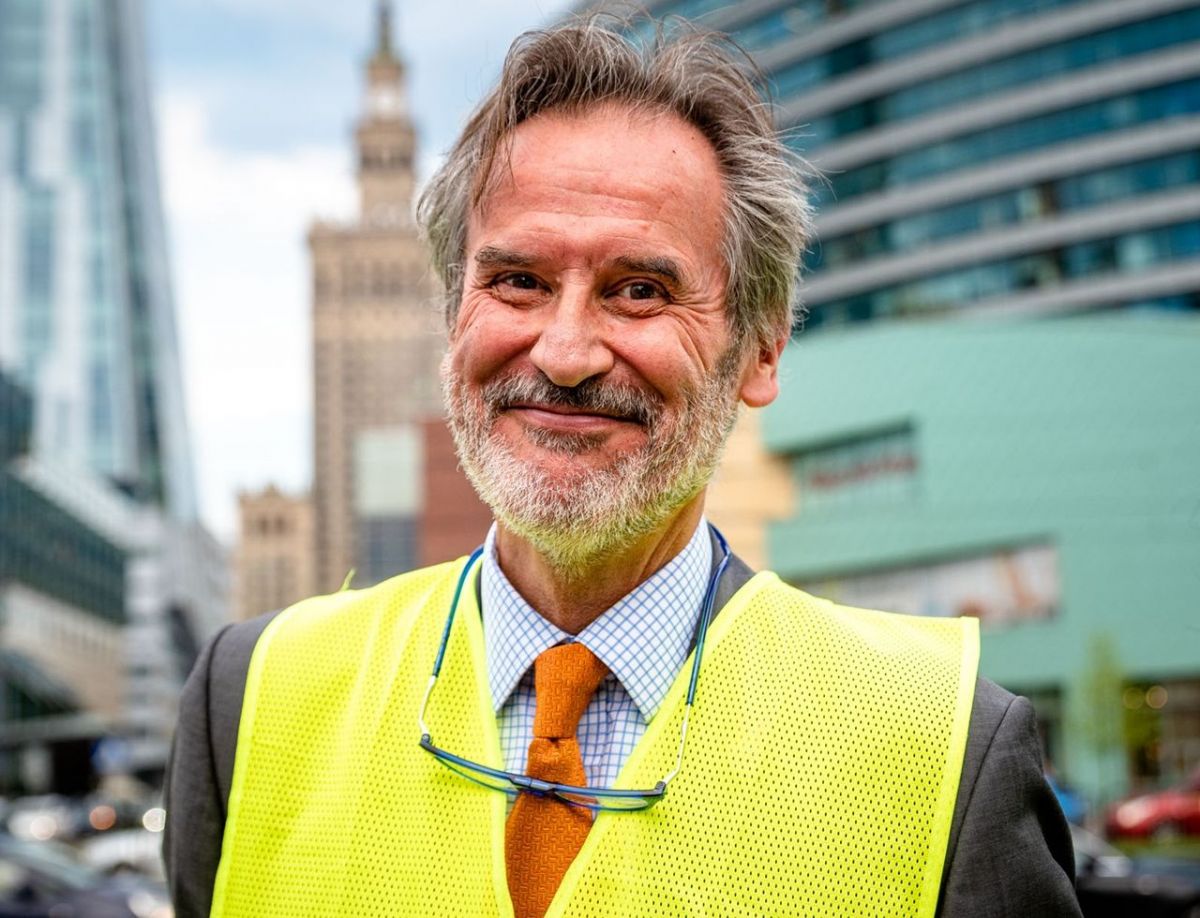 Walter Oostelbos, the deputy head of mission of the Netherlands Embassy in Poland, was the patron and guest of honour on Eurobuild's 'Suits on Bikes' ride around Warsaw and discussion forum in June. Here, he speaks to us about what we are getting right when it comes to our cycling infrastructure, as well as what we really need to change
How long have you been cycling? Do you know how many bikes you've ridden since then?
Walter Oostelbos, the Dutch deputy head of mission: Well, this may reveal something about my age… I think I was five years old when I got my first bike, so it was 58 years ago. I don't know how many bikes I've had, but at the moment I have four: two in the Netherlands, a racing bike and a city bike, and two here - a city bike (which I bought here, as a "Dutch bike") and a mountain bike. In the Netherlands we have more bicycles than people – 17 mln citizens and 24 mln bikes.
Do you cycle in Warsaw often?
I use my bike every single day. At weekends I cycle all over Warsaw and around the city, and I also visit other towns in Poland. I put photos of these trips on my Instagram page, together with their context. I wouldn't have seen half these places if I wasn't a cyclist. Without my bike, I don't know if I would have been able to discover as much of this beautiful city as I have.
What's your opinion on the state of the cycling infrastructure in Poland?
It can't be said that it's quite up to the standards of the Netherlands, although I must say, when I arrived in Poland in September 2019, I was already very impressed by the infrastructure that you have. I think that Warsaw, after the Netherlands and maybe Berlin, is one of the top European locations when it comes to bicycle infrastructure. I find it very inspiring to see all that's been provided – for example, the new crossings that we used on our Suits on Bikes trip. I was surprised to see so many people riding bikes.
Do you feel safe and comfortable riding a bike in Poland?
Yes and no. I feel comfortable because cycling is like my second nature. In the Netherlands, the first thing that a child learns is how to walk – and the next thing is to ride a bicycle. So this is something that's really in our DNA. Dutch people are used to riding bicycles aggressively. Here, in Poland, I've had to learn to ride my bicycle very defensively. The road traffic in Poland is still quite hazardous – people drive like maniacs! In the city centre, there are even streets where you can drive 70 km/h. For us, in the Netherlands, this would be unthinkable. So, I do use the streets. I even bike along the main city centre roads, Al. Jerozolimskie and ul. Marszałkowska, where there are no cycle paths; but then again, I cycle there very carefully.
Which aspects of Polish cycle paths require the most urgent attention?
The first thing are the motorists. As soon as some people are behind the wheel of their car, they behave like monsters. In Warsaw, the cars are driven way too fast. And I'm afraid that that's the reason so many of us bicyclists are forced to use the pavements. Warsaw can still improve certain things. For me, for example, it is very unnatural to have two-way cycle lanes. On our ride in Warsaw, at one point we had to cycle on the other side of the road, against the traffic. In the Netherlands no one would ever do that – you go on the same side as the cars go. That's something I would recommend to the city. So, two bike lanes for each direction rather than one with two directions. This may mean giving over some car lanes on big roads to cyclists. Drivers won't like this, but if you want to invest in this kind of infrastructure, you will inevitably end up antagonising some group or other. And, what you don't have as much as we do in the Netherlands, are places where you can park your bike. I'm already seeing lots of racks where you can store the bikes, but compared to the Netherlands there aren't that many. This doesn't encourage people to use their bikes.
How are people in the Netherlands actively encouraged to use bikes? What could we learn from this in Poland?
In the Netherlands, we provide tax incentives for both employers and employees. Companies benefit when they provide the infrastructure required for their workers to cycle to the office. And, as an employee, you can buy a bicycle every three years with a tax benefit, which means that you can use a gross net amount of your salary up to the current maximum EUR 749. Then people are encouraged to come to the office on these bikes. One example is that in the Netherlands all the big firms and also the government agencies have what they call service bicycles. In our embassy we have a couple of such service bikes. If you need to go to an event or appointment, you can use therefore use a bicycle provided by your employer. Even people who would normally go by car or taxi to get somewhere will switch to cycling, because the taxi or parking costs will no longer be reimbursed. But if there's a will, there's a way. The first thing we need is for the authorities to agree on how important investing the cycling infrastructure is. If such decisions aren't made, many developers, many privately-owned companies, even many citizens, will think, okay, why should you bike it, when you can just drive there?
Interview: Magdalena Rachwald