Minding the gap
Office & mixed-use development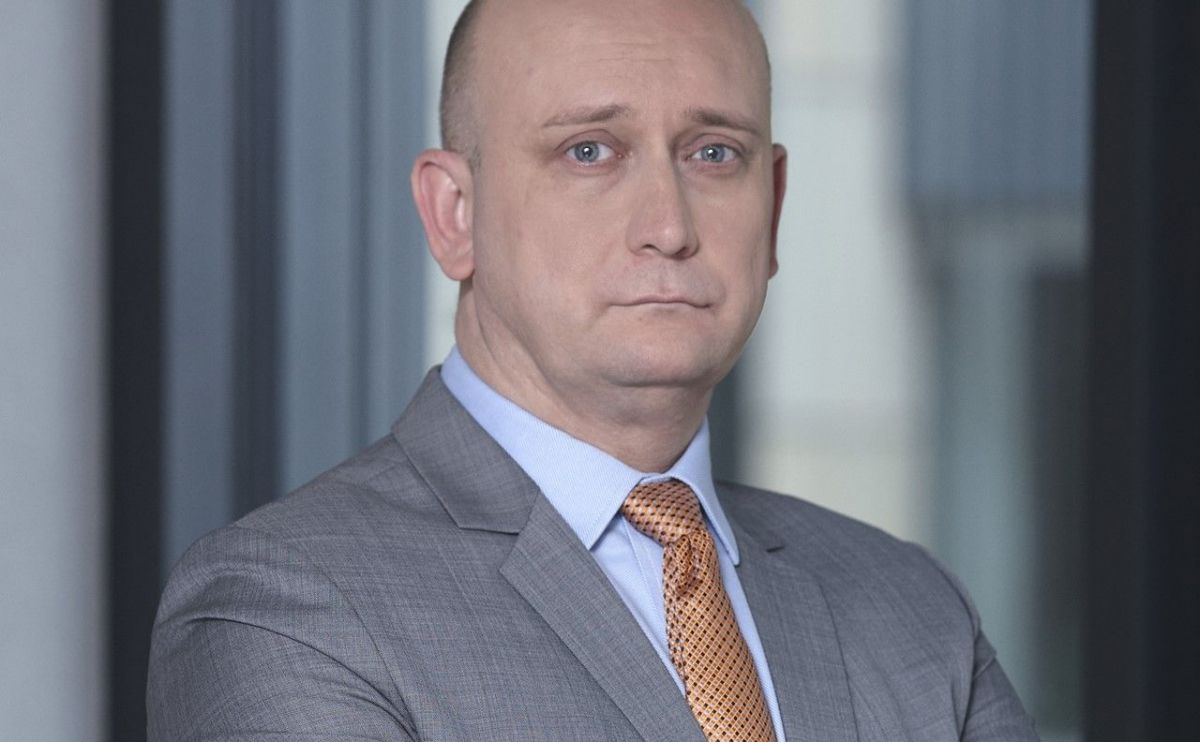 "For years it has been a tenant's market, but now I think the situation is changing a bit. It will be more balanced, but possibly the developer will have the upper hand," explains Henryk Bilski of Strabag Real Estate
A supply gap has been looming over the Warsaw office market for some time. Fewer buildings are being developed, so less space is being added to the stock. Tenants are therefore formulating new strategies, while developers are reassessing the risks
Over the last couple of decades, the amount of office development in Warsaw was startling, resulting in a dramatic transformation of the city's skyline. And as the square meterage increased, a new CBD emerged around the Rondo Daszyńskiego roundabout. But then came the pandemic, which was followed by the war in Ukraine. Supply chains were shaken, while the costs of construction and financing soared, and, more importantly, working from home became commonplace. As a result, office developers have slowed down their activity. "Last year, 240,000 sqm of new office space was handed over in Warsaw. In 2023, only 60,000–70,000 sqm is to be added to the market. In 2024, the figure will barely reach 100,000 sqm. This is definitely going to impact the sector. We are now seeing a race for space – especially in the newest buildings. For years it has been a tenant's market, but now I think the situation is changing a bit. It will be more balanced, but possibly the developer will have the upper hand," explains Henryk Bilski, the leasing director of Strabag Real Estate.
According to the consultancies, in Warsaw around 180,000–200,000 sqm of new office space is under construction. In comparison, before the pandemic, in the record year of 2018, the figure was 800,000 sqm. "Developers have since adopted a wait-and-see approach and rescheduled the construction launches for some of their projects, since they want to know whether offices would be in demand as much as before," points out Mateusz Strzelecki, the partner who heads the tenant representation department at Walter Herz.
Meanwhile, the demand for offices has started to grow again. "The absorption rate on the Warsaw market in 2022 was close to the record level of 2019, when it came in at over 860,000 sqm," reveals Dominik Pawlak, the office agency director at Avison Young, who believes that demand is being pushed up by the migration of companies from the east. Mateusz Strzelecki also argues that the growth in demand is partly due to the accumulation of leases coming to an end, which in previous years had been drawn up in a much more flexible manner. But for how long is this supply gap set to last? "Most experts say that it will last from 2023 to 2024, but in my opinion we are going to feel the effects for much longer. More than 40 building permits used to be granted each year in Warsaw, but in 2021 there were only two, and last year permits were granted for seven projects. Even if all this supply comes onto the market, it's still not going to meet the demand and fill the supply gap, if we assume that the same level of demand for office space will continue through 2025 and 2026," predicts Henryk Bilski.
Estimating the risks
The supply and demand on the Warsaw office market has clearly become seriously unbalanced, as developers have not had the chance to react flexibly to the growing demand from tenants. According to Walter Herz, the buildings currently under construction include: The Bridge and Vibe (Ghelamco), Lixa (Yareal) and Drucianka Campus (Liebrecht & Wood). Projects under preparation include Upper One (Strabag Real Estate), Towarowa 22 (Echo Investment) and The Form (Lincoln Property Company), while just recently, Karimpol launched the construction of Skyliner II. The last of these office buildings to be completed is not going to be delivered until 2026. "We haven't seen such a precipitous fall-off in supply for a good number of years. Developers and investors are only working on projects they are sure are going to be a commercial success," claims Michał Żelski, the regional director for leasing at Echo Investment. He also makes the point that developers have cut back their activity in less attractive locations.
Uncomfortable lack of balance
Unsurprisingly, rent negotiations can become fraught when there's a supply gap and high demand. A different approach to finishing work is also required. Until recently, tenants could expect that their fit-out costs would be offset by rent-free periods, but now such incentives are harder to come by and it's even harder to obtain a rebate for the entire fit-out. What we are now seeing is that leasing terms are being extended – generally from five to seven years, while there have even been terms agreed of up to ten years. Moreover, if a company does have to change its premises, it now has to give notice of the relocation much earlier. "We have already been asked by prospective tenants about the space in Upper One – a project that is going to be completed in 2026. If someone wants to secure space in one of the few buildings under construction in the CBD, negotiations have to start much earlier," points out Henryk Bilski. "With limited available space on offer, landlords are able to raise rents – and what we are seeing is in effect a tenant's market," explains Jakub Potocki, a senior consultant in the office leasing department at Axi Immo. However, he also points out that developers are also concerned by the current situation. "Previously, they would be working on several projects, but now they may have just one or be leasing nothing at all. As a result, they have had to lay off their staff until new projects start up," he admits.
Michał Żelski feels that the predominance of supply over demand is not a comfortable situation for either tenants or landlords. "Imagine that you wanted to buy a new dress or a suit. You go to a shop and there's only one on offer in two colours and only in sizes that don't fit. Even if all the other shops are closed, you're not going to buy anything from such a retailer," he points out.
Forecasts for supply
In 2022, the level of supply was still at a reasonably high level, which was a cause for optimism. But this doesn't mean that things will be the same in the years ahead of us. "We are seeing tenants prepare for the supply gap. During the pandemic, faced with the closure of shops, people started panic buying to stock up on goods. Now we have a similar situation with offices. There has been an increase in renegotiations and existing contracts are being extended. The supply gap could thus lead to a fall in demand. In 2024 and 2025, the supply and demand should regain their balance, but perhaps with just a little more new space coming onto the market than the demand requires," predicts Michał Żelski. Mateusz Strzelecki also highlights the record number of renegotiations. "The supply gap that awaits us, particularly in Warsaw, could turn out to have less of an impact than we think. Tenants are mostly choosing to reduce the space they lease and are adjusting their offices to combine work in the office with work from home. It seems that demand is going to fall slightly over the coming year, but it should remain stable," he believes.
Jakub Potocki stresses that office demand in Poland – and particularly in Warsaw – should maintain a similar level as seen in 2022, but he does envisage a number of potential problems. "We are expecting the economic situation to be the main factor, and this might include any possible crisis that appears on the horizon. We can assume, in light of the mass lay-offs in the US and in other countries, that there could also be repercussions for Poland, which would result in a slight drop in demand," he suggests.
Henryk Bilski of Strabag Real Estate is not worried about the demand for offices falling off. "I expect that the high demand for office space is certain to continue. Maybe we won't be closing this year with such spectacular volumes as in 2022, but the demand for office space in Warsaw has been there, is still there and will continue to be there. In my opinion, 600,000–700,000 sqm a year is a healthy level for a capital city," he argues. He believes that the biggest changes are going to be in the structure of the demand. "I'm expecting a high proportion of renegotiations (45–50 pct) and a rise in pre-leasing contracts," he says.
Optimising costs and quality
As Mateusz Strzelecki of Walter Herz points out, the consequences of the supply gap are already evident. "This can mainly be seen in the lack of high-quality office space available in the main central business districts, particularly in Warsaw and Kraków. This is resulting in rent growth, which has been exacerbated by rising construction and running costs," he explains. However, higher bills are also faced by tenants who are not even changing their office space. "In buildings where companies have been for a few years or even just a few months, tenants have been invoiced for sums with an HICP index of almost 9 pct. On top of this you have to include the running costs, which have risen by 15–20 pct. And increased costs can have an adverse effect on even very good relationships, so it could turn out that once rents have been indexed, a tenant will be able to find similar rental rates (or that are even slightly lower) for offices in a new building where something more is offered than was previously available, such as full ESG certification or more flexibility in the office layout. For this reason, part of the market is going to move to new locations," predicts Michał Żelski. He also highlights another important issue: new projects that are currently moving into the development stage will have a serious advantage over older buildings. Newer projects are fully compliant with ESG while also being energy-efficient and better suited for hybrid work. For example, Towarowa 22 features an unusual attraction for tenants – more than 1 ha of green space right in the centre of the city – while Upper One will have geothermal heating, which will reduce operating costs. "Today, choosing an office building really is a conscious decision," adds Michał Żelski.
Office makeover
But even older buildings have some undeniable advantages – mainly for companies that have altered their location strategy to cut costs. "We are seeing an ever more clear division on the market between costly premium projects with long leases and older buildings that, due to the layout and the standard of their space, can offer more flexible types of leasing, even in the centre of a city," emphasises Mateusz Strzelecki. But a simple paint job is no longer enough for an older building to be competitive – it's necessary for it to undergo extensive refurbishment. In order to keep their tenants, each landlord of such a building will have to lower the rent or quickly make up for its ESG failings, with the latter approach being more of a long-term solution. "In Warsaw, a situation has arisen in which some companies have decided to leave class B buildings and then the space remains vacant despite the lower rents," reveals Jakub Potocki. "A trend has already emerged for older buildings being prepared for complete renovation, while those buildings that are (for whatever reason) no longer interesting to tenants are being repurposed or demolished," reveals Dominik Pawlak of Avison Young.
Higher rents, longer leases
According to Michał Żelski of Echo Investment, the supply gap represents neither a threat nor an opportunity – it is a challenge that needs to be met. "We should be facing less of a challenge than those who build outside the city centre. It is for a good reason that in 2023 and 2024 almost 80 pct of new office developments could be found in the CBD," he points out. Developers are looking for opportunities to construct new projects, but they are being held back by administrative procedures and competition from PRS investors interested in the same plots. "The situation on the market is slowly balancing out, both in terms of construction costs and when it comes to raising the finance for new projects. The number of developments is set to grow. Mixed-use complexes, however, are becoming more popular than traditional office buildings," adds Mateusz Strzelecki of Walter Herz.
Nevertheless, due to how long development projects take, it is difficult to expect the market to be able to react to the present situation any time soon. "For many years, from 2010 to 2020, we had a pipeline of around 600,000 sqm in Warsaw. Now we are looking at less than 200,000 sqm and we are not going to catch up again quickly. If manage to get up to 300,000 sqm in three to four years, that would be an excellent figure," claims Henryk Bilski of Strabag RE, who, in spite of everything, believes that over the long term the Warsaw office sector has a bright future. He also feels that opportunities exist to develop new business districts.
A new order
According to Dominik Pawlak of Avison Young, this year there is going to be more activity in terms of developers planning new projects for the Warsaw office market, which can already clearly be seen in the increase in the number of building permits granted and the number of applications. "The new supply will stabilise the market as people come to understand that constant price pressure from developers and steadily rising rents have to have a limit," predicts Mateusz Strzelecki. Everyone in the market needs to find themselves in this new situation, because the higher cost of developing projects will also affect rents to a lesser or greater degree. It is also necessary to bear in mind that the higher demands made of office buildings, such as the introduction of ESG solutions, could improve their user-comfort and reduce operating costs, but will still require larger financial resources for their implementation.
"I'm watching with interest how the market is going to turn out in the near future, since it is going through a deep restructuring phase," comments Michał Żelski of Echo Investment, who concludes: "We've been through Covid, the war in Ukraine and the disruption of global supply chains due to the blockage of the Suez canal. To this we can add the changes in how tenants operate. Just a few years ago, remote work was virtually unknown on the Polish office market. However, we have been able to deal with all of this and we more or less now know how to proceed. So, it seems that the situation is stabilising and offices are still necessary."