Logistical possibilities
Feature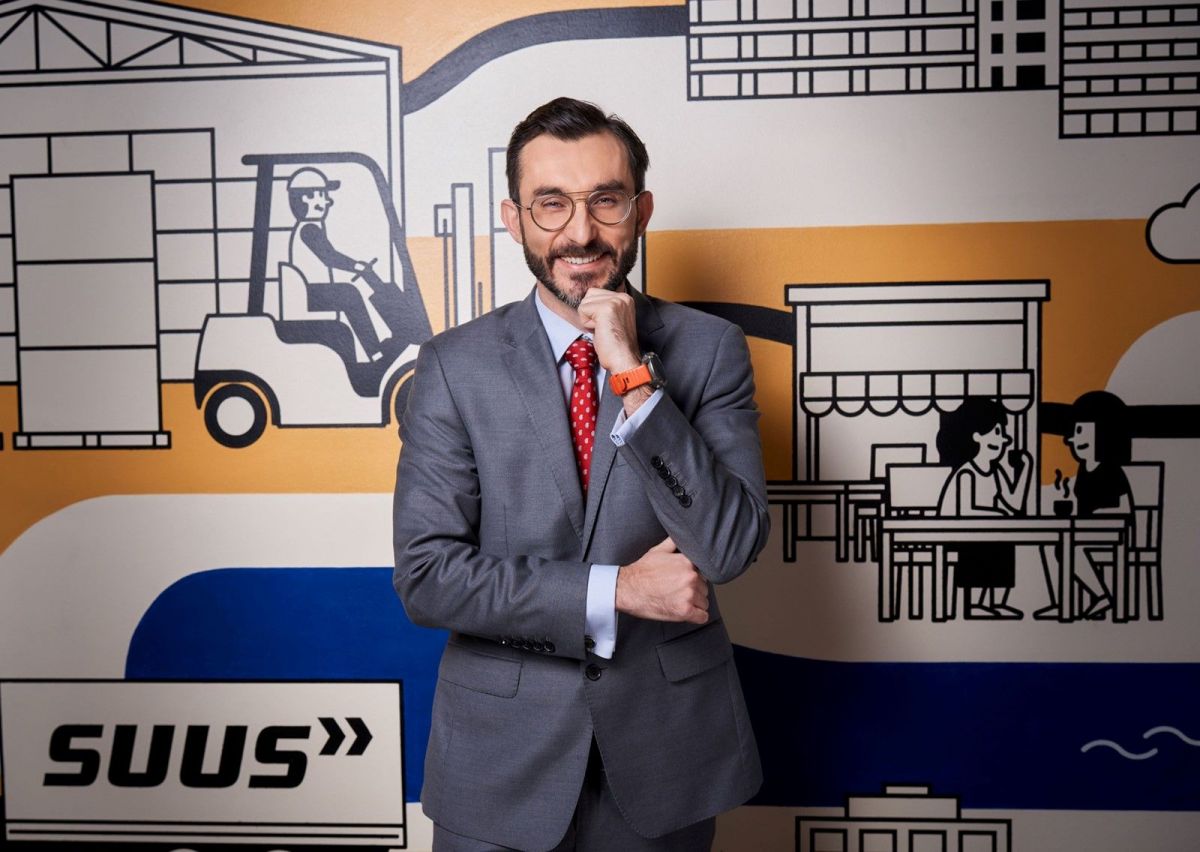 "The south-eastern region of Poland will require extensive logistics infrastructure to support transport to and from Ukraine," claims Adam Galek of Rohlig Suus Logistics
Nearshoring, ESG and the war are set to be key factors for logistics operators. How should the developers and the owners of the properties they operate from respond to this? We asked the major players and experts on the logistics market
The term 'New Reality', which has been much used since the outbreak of the pandemic, has now become something of a cliché as the years since then have passed, but it nevertheless still has some currency, given the fact that many sectors of the economy – and real estate is certainly no exception to this – have yet to stabilise since the Covid-induced upheaval. As with any major disruption to the status quo, there have been winners and losers; the losers being those who found themselves unable to adapt or couldn't adapt quickly enough, while the winners were those who were presented with new opportunities and have been nimble-footed enough to take advantage of them. Logistics is one of the sectors that could be counted among the winners, given the global surge in demand for last-mile delivery during the lockdowns and the shift in consumer habits towards e-commerce. Of course, haulage companies have needed more space for the greater volumes of goods they are handling, and this helped to fuel the boom in the warehousing and industrial segment, another of the "winners". But the situation still remains dynamic and things have not been plain sailing for either side. Disrupted supply chains were and still are a major impediment, with networks based in the Far East being particularly affected by Covid. This has prompted the trend for Western companies to switch to nearshoring and this in turn has opened up fresh opportunities in our part of the world, Central and Eastern Europe. In Poland, according to Newmark Polska, the space rented by logistics operators alone accounted for around 30 pct of demand for warehousing in the first two quarters of this year. The question for warehouse developers is, how can they best provide what's needed for this very significant type of customer in the near future?
So, where are we now, three years after the pandemic? Its legacy has been stubbornly high inflation and interest rates – and these have been having an inevitable impact on economic growth and the level of demand. And along with the macro-economic issues, geopolitical factors have also come into play that have been having an impact closer to home. "Today's challenges come up in almost every conversation with business leaders," admits Adam Galek, a board member of Rohlig Suus Logistics, the largest Polish logistics operator in the CEE region, where it occupies around 330,000 sqm of warehouse space. As he goes on: "This is not surprising, as the current economic and geopolitical situation means that every industry, including ours, is facing many new challenges. Today, what we are mainly seeing is a decline in volumes across many industries as well as rising storage costs combined with high financial costs," he adds. Rohlig Suus' response to this has been to go for greater diversification. "By having a broad portfolio of clients, we are more resilient to slowdowns compared to those who focus on a single business area. In every crisis, there are industries that experience growth."
Available solutions?
Lucyna Zaborowska-Princ, the regional director of another major player on the Polish logistics market, Raben Logistics Polska, goes into more detail about these issues and what they entail in terms of warehouse requirements. "There are several challenges for logistics operators at the moment. There is the ongoing stretch connected to growing costs, including and not limited to rental, manpower and general operating costs. At the same time, after several disruptions to their supply chains over the last few years, customers expect higher flexibility from their logistics operators. This is especially relevant when it comes to space availability."
The availability of space is certainly a significant issue at the moment, as the post-pandemic warehouse boom appears to have slowed markedly in terms of development activity, which is having a knock-on effect on rents. Jakub Kurek, the director of the industrial and warehouse department at advisory Newmark Polska, highlights this problem: "One major challenge for logistics operators in Poland could be the availability of warehouse space, especially high standard space. According to our research, at the end of Q2 2023, the vacancy rate for the whole of Poland was 6.7 pct, while in the period from January to June 2023, tenants leased over 2.2 mln sqm of warehouse and industrial space (excluding short-term contracts) and almost 2.13 mln sqm was under construction," he says. According to Tomasz Arent, the head of the industrial and logistics department at advisory BNP Paribas Real Estate Poland: "The supply of modern warehouse space has decreased by half in 2023, which means that logistics operators have a smaller selection of ready-to-rent space. As a result, they are having to secure their logistics operations earlier and undertake new projects in the build-to-suit format. Furthermore, even though the vacancy rate in Poland has exceeded 6.7 pct, there is still a shortage of large, contiguous space available for rent. This vacant space is primarily made up of small, dispersed space in the form of individual smaller units that cannot be combined. Therefore, if a project requires tens of thousands of square metres, there is very little ready-made space on the market to meet such demand." He goes on to add that there are still regions in Poland, such as Gdańsk and Kraków, where the vacancy rate is very low, but as a result "tenants in these areas have to expect the highest rent increases. Overall, warehouse rents in Poland have significantly increased over the last two years, with the growth ranging from 25 pct to 50 pct. Rising rents indeed present a challenge for logistics operators, and flexibility from developers is becoming increasingly important in today's market. On the one hand, the market is adapting to the new rental rates, but on the other, it can be difficult to persuade clients to rent new space at such high rental costs. The level of flexibility tends to be greater in markets with higher vacancy rates. In areas where there is a scarcity of space, incentives are lower." But, as he also points out: "From the developer's perspective, any offer of additional incentives could be limited due to the rising costs of financing their projects and the decompression of capitalisation rates. This means that developers have limited flexibility as their projects are currently yielding lower profits than they initially anticipated."
How far is the current approach of developers in line with the requirements of logistics operators? Jakub Kurek of Newmark Polska points to a few areas that they may need to pay attention to. "When planning a warehouse project, developers generally aim to maximise the use of their plots. Depending on the reported demand, they will decide to build an entire complex in one go or in stages. For logistics operators, however, it's very important to have convenient locations for their operations, close to the main transport routes and hubs, and near or within the administrative boundaries of cities. Flexibility is also an important issue, both in terms of the possibility of selecting space and short-term leases, but it needs to be borne in mind that developers, having obligations to investors, have rather limited options in this respect. Today, the most important thing for a developer is to have a wide range of locations, to secure the required building permits, and to be able to construct their halls in the shortest possible time. However, tenants are expecting a correction to occur in the rents for warehouse space. It's also important to think long-term about all the costs related to the lease, that is, the rent and its indexation over time, service fees and the cost of utilities," he explains.
Chains remade
As a result of all the added costs and the worsening economic situation, the logistics sector has been paying increasing attention to building more resilient supply chains to ensure the continuity of supply and distribution in the event of another unexpected crisis. As Adam Galek of Rohlig Suus Logistics points out: "Certainly, transport costs and freight rates, as well as warehouse rental rates, remain a major business driver and challenge. We are also seeing a steady increase in interest in outsourcing logistics services. This is because companies already know that their in-house solutions have often proven to be less flexible than outsourcing and have been the cause of many critical situations. Furthermore, if the supply chain is managed comprehensively, it leads to time and cost savings for these companies. One-stop-shop logistics operators are also able to make personalised offers to customers, suggesting different routes, modes of transport, transshipment points or where to store goods."
This view that logistics firms, in order to be profitable, need flexibility more than ever when it comes to the storage of stock, is echoed by Lucyna Zaborowska-Princ of Raben Logistics Polska: "There is very strong pressure to optimise stocks and to give minimal commitments towards warehouse occupation to allow logistics operators to maintain their readiness for increased stock, even at short notice. This is connected to the primary focus now being on the sales of commodities in stable or shrinking markets, which requires an excellent balance in stock levels."
Poland and the CEE region have for many years provided an important base for many logistics companies, given their proximity to Western, Northern and Southern Europe along with the cost-savings from being based here. But costs have also been rising across the region and given the uncertain economic situation, it can be difficult to evaluate the general trend for demand from international markets since, as Lucyna Zaborowska-Princ puts it: "This depends on the individual business sector as well as the individual customer network strategy. On the one hand, there can be significant pressure to reduce stocks for a given market to protect an operator's own cost structure. On the other, there are projects to change warehousing networks in order to consolidate stock resulting from increased demand from other logistics locations. This can be seen in particular regions of Poland, which can be considered as a central warehouse location for serving not only Poland, but also neighbouring countries. For example, western Poland can perfectly serve Germany, Scandinavia or even European countries further west. This is thanks to the high-quality output, flexibility and excellent value of operations that can be prepared and run in Poland." And, despite the growing issues with labour availability and costs, she also emphasises another trend that is fuelling demand for logistics services in our part of the world: "Poland seems to be the preferred region for logistics operations and this is also due to another post-pandemic trend – nearshoring. The transfer of sourcing from Far East countries to Europe means not only securing manufacturing capabilities, but also securing warehouse locations close-by. Poland and other CEE countries are often chosen as the preferred new countries for sourcing, not only because of their optimal location in the heart of Europe, but also due to their strong manufacturing traditions and ideal cost-to-quality balance," insists Raben Logistics Polska's regional director. "In the future, trends such as nearshoring, which involves moving production to Europe, will continue to be important. With each new factory that emerges, there will be corresponding needs for logistics and product transportation operations," adds Tomasz Arent of BNP Paribas RE.
Reconstructive suggestions
However, our part of Europe has now taken on an added importance for logistics firms due to the conflict in Ukraine and the anticipated increased demand for their services once the reconstruction effort is finally able to get underway. "Central and Eastern European countries will serve as a key logistics hub for the reconstruction of Ukraine. We are actively looking at the whole region to create interconnected logistical structures where the flow of cargo will be smooth and comprehensive," reveals Adam Galek. In his opinion, for Poland it will be its south-eastern region (including such locations as Lublin and Rzeszów) that will play the most crucial role in the post-war reconstruction plan: "This region will require extensive logistics infrastructure to support transport to and from Ukraine. We are already noticing an increase in commercial inquiries in this direction. That's why we are developing groupage connections in road transport between Poland and Ukraine."
The situation is also dynamic when it comes to the sustainability of the warehouses used by logistics operators, as more EU legislation comes into force in this regard. "Sustainable solutions for their facilities are for more and more logistics operators' customers not just a pleasant option to have, but a basic requirement that has to be fulfilled. This is connected to the sustainability targets committed year by year by an increasing number of companies – and this trend is set to grow with even more strict sustainability legislation to come over the next few years," stresses Lucyna Zaborowska-Princ. Adam Galek of Rohlig Suus concurs: "The growing tenant interest in sustainable solutions is driving demand for ESG-compliant warehouses. As a result, rental rates will increase until a sufficient number of these facilities are available on the market. The costs associated with green investments for facility owners will also contribute. Green solutions, however, also mean financial savings. This trend suggests that the supply of green warehouses will increase in the long term, which is likely to have an impact on the normalisation of rental rates."
The present situation in terms of the availability of ESG-compliant warehouses in Poland is, however, far from ideal, as Tomasz Arent of BNP Paribas RE explains: "Customer expectations regarding the optimisation of warehouse facilities toward sustainable development are on the rise. Questions about the compliance of buildings where operations are conducted with ESG criteria are becoming more common. While this isn't a problem for new warehouse space, older buildings lack such sustainable solutions and, unfortunately, they cannot be quickly modernised. More and more logistics companies require certified green energy, which is not readily available in Poland. Additionally, the installation of photovoltaic panels on the roofs of buildings that are 7, 10, or 15 years old is being limited by local development plans. The truth is that the level of adaptation of these older warehouse spaces to current environmental and ESG standards is low and, in some cases, such adaptation does not occur at all. It's worth mentioning that developers often try to shift the cost of investment related to meeting today's ESG requirements onto logistics operators."
In the changed world we now live in, trends such nearshoring and ESG requirements will continue to gather pace, while the war next door will present challenges of its own for logistics operators. All these are issues that need to be considered for a type of client that accounts for a third of all new leases. So, according to players and experts on the logistics market, it's now up to warehouse developers to adopt the right approach and be flexible enough to address them.