Adventure World Warsaw back on
Investment & finance
Rafał Ostrowski
journalist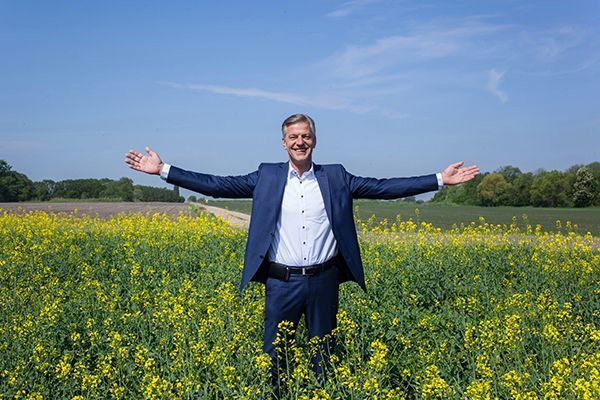 The project may cover as much as 240 ha
1 / 1
The largest Central European theme park development is back from the abyss – Peter Mulder, the main mover behind the plan, tells us in an exclusive interview
Rafał Ostrowski 'Eurobuild CEE': In September 2013 the media reported that Adventure World Warsaw had filed for bankruptcy. You said at the time that the company could not meet its financial obligations. What has changed since then?
Peter Jan Mulder, CEO and majority shareholder of Adventure World Warsaw: The main thing that has changed, especially last year, is the atmosphere around this project. Until then the shareholders of the project were not willing to sell it, because they didn't see the possibility of getting the right agreement in place. Now we are negotiating the sale with a potential buyer, CMT, which is the project manager and designer, have re-opened the construction site to maintain the building permits and extend them. In the near future, if all goes well, we expect full-blown construction to be able to start. So if you ask me, the project is back on.
Since you mention the atmosphere around it, this project has had some very good, but also very bad moments during its five-year history. From the very beginning what raised the most doubts was how such small company like Adventure World could handle such an enormous project. You seemed to have almost no track record, few resources of your own and you were apparently not backed by any investors with enough clout for this scale of investment. How did it come about that you started working on such an immense project?
In fact, at the beginning it was meant as a very small project. An investment of less than EUR 50 mln. I started it together with my Dutch business partner Henk Roodenburg in Złotokłos, close to Piaseczno. We both had the idea that we would finance it on our own, we would build a small park and then legit grow over time. And we designed such a small park. But then this project collapsed because of protests from the local residents. At that time we were approached by Royal Imtech, a giant company with EUR 5 bln of annual revenue. The CEO of Royal Imtech contacted me, and said that they wanted to grow in Central and Eastern Europe, and they liked the project that we were developing in Warsaw. He instructed the Polish and the German branches of his company and they came to me. They became gradually more and more involved into the project, first as the designer, then as the subcontractor and then the general contractor. With Imtech we came to Grodzisk Mazowiecki and it was Imtech who pumped up the project to EUR 750 mln, 240 ha of land, hotels, a great theme park, a brilliant idea and so on.
But this also seemed absolutely incredible at the time: how did your small company manage to sign a stunning EUR 750 mln contract with the general contractor, apparently without having secured the financing for this?
The answer is very easy. Royal Imtech was offering a full turn-key construction contract together with its financing. That is why we signed it. They were to provide everything from A to Z. They were even partially funding our day-to-day operations.
That must have seemed like an unbelievable opportunity for you?
That was a dream comes true for all of us, when a EUR 5 bln company gave us a contract to build and finance the project. Normally we would never have signed such a large contract not having secured its financing.
Why haven't you disclosed this information previously? Much of the media speculation about the sources of the financing was damaging to AWW at that time. If you had disclosed it, it probably would have ended much of this talk.
Because I was bound by confidentiality clauses. They were a stock listed company. Now, since they are gone, the situation has changed and I can tell you all about it.
When did you realise that the Imtech dream was about to evaporate?
Christmas 2012. It became obvious that Royal Imtech could not get the finance together.
How did you realise that?
We saw the response from the banks. They were not willing to provide credit based on the guarantees given by Royal Imtech – and then it was clear that there was no money.
What did you do?
I and the other shareholder Henk Roodenburg went to the Royal Imtech headquarters in Gouda in the Netherlands. There was a new CEO at that time, to whom we outlined the structure of the deal and we told them it was not going to work. Four days later they announced that it was all over. On February5th, 2013 Royal Imtech announced their EUR 100 mln write-off of the AWW project.
At that time and later on some of the press created the impression that Royal Imtech was in huge financial trouble because of the unpaid work it did for AWW. These write-offs amounted at some point to as much as EUR 360 mln or more. How could they have had such significant losses from construction that hadn't started yet?
They couldn't. It was all untrue. Royal Imtech did not invest more than EUR 22 mln – that was the working capital that they loaned to AWW and they also did some simple mechanical, electrical, engineering drawings, which cost app. EUR 5 mln. So there could never have been such losses from this project
So why did Royal Imtech present it so differently?
They wanted to blame AWW for their own wrongdoings. But eventually they failed. We stayed and I fought every inch of the way with them. They lost completely in the end. In August 2015, Royal Imtech went bankrupt due to their internal fraud and corruption.
But back in 2013, when your contract with Imtech failed, what did you do?
We invited Royal Imtech to look into our books to see if there were any irregularities. They never came. In March 2013 we signed a settlement with Royal Imtech and we agreed on the consolidation of all our loans from Imtech and for their six month repayment. Then we started looking for investors to repay this loan, but we couldn't find any, because there was simply this very bad smell lingering around the project. So by the end of September 2013, Royal Imtech filed for the bankruptcy of AWW. But the court dismissed the appeal on the grounds that the liquid assets of the company are non-existent and thus it is impossible to finance the cost of the bankruptcy. It ruled that AWW's shareholders need to find a solution that satisfies the creditors without the court's involvement. So in March 2014, I got the whole project and the property back under control.
But your main problems didn't go away at that time. Your company was still unable to meet its obligations towards its creditors and there was no financing for the project. Right?
Yes. When the court declares you insolvent and gives you the company back, then getting the finance back on track is even harder than before. But we still believed in this project and we were committed to revive.
Has the bankruptcy of Royal Imtech helped you somehow?
In a way it did. This cleaned up the atmosphere and thus made things easier for us.
[…]
The full interview will be published in the June issue of 'Eurobuild CEE' magazine. The publication is available at Empik stores, on the 'Eurobuild CEE' website as well as through subscription to the magazine.