Poland

Echo Investment sums up 2022

Investment & finance
schedule 13 February 2023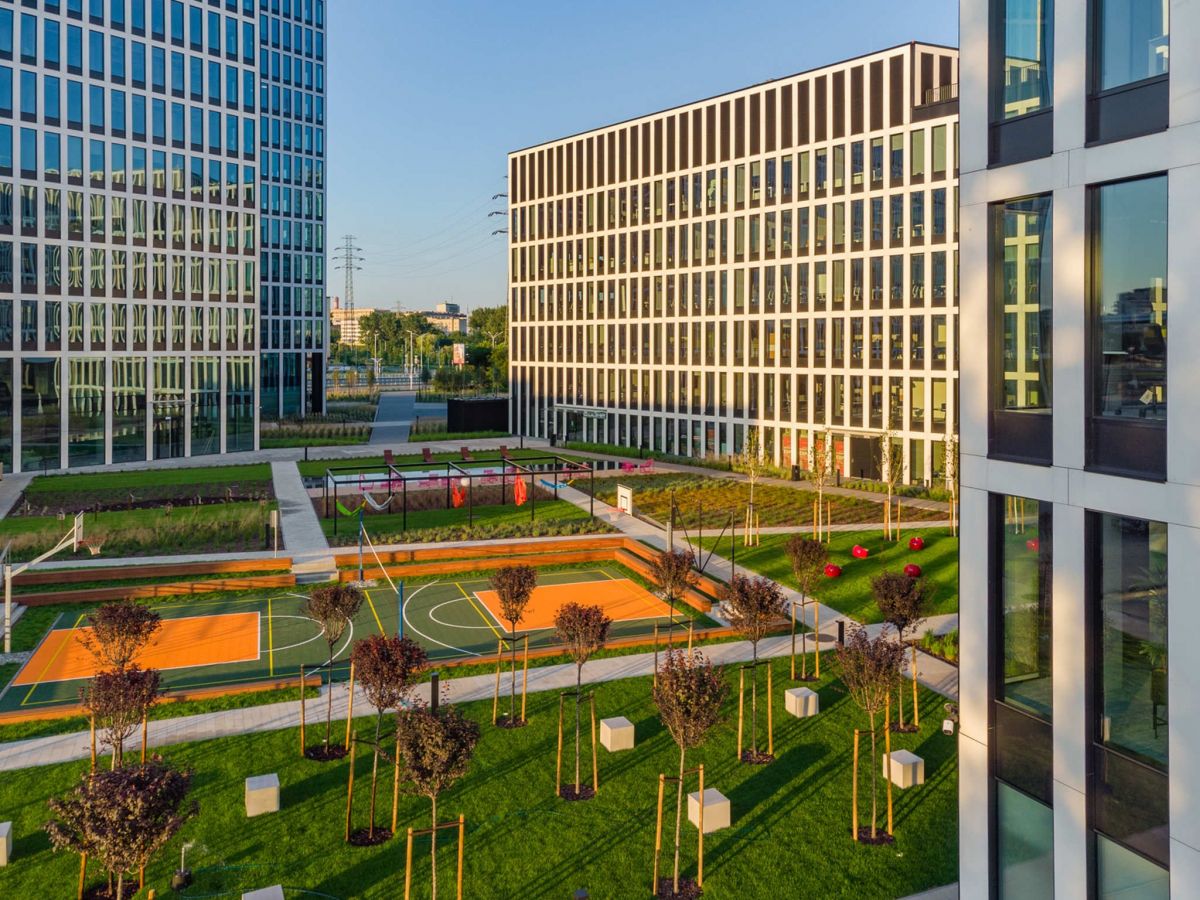 Patio at Face2Face Business Campus in Katowice
1 / 1
Six office buildings sold, another five buildings with occupancy permits, nearly 45,000 sqm of offices leased, the development of the food & beverage segment and the strengthening of the diverse offer of Libero Katowice and Galeria Młociny - these are the developer's key activities in 2022.
In 2022, the developer completed 104,000 sqm of modern office space. In the past year, occupancy permits were granted for Wrocław-based MidPoint71 (over 37,000 sqm), the Łódź-based REACT (15,000 sqm), two office buildings at ul. Milionowa in Fuzja office complex (nearly 22,000 sqm) and the first phase of the Krakow-based Brain Park complex (nearly 30,000 sqm).
In 2022, the real estate market faced further challenges: the war across our eastern border, the unstable political situation in the region, inflation, the supply chain crisis, rising construction costs, reduced mortgage availability. Our strong performance in the commercial real estate business is the result of hard work of our experienced design, development, and leasing team. (…) This proves that good commercial real estate, despite the turmoil all around, will stand strong as a great investment product.
Rafał Mazurczak, Echo Investment's Management Board Member responsible for the commercial real estate sector
The projects sold in 2022 include: West 4 Business Hub (15,500 sqm) in Wrocław, three office buildings as part of the 'destination' Fuzja project in Łódź and two office buildings in the Face2Face Business Campus complex (nearly 46,000 sqm) in Katowice.
Echo Investment finished the year 2022 with nearly 45,000 sqm of leased office space. Among a dozen great lease contracts, it is worth mentioning the largest transaction of 8,500 sqm for EPAM Polska in Brain Park in the Krakow-based Grzegórzki district.
The company's fit-out team delivered 40 fully arranged co-working spaces with a total area of over 65,000 sqm in 2022. These include offices for brands such as PepsiCo, CodeLab, 3M, PwC, Fujitsu Poland and CitySpace.
In recent years, the criteria for selecting offices has tightened up considerably. The increased importance of ESG in business, the search for safe and healthy living and working spaces, services and amenities available at fingertips and even sometimes exclusively are mainly points on our clients' "must have" list. The satisfactory rental rate achieved by our team allows us to plan 2023 with optimism. Further bold projects lie ahead of us. Thanks to many years of experience, our broad perspective and, above all, our prudent decision-making, we can raise the bar, even in difficult times.
Rafał Mazurczak
The developer's portfolio also includes flexible office space offered as part of the activities of the operator CitySpace, which includes currently 12 locations with a total area of 25,000 sqm, and which operates actively in 5 cities in Poland: Warsaw, Wrocław, Cracow, Katowice and Gdańsk, and will soon expand to Łódź. The availability of such space is a great addition that complements what Echo Investment has to offer in its Class A office complexes.
(…) We see 2023 as the year of destinations. We are still working on Fuzja in Łódź. We have further destinations projects planned at ul. Wita in Krakow and ul. Towarowa in Warsaw. When planning the office complex at ul. Swobodnia in Wrocław, we also would like to embed the values that were successful in these mixed-use, city-building projects, such as Warsaw Breweries and Fuzja in Łódź.
Rafał Mazurczak
At the heart of each destinations project is a strong food & beverage and service component that complements the offer of mixed-use projects. Great restaurants, cosy cafés, top-level services, well-supplied shops, patisseries, bakeries, and delicatessens are the domain of the food & beverage team. Echo Investment signed 30 lease contracts in this segment in 2022.

The strategy of strengthening the Libero Katowice and Galeria Młociny shopping centres, based on further diversifying what they offer to respond even more to the needs of visitors keeps bringing success. Both centres are almost 100 pct leased and enjoy steady increases in footfall while tenants' turnover rises.
The year 2023 will not be easy for many sectors of the economy, including the real estate industry. There are still many challenges that our industry has to cope with, but we are ready to face them. We are being prudent with our upcoming projects. The current market situation requires a strategic and broad-based perspective. We talk a lot about sustainability, returning to nature, mindful designing with concern for the well-being of users. Our clients expect from us not just declarations, but actual solutions. That is why we pay so much attention to designing our developments, modifying them, defining trends, which in 4-5 years, when the project becomes fully functioning, will be our everyday reality.
Rafał Mazurczak