A new centre of gravity for Białołęka
Interview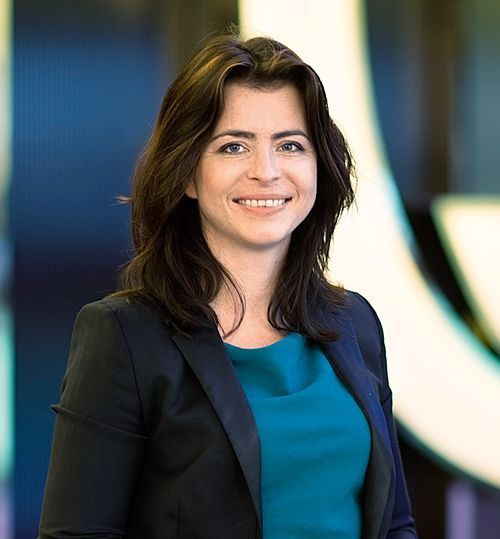 Galeria Północna, which Globe Trade Centre is now developing in the Polish capital's northern outskirts, is set to make a major contribution to the further development of this part of the city, claims Agnieszka Nowak, the director of the shopping centre.
Adam Zdrodowski, 'Eurobuild CEE': A large-scale shopping centre was last developed in Warsaw almost a decade ago. Is there still room for new malls in the city?
Agnieszka Nowak, the director of Galeria Północna: Definitely there is space for a new shopping centre. The density of retail per 1,000 inhabitants is quite low, especially when we consider the high purchasing power across the city. Warsaw is rather unique in this aspect in that it is continuing to develop. Even though the number of registered residents might not reflect this, the population is growing. This can be seen in the economic prosperity of the city's suburbs. In order to keep this development balanced, the growing population must be provided with a sufficient range of retail and services. Certainly, the Warsaw map is not devoid of so-called "blank spots" – areas located relatively far from any shopping centre. It is only natural that this will change.
Are you not afraid of the potential competition from the Galeria Młociny shopping centre, which is now also under construction in northern Warsaw?
No, we are not worried at all. Galeria Północna is a serious project at a very advanced stage and is 75 pct leased. We are now preparing to open our shopping centre. Galeria Północna will fill the retail gap in north-east Warsaw. Until now the north of the retail map only went as far as Arkadia and Atrium Targówek. But the demand for retail and entertainment has been growing. We think now is the right time to meet that demand. Close to 800,000 people live within the main catchment of our new scheme. They will have access to brands only available on the other side of the Vistula until now. Now they will be just ten minutes from the shopping centre.
Due to the wide range of retail and entertainment our project has to offer, it has the significant potential to become a centre of gravity for this area. We are also planning interesting events and other attractions that should cater to the needs of our customers. I am sure that our planned course of action, in which we hope to become a catalyst for the development of the entire district, will be well received by the local community. We are putting a great deal of effort into meeting their expectations. Galeria Północna respects the neighbourhood and is already involved in many different projects. The creation of Galeria Północna is not only justified from a business perspective, but is also being awaited with anticipation by the market and the residents of the district.
With the market becoming increasingly saturated, what can shopping centre developers do to make their projects stand out from the crowd?
The main thing is always about the quality of the project. We will offer new features not yet explored on the market. Our goal is to create a place where the people of Białołęka will be able to actively spend their time engaging in the latest leisure trends. Our tenant mix will offer a wide variety of brands and a great food and beverage selection. Within the rich selection of entertainment facilities there will be a high quality multiplex – Cinema City with eleven screens – as well as a large Calypso gym, a bowling alley and a great children's play zone that will also have some interesting educational features. Among the rich catering range there will be a large number of both slow food and fast food restaurants. This will be the first shopping centre in Warsaw to have a green roof, giving it the real potential to become a recreational destination in Białołęka. We will also be adding to the range of medical clinics in the district, with an Enel-Med Center as an alternative to crowded outpatient clinics – the number of which is far too low considering the local population.
How has the design of shopping centre projects changed over the last few years – and which approaches are a must in today's market?
Shopping centres have evolved a great deal over the last twenty years. From hypermarkets with retail alleys they have become fashion destinations and all the time have been strengthening their entertainment range. It is not about shopping anymore. It's about providing a great shopping experience. Architectural approaches are reflecting all these changes. Corridors are getting wider and higher. A lot of attention is being paid to the toilets and the car parks, previously often forgotten areas. Also, in terms of the operational approach there have been many changes. Shopping centres have taken on the role of social centres, involving the installation of artwork and very often supporting a range of non-commercial initiatives. I am also really happy to see that they become truly socially responsible.
Has the growth of e-commerce had any major impact on the way in which new shopping centre projects are designed?
E-commerce is providing a lot of motivation for shopping centres and they are now looking for more and more creative ways to compete with it. E-commerce has brought with it convenient features, which are very often being adopted by shopping centres. There are still many qualities that it is impossible for e-commerce to deliver or shopping centres simply do them better and more comprehensively. I believe in the human factor and the priceless value of experience. Anyway, at the end of the day it is the customer who's the winner.
Developers are now paying much more attention to the quality of the public space around their retail projects. How will the public space around Galeria Północna be arranged?
This is true – the quality of the surroundings of Galeria Północna is very important to us. We are planning a number of features to improve this area and we are working both with great designers and suppliers to make sure that such features will be carried out at the highest possible level.
Are you planning to secure a green certificate for Galeria Północna?
From the very beginning it has been our target to achieve LEED 'Gold' certification. It is very important for us that our project is sustainable and respects the environment. Our shopping centre is the first of its kind in the northern part of the city. Ever since the beginning of this project we have wanted it to reflect the needs of locals while also setting new market trends. Many who choose to live in Białołęka do so because it is green and close to the river and nature reserves. We have made sure that this large scale project will not have a negative impact on the surrounding ecosystem. We have installed energy efficient systems and water conservation systems, to name just a few features. Even now, during its construction, the methods applied are eco-friendly. The construction site and building process meet LEED standards. Its special fences, debris management and storage and waste segregation were all installed unader a 'construction activity pollution prevention plan' and a ʻconstruction waste management plan'. The he work was supervised by a LEED consultant with regular construction inspections. What many may find interesting is that many of the materials used to build the centre are recycled or come from local distributors.
Will any brands not yet present in Warsaw be opening in the mall?
That's our plan, but I can't reveal the names yet. I just wanted to remind you that GTC was the company that brought Forever 21 to Poland. We have a wonderfully skilled leasing team and I am sure they are going to surprise the market yet again.
Your other shopping centre project in Warsaw – Galeria Wilanów – has been delayed due to administrative issues. When do you hope to be able to get it off the ground?
I am responsible for Galeria Północna. I'm not in a position to comment on other GTC projects.
Will you be looking for other mall development opportunities in Warsaw?
We are monitoring the market closely and for sure we would take advantage of any good opportunity that comes along, but right now we are concentrating on Galeria Północna, which is almost completed, and Galeria Wilanów, which, we believe, is surely now on its way.