The fire in the belly of an architect
Architecture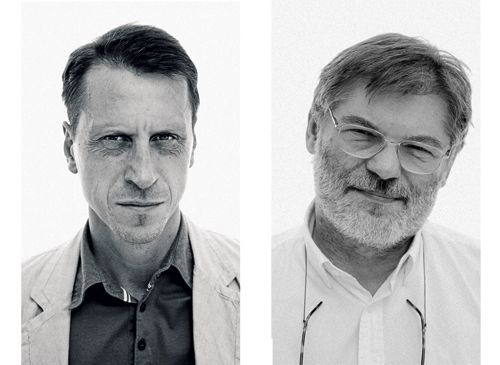 Jerzy Szczepanik-Dzikowski and Marcin Sadowski, partners, Jems Architekci
They've been through the odd sticky patch, but they also have projects they're proud of under their belts. Jems Architekci studio partners Jerzy Szczepanik-Dzikowski and Marcin Sadowski tell us all about that and what it really means to them to be an architect
Rafał Ostrowski, 'Eurobuild CEE': This year you've been celebrating thirty years since your studio was founded. What do you remember most about that time?
Jerzy Szczepanik-Dzikowski, partner, Jems Architekci: In the architectural environment there was a growing sense of a gradual breaking free from the unbelievably rigid structures of the party and state design studios of that time. We already had our own studio, operating as part of a cooperative – an independent, self-governing and self-financing organisation. It was a strange structure and more centred around the principles of art, because we were members of the Cepelia artistic association. In 1988, we were already working as a trio – Olgierd Jagiełło, Jerzy Szczepanik and Maciej Miłobędzki – but had yet to become the Jems studio. That's when we won a competition to design a large hotel on pl. Piłsudskiego in Warsaw. We came to the conclusion that it was high time to set up a company and build it up from this project. The letters in the name come from the founders' initials: J for Jagiełło, M for Miłobędzki and S for Szczepanik. The letter E stands for the ESPEA cooperative, which I've just mentioned and which gave us 50 pct of our financial resources. It was the most serious shareholder in this venture because we were skint and didn't even have enough money to buy a pen. That's how it all started.
Was the company profitable from the word go?
JSD: Oh no. Quite the contrary... I remember two situations in particular. It could have been 1991, maybe even earlier, when we had a team of around ten people. The relations in this company were, I would say, comradely and friendly. Although we were the bosses of the company, it meant nothing other than the fact that we were formally listed in the register as the owners of the company. I vividly remember that it was just before Christmas, when everybody was counting on being paid. I sorted out some money from a cooperative. It was just small change, but it was enough to share out in equal piles to each person.
You shared the cash equally between yourselves?
JSD: Yes, we shared it out equally. But then, and that's why I'm telling you this, there was a period of three or four months when there was no money at all. Nobody in the team said a word. But everyone coped somehow. I remember that this situation weighed heavily upon me – but the team was so dedicated to the company and the work they were doing, and that was that. And if it weren't for them, Jems would not exist today.
And your other sticky moment?
JSD: In 2002 everything suddenly fell apart. Although we had a 'financial cushion', which allowed us to pay for a short time the dozen or so people who worked with us then, there was nothing at all on the horizon. Until a client came to us with a large shopping centre project in Warsaw, the shell of which had already been built but that seemed to be turning into something incredibly ugly. We had to rebuild the inside without disturbing the exterior that had already been built. We estimated the value of the order at around PLN 10 mln, because it was a huge mall. But we were wondering, however, what to do in our difficult financial situation. On the one hand, we didn't have any money, and on the other, we all felt that something was wrong with this commission. And I remember Marcin Sadowski saying: if we take it, we're never going to want to be architects again. So we refused. But somehow new orders followed soon after as well as money. I remember it, however, as an important turning point, because we put architecture before money. It has always been important to us that what we are doing is about something more.
Let's return for a moment to your 'founation myth'. The design of the hotel on pl. Piłsudskiego, which prompted you to establish the Jems company, never actually saw the light of day, did it?
JSD: It was going to be an Orbis hotel. The chain, however, fell into trouble soon after that and so the commission fell through. However, we also had a great deal of time and it seemed to us that winning the competitionhad given us the right to operate on this site. Foreign investors who had been sniffing at Poland up until then got wind of the existence of this vacant, prime location, and, coincidentally, that there were several guys who had been sketching a plan for it and knew it inside out. At that time, our studio was in the attic in Maciek Miłobędzki's current apartment on ul. Freta. Even Mr Hilton himself came to see us from the United States. We did sketches of possible hotels that could be built on this site for him. Then an Austrian company appeared on the scene, so we designed a Kempinsky hotel and office building for this location. A building permit was issued for the mixed-use project, but then some financial scandal broke in Russia and the Austrians, having lost their money invested there, went bankrupt. Finally, US company Hines entered the fray. And it was because of them that we started working on the design of the Metropolitan building with Foster+Partners, which turned out to be a valuable experience for us.
So when did Jems finally get on its feet financially?
JSD: Large orders started coming in around the 1993–95 period, shortly after Marcin Sadowski joined as a partner.
Did he turn out to be a good fit for the company?
Marcin Sadowski, partner, Jems Architekci: I see this a little differently. When I was studying, we all knew the names Szczepanik-Dzikowski and Jagiełło. These people were architects whose work was regarded as exemplary. If you were thinking about joining one of the studios, whether these were still co-operatives or limited companies, then working with such architects was simply an irresistible proposition. I joined them in 1992. There was probably just one computer in the studio then. I had my own, the other one...
You came with your own computer?
MS: I contributed a lot because as a student I had some quite lucrative work, which involved a lot of trips to Switzerland. I happened to have a plotter, a laser printer and a computer.
What did you do?
MS: I drew. There were no rendering programs at the time and I filled in for this absence. I did visualisations for large Swiss studios. This was done by hand, on paper. It was very arduous work. The Swiss probably didn't like to do this job themselves and paid me a lot of money for it. It was a time when I was financially independent, due to the crazy currency conversion rate between Poland and the West. So I brought my own fully-equipped work-station to the studio. At the time our studio had a reception desk and brick walls painted white, which gave the impression of an organisation that was working well.
Did these renderings contribute to Jems getting so many orders?
MS: No, absolutely not. It was unconnected. It was just that during this period a large amount of capital started to flow into Poland and many projects were commissioned. The market became insatiable – so much so that buildings were fully leased even before the building permits had even been issued, while the next project and the one after that were already being talked about. The company then started to prosper and this forced us to become more organised. In 1993 I went to Vienna to lay down computer standards with some colleagues on the market. The naming of layers, table markings, the organisation of all the documentation… it was a life lesson for a professional architect. I'm not talking about designing as creative work but about all there is around the design, such as even the preparation of the tender documentation, which architects didn't have to do back then because there were no tenders. We have had to learn all of this. Such as when we started working with GTC, which was building Mokotów Business Park in Warsaw. In 1997 the Saturn building was finished, and we had designed Galaxy and Mercury before that, which we learned a great deal from in terms of document preparation. Three buildings – Orion, Sirius, and Neptun – were also later developed, so by 1998/99 we had quite a few major commercial commissions under our belts.
JSD: There were no or almost no public orders at the time. As far as major tenders in Warsaw were concerned, there were basically only two: the Supreme Court building and the university library – and they were both won by Marek Budzyński.
MS: In 1997 we flew to London for the first time to meet the Foster + Partners studio, which was to design the Metropolitan building in Warsaw. This meant working with a world class studio. And so the way we were building the organisation and the standards we were aiming at became intertwined at this point. Then another very important thing happened. In 1998, magazine and newspaper publisher Agora announced a competition for the design of its headquarters in Warsaw. And we managed to win it. We believe to this day that this building was a milestone for us on the road to our professional development. We are very happy with it today as it's aging well. Sometimes it's crossed our minds we might never have the chance to design such a building again, certainly not such an office building. But we try to maintain this standard of architecture to this day.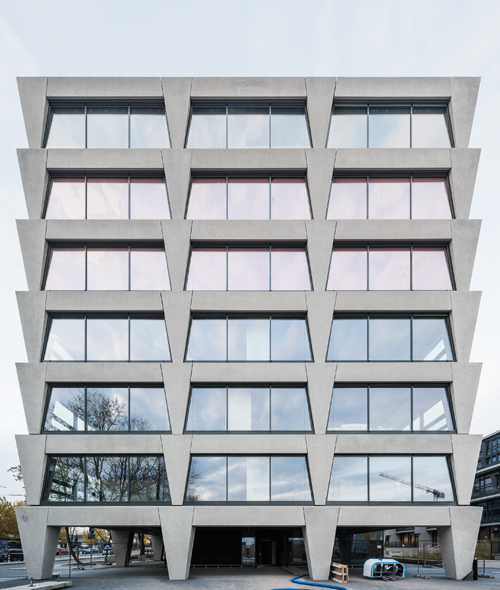 Vienna House, Warsaw
Talking about the present day, what's driving Jems Architekci now?
MS: In recent years we've managed to win several important competitions for public buildings, so this is a difference compared to the nineties – we are not exclusively designers of commercial buildings, which can be divided into two groups: residential and office buildings. We have not been overwhelmed by retail projects, such as shopping centres; in fact, they actually elude us – or we elude them.
You don't like retail or does retail not like you?
MS: Up to a point, shopping centres were importing whatever had previously been created in America or Western Europe and they were not particularly exciting for an architect.
JSD: This is a type of building that requires a specialised company. There are architects who specialise in this, in a sense. At the same time there are also whole groups of advisors who know how to lease them – and these structures have already become established on our market. This is not our speciality. As is the case with hospitals. Nobody has come to us asking us to design a hospital. This is a very specific skill.
MS: Returning to public buildings. We were finally given the opportunity to design projects in important sites in the city. We were also given the opportunity to go outside Warsaw, because we designed the International Congress Centre next to the Spodek arena in Katowice as well as the Raczyński Library in Poznań. Naturally, designs for other, commercial buildings followed. At the moment we have ongoing projects in several cities – Gdynia, Katowice, Poznań and; we will soon be getting down to work on a competition we won in Kraków. These last ten years have obviously been marked by our expansion into other cities in Poland. However, as is now the case with every architect in Poland, we are not in such a comfortable situation that we have an excess of orders and a long queue of clients. Nothing has changed. We take care of the business side of the profession: seeking out orders, talking with investors about various plots, and taking part in competitions – public as well as private ones.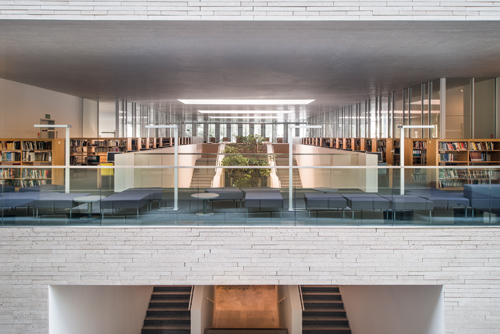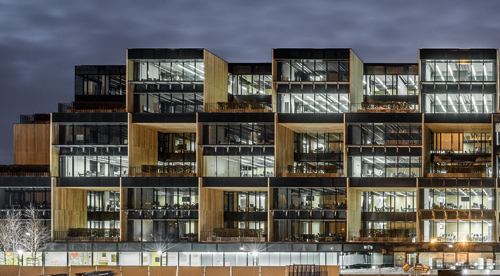 Jems designed the Kamienica Raczyńskich building (left) in Warsaw and the Pixel office building in Poznań
Which of your current projects is the most important? Is it Browary Warszawskie?
JSD: No, I don't think that's the right way of putting it. We are trying to make sure that this studio doesn't take on any projects that are unimportant or secondary, no matter what you call them.
MS: Yes, but there are buildings that are important or irrelevant from the point of view of the city itself. Agora, which was a very important building for us, is less important for Warsaw because it's located in a place where almost no one can see it. On the other hand, the International Congress Centre has become a prominent fixture of Katowice's cultural scene, as it is always seen together with Spodek. So in this sense, Browary Warszawskie is significant for Warsaw as an important quarter of the city and because of the scale of the project.
What about Skanska's Generation Park development?
JSD: This is a very large building that stands out on the city's skyline. However, it is part of a large complex of similar office blocks so it doesn't stand out so much in this mass of buildings. This is not such a special point on the map.
MS: I wouldn't say that. It's simply a large office project. The building is located at an important junction.
Generation Park is interesting because you don't take on many skyscrapers.
JSD: It just came up. Perhaps partly because we like places with a public and social life, whereas tall buildings can be alienating and create their own separate worlds with very limited external contact. Even if they are high-rise residential buildings, there is usually no social community or life going on between the buildings. Contact with the ground encourages a community to develop, but here there is only vertical space.
So what are your most important designs today in terms of their value for the city?
MS: For sure these are Browary Warszawskie and Gdynia Waterfront. The latter due to its crucial location in Gdynia right next to Sea Towers. This is one of the best locations in the city, if not the very best for such a mixed-use complex. So it is building big-city projects that are to become a part of the city.
So what does being an architect really mean to you?.
MS: I always feel that it's quite difficult to say what it means to be an architect. I would answer it like this. If we design a building being developed in an important part of the city, even if it's a commercial building, then it will eventually become clear whether it passes the test of time – if we see life flourishing around the building or within it. That's when it feels worthwhile being an architect. We have a photo that was taken of the International Congress Centre we designed, of a newly married couple on the most important day of their lives. When I look at that then I know what it means to be an architect.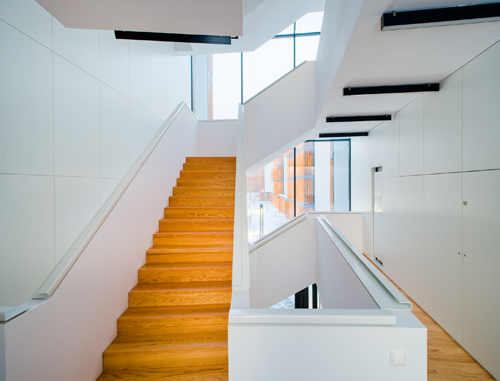 The Jems studio is also reponsible for designing the Osiedle Wilanowska estate (left) and the MCK centre in Katowice


Architecturally sound
Jerzy Szczepanik-Dzikowski is a co-founder and co-owner of the Jems Architekci studio. From 1984 to 1989,
together with Olgierd Jagiełło, he ran a workshop within the Spółdzielnia Pracy Twórczej Architektów i Plastyków ESPEA association (the Cooperative for the Creative Work of Architects and Artists). Between 1984 and 1987 he was the president of the Warsaw branch of the Association of Polish Architects (SARP). He was the secretary of the National Chamber of Architects from 2001 to 2005. Since 2010 he has been a thesis supervisor in architecture at the Lublin University of Technology. In 2002 he was presented with an honorary award by SARP. He graduated in architecture from the Warsaw University of Technology in 1972.
Marcin Sadowski first joined Jems Architekci in 1993, and was made a partner in 1996. He graduated in architecture from the Warsaw University of Technology 1992 and was an assistant in the faculty of architecture at the Warsaw University of Technology between 1992and1993. Since 2008 he has lectured on architecture at the Warsaw University of Technology. In 2002 he was presented with an honorary award by SARP.