Outside expertise
Feature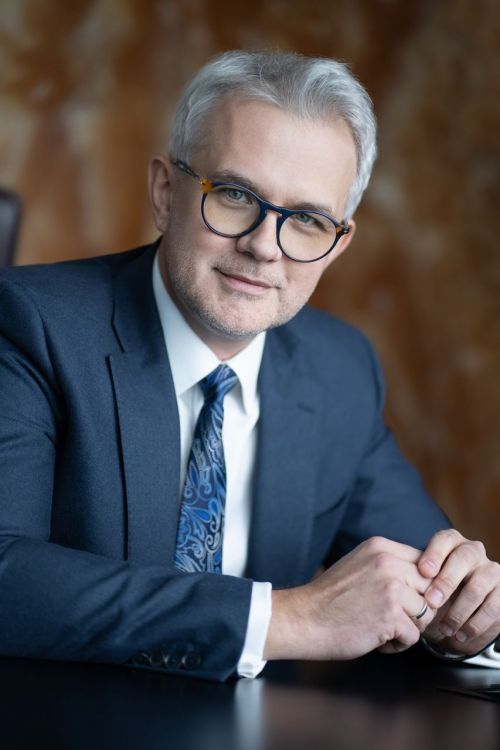 In mid-November, for the first time in history, someone from outside the sector took the helm of an international real estate consultancy in Poland. In this exclusive interview with Mateusz Bonca, the new CEO of JLL in Poland, among other topics we find out what can be learnt from other industries to help us get through these turbulent times
Nathan North, 'Eurobuild CEE': You are the first head of JLL in Poland to come from outside the real estate sector. Do you think your previous experience brings something new to the position?

Mateusz Bonca, the new CEO of JLL in Poland: My experience comes from my previous work in strategic and financial consulting, at such companies as McKinsey & Company, Deloitte, Deutsche Bank and Lotos, with some additional projects in between, in the Middle East, Africa and the US, as well as here in Poland. This brought me into contact with quite a wide range of industries, including the banking, logistics and energy sectors. In real estate consulting, the services differ, but the method of operating and the partners you make remain the same – it's all about businesses supporting each other. Banking and financial advisory is very similar to real estate consulting, it's just that they are focused on a broader range of asset classes. When I was working in those industries I had already started connecting with the real estate sector and it actually surprised me how sophisticated it was. The B2B aspect attracted me to JLL, as well as the unique culture and the transformation it has been going through, as did the teamwork and the excellence-oriented environment. I could see that this was a place where I could still develop while bringing my own outside experience to this client and transaction focused field. I could also see that this was a vibrant organisation and that makes me feel very comfortable going forward. I've been deeply impressed by the breadth of knowledge of the team here, so I have definitely made a very good decision.
How does real estate here differ from the other sectors you've worked in? And what potential do you think the market here still has?
I can actually see that the market is changing and it's a different place every day. And it's difficult to identify which trends are going to emerge in the long term. In this environment, challenging the status quo could potentially generate a lot of value for our partners. Real estate is very strongly correlated to the overall condition of the economy. Poland entered the 1990s with a significant gap in expertise and technology. So the sector had to embark upon a crash course to get it to where it is today. Over the last three decades, the industry has seen a huge push towards greater professionalism – and the Polish market is still undergoing immense growth. This has made it a very reliable place to invest in. But there's still a lot of innovation going on, as we can see for example with flex space, e-commerce and mixed-use projects. The feeling I have is that the full potential of these new solutions and formats is still not fully understood by all stakeholders, and the same goes for technological and sustainability solutions too. An increasing number of variables has to be considered simultaneously in the decision-making processes – and more are being added to the list. There have already been some fantastic outcomes of this leap forward, but there is still plenty of groundwork that needs to be done. My past experience of focusing on tight margins in the end-to-end value chain and of sophisticated analytics is what I can bring to this table. It should prove to be very valuable to our clients.
These are also strange times for real estate and to be entering this sector. How do you see the market at the moment?
I wouldn't say that these are necessarily strange times. The market was constantly growing previously and had been becoming increasingly liquid with new players entering it all the time. But there has been a gradual margin squeeze. And this is why consulting will be even more valuable. You could say these are challenging times, but this encourages new ways of looking at and approaching the market. Real estate here has reached the level of sophistication where what is really needed is the best knowledge – and this opens up new space for consultancy to provide this knowledge and to introduce tools and methods from other sectors. And Covid-19 has actually acted as a bit of a catalyst for this.
Speaking of which, that's the one topic we unfortunately can't avoid bringing up in this conversation, however much we might want to. How badly has the sector been affected by the pandemic?
It has obviously had an impact on real estate, but this has to be looked at segment-by-segment. The real extent of pandemic's impact is still very much up in the air and we'll have to wait to get the full picture. The warehouse segment has been the strongest sector due to the undiminished demand from retail chains, logistics, manufacturers and e-commerce. Thanks to this, by the end of Q3 2020 Poland was Europe's second most active market in terms of net demand and the amount of space delivered. To date, as we speak 2020's industrial and logistics investment volumes in Poland stand at an all-time high of EUR 2.5 bln. Covid has obviously affected the office segment, so you could say that these assets may not now be as exciting an investment product as they used to be. After the outbreak of the pandemic in March, the majority of corporate employees switched to remote working, offices were deserted, and some people started to question if we needed offices at all. The answer is 'yes', we do need offices, which is increasingly clear the longer employees work remotely. People do miss direct contact, and it becomes more and more challenging to drive creativity and productivity in many business processes, not to mention effective onboarding or coaching. However, in the 'new normal' we will definitely have to rethink the way we use office space. So it won't be a surprise if I say that offices will remain one of the most attractive asset types. The reason for this is the
expected increase in the inflow of investment from the business and IT services sectors or – more generally – industries with a strong technology and process excellence component. These factors are important sources of the office demand in Poland and they will be growing and hiring, which may help to bridge the gap between supply and demand. We see the return of positive office investor sentiment – there's a number of deals in the pipeline that will probably close in H1 2021. So, going forward, midto long-term, office as an asset class should once again be on the rise. Residential has proved itself to be very resilient during this crisis, but there has been a clear shift in the direction of institutional investment, moving it towards more sophisticated market models.
And what about the segments that have perhaps been impacted most, such as retail and hotels?
The pandemic acted as a check on the financial condition of many retail brands and motivated some of them to diversify sales channels and location portfolios. Once the year comes to the end we will have the full picture concerning actual turnovers generated throughout a tough time that seen the announcement of three lockdown episodes. There will definitely be differences among retail categories, for example entertainment, as well as food and beverage operators, which have suffered the most, while convenience sector and value retailers have been getting through these times relatively smoothly. This year investors unsurprisingly focused on convenience retail, food stores, retail parks and DIY stores, while drifting away from complex shopping centres. We do, however, believe that an improved sentiment will return to that sector as well, once shopping centres' operations stabilise and sustainable NOIs can once again be underwritten. The third lockdown, that started on December 28th is, however, pushing this prospect further back. As for the hospitality sector, hotels have been facing a financial battle to survive due to the continued restrictions on travel and guest stays, as well as the loss of ancillary business such as events and conferences. We have been working with many hotel owners during the last few months and, regardless of the location, income has been heavily impacted. Hoteliers have been able to keep their businesses afloat, but as the tightening of restrictions continues (including the government-imposed closures of hotels after Christmas), they have little space to improve their financial standing. This may trigger sales in 2021. There are a number of opportunistic investors, which we know of, who are looking around for distressed hotels in Poland. This only proves that the long-term outlook for hospitality sector is positive. Each of these segments has been impacted differently, so taking advantage of the right, well-tailored and comprehensive advice will be critical for decision makers to sketch their revised development paths.
What in your view are the prospects for a full recovery, for both real estate and the wider economy?
Overall, it looks like the Polish economy as a whole is still upand-running and GDP will bounce back, yet the situation differs sector by sector. But there will still be plenty of work that needs to be done in supporting clients with their real estate plans and portfolios – and this is where we offer to step in and help with research, strategy and execution. The situation is still ambiguous, but people are starting to understand the impact the pandemic has had, while that the prospect of vaccinations has given us a light at the end of the tunnel. Although margins are likely to change, real estate will remain active and continue to generate strong returns. Covid-19 acted as a stress-test for how resilient certain models are. The market has perhaps been moved back two years in terms of the numbers, but even back then we were looking at record figures. There is still, even now, a healthy amount of business and work to be done.
And how has JLL and the consultancy industry changed a result of the present situation? Has it forced you to switch your focus?
JLL has already earlier started shifting towards an even more comprehensive look at our clients' strategy and the decisions they need to take. In difficult times you tend to see clients gravitating more towards global consulting hubs with a strong local presence, such as ourselves. And we need to be prepared to advise both local players as well as international companies with head offices abroad. Our corporate solutions arm has become even more important. Our status as a global real estate advisor puts us in the best position to do this. It's easier for us to discuss holistic solutions centrally with the global clients. This shift in the market for services was already happening before the pandemic, but Covid-19 has accelerated this trend. When the market is going through rapid growth, you often help your clients with the effective execution of their strategies. But in more turbulent times, they generally need an additional level of advice on how to develop or shift their strategies. Therefore, we are having to familiarise ourselves even more with their corporate structures and the fundamentals of their business and culture to help them do this. Strategic consulting and the financial sector were doing it years ago, and this is where we will be heading now – we have the expertise and people to share this kind of knowledge. The fact that our JLL team comes from different backgrounds is a big advantage in this regard, as we can stimulate broader discussions with clients. So for international players we have to bring our integrated view on their global portfolios and opportunities, while for the domestic ones we need to provide a broader perspective, benchmarks and practices from other markets to enrich the context in their decision-making processes. To do that, we need to be even more client-centric on the one hand, but also to build globally and share product and solution knowledge on such mega-trends as carbon footprints, sustainability and proptech. We need to take advantage of innovative analytical platforms, which enrich the insight we have to deliver to remain true partners to our clients.
What do you like to do to unwind when you're not working? And does a CEO even have the time to relax?
My work is my hobby. But I do have a love of modern abstract art, which I find very calming – and even then, sometimes I see something new in familiar works that excites me. If I want to feel free, I indulge in my passion for classic cars built in the 80s and 90s. These have a lot of power, but the way they handle allows me to disconnect for a moment from the today's digital world. And I also have two young sons. We recently taught them how to cycle and ski. They are absolutely my best companions when I want to get away from the world of business. "
***
STRATEGICALLY POSITIONED
Mateusz Bonca is an expert in strategic management. In November 2020 he became the CEO of JLL Poland, where he is now leads the company's core consulting business and is responsible for the entire operations of the company in the country. He also oversees JLL's services hub in Warsaw, which provides services for clients in Europe, the Middle East and Africa, as well as support for other JLL units across the EMEA region. He joined from Grupa Lotos, a leading oil and gas company in Poland, where he was president of the management board. Before joining Lotos, Mateusz was employed by Deutsche Bank in Frankfurt, customer experience advisory firm Peppers and Rogers Group Middle East in the UAE, as well as McKinsey & Company in Poland. Mateusz has extensive experience in client-focused environments, international strategic B2B consulting, and from a range of management roles in over a dozen countries on four continents in a variety of sectors: from banking and finance to the energy industry.