Top of the TriCity
Small talk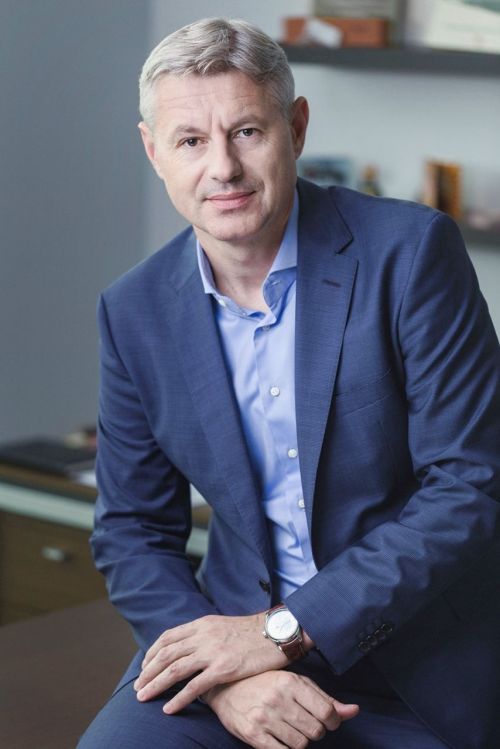 In the last Small Talk of this issue, we chat with Mikołaj Konopka, the CEO of Euro Styl, part of Dom Development group, about how the company is contributing to the transformation of Gdańsk – as well as the places he likes to visit in the city
Tomasz Cudowski: Have you already started work on the first stage of your Doki (Docks) development in Gdańsk? In my opinion, it's one of the most interesting placemaking projects in Poland, never mind the TriCity.
Mikołaj Konopka, CEO, Euro Styl: Yes. We've been granted all the necessary permits and begun the preparation work on the former shipyard site next to the European Solidarity Centre. Our company will be developing a residential estate in four stages and renovating the building that was formerly known as the U-Boat hall but has now been renamed Montownia. We are planning to build 211 apartments and 1,000 sqm of retail space in the first stage of the project. In Montownia there will be 114 serviced lofts with a food hall on the ground floor as well as a small conference centre. This part of the project should be finished in Q4 2023. Also, in the third quarter of this year, our partner, Torus, intends to make a start on the office section on the site next to the ESC.
How well has Euro Styl been coping with the pandemic?
Not bad at all. You can see this from the numbers. Last year we sold 859 apartments and this year we had already achieved a similar level by October. The main impact of the pandemic for us has been due to the slowdown in administrative decisions. We've tried, given these uncertain times, to guarantee our workers and clients the highest level of safety by, for example, testing our employees every week for coronavirus.
Does being part of a larger group help in difficult times?
Without a doubt, yes. But this is, of course, requires the group itself to be in a stable position, which Dom Development is. For sure, Euro Styl has more financial backing and its operations are more efficient. There are also other advantages, related to the development of the company: right now we are introducing Enterprise Resource Planning across the board to optimise the raw materials used by the business. Not only does this system improve many of our business activities, but it also opens up completely new opportunities for us. An individual developer, even one that was quite large, wouldn't be able to afford and implement such a system.
You are also preparing another large project – Dolne Miasto. This is to be undertaken jointly with the city as a PPP project. Not every private business likes such partnerships...
I agree, because with this one the local government holds all the cards. First of all, the developer has to fulfil a public goal, then its price is assessed, and only later can the company pursue its own private goals in proportion to how much it has put in. In our case, in the first half of last year we began building a multifunctional sporting complex, after which we are also going to build a new road system and renovate an old school building. In return, we will be given a plot from the authorities on which we will be able to develop several projects, the first of which will have around 160 apartments in buildings that fit in with the traditional architecture in the area. But this is an interesting enterprise, because it will be the residents of the district who benefit from it most. With any other system, the authorities could use the money from the sale of the land for whatever they wanted, but in this case the money will be ploughed back into Dolne Miasto district.
What's the residential market like in the TriCity? Is the supply still not keeping up with demand?
Yes, that's exactly how it is. The TriCity has, ironically, benefitted from the international travel restrictions, because it has become an even more attractive tourist destination domestically. Apartments bought as second homes are accounting for an increasingly large proportion of sales and are being rented out both on a long- and short-term basis when the owners are away. However, the shortage of sites is becoming an ever more acute problem, especially for developers: the development of the TriCity is on one side hemmed in by the sea, and on the other by a national park, so it can only grow in a linear fashion along the coast. And these limitations to the supply of land are pushing home prices up.
And what would you recommend for tourists to go and see if they were visiting Gdańsk for first time? Let's say, for the weekend?
Just a weekend could turn out to be a bit too short! [laughs] There are two places I've always recommended that everyone should visit – two museums, in fact: The European Solidarity Centre and the Museum of the Second World War. Not only do they have wonderful architecture, but they also have unique exhibitions. But it would be difficult to see all of this in one day, and after all a walk around the old town is an absolute must, along with dinner on Wyspa Spichrzów island followed by burning off all those calories with a kayaking trip down the Motława river. It's well worth seeing Dolne Miasto and its unique bastions from the water. And I promise you that when we finish the work on our project, this place will be even more beautiful.