The plot thickens
Residential
Aneta Cichla, Nathan North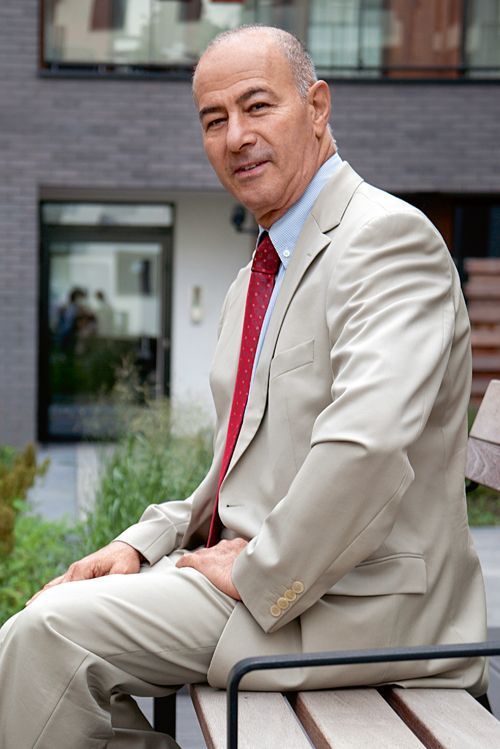 Residential developers have recently announced a number of large land purchases in Warsaw, while in Prague the demand for residential development sites now considerably exceeds the supply. Therefore 'Eurobuild CEE' has decided to take a closer look at the situation on the land market
It has been a long time since apartment sales in Poland have been so good. The latest semi-annual results published by residential developers have broken recent records. The main Polish players, including Robyg, Ronson Development, Marvipol, Inpro ,Dom Development and Murapol, are all boasting high sales figures, each seeing increases of a least a dozen per cent compared to H1 2013. However, residential consultancy Reas has reported that the combined volume of transactions in the six largest conurbations (Warsaw, Kraków, Wrocław, TriCity, Poznań and Łódź) has actually decreased by app. 6 pct compared to Q1 2014, down to less than 10,400 sqm. "In spite of this, a record number of transactions has been concluded for the fourth quarter in a row, something that has not been seen on the Polish market since the boom years, i.e. the beginning of 2007," a report by the consultancy reads. According to Reas, developers have also increased the number of apartments put on sale in Poland. In the April–June period, more than 14,000 apartments were put on the market – almost 50 pct more than in the previous quarter, which means that apartments are finding buyers faster and new projects are needed. Therefore the demand exists and developers are looking to continue to replenish their offers. In order to do this they need to purchase land for further projects. Meanwhile, the prices of plots designated for residential development are still rather high, particularly in the most popular locations. In Prague the residential market is also growing. According to a report by JLL, the number of apartments sold (5,100) in 2013 increased by 10 pct compared to 2012. As far as the supply is concerned, after a 13 pct decrease in terms of the number of new projects compared to 2012 to 3,620 apartments, the forecasts for 2014 point to growth to a level of around 4,000 apartments under preparation for construction.
At the moment the larger residential developers in Poland are building up their land banks. This has been going on for some time now, but recently a number of large transactions have taken place. These have primarily been for large areas in attractive locations, but the transactions have also involved large amounts of money. In the case of the purchase of the former Browary Warszawskie site by Echo Investment, a 4.4 ha plot was bought by Echo Investment from its Spanish owners Bankia for EUR 42 mln. Robyg has announced the purchase of two plots in Warsaw: a plot between al. Sikorskiego and ul. Puławska in Mokotów (8.5 ha for PLN 68.5 mln) and a plot on ul. Przasnycka in Żoliborz (almost 0.55 ha for app. 10 mln). It would be possible to build around 1,000 and 160 apartments on the respective sites. It is a similar story with Okam Capital, which has bought two plots in the Służewiec area of the city. The company has acquired a plot on ul. Woronicza where a useable and residential area of 18,000 sqm is planned. Meanwhile, at the junction of ul. Konstruktorska and ul. Racjonalizacji, the company is planning to build 250 apartments with a total useable area of 20,000 sqm. "We will mostly be focusing on land purchases in Warsaw. In the next few months we are planning more purchases of plots in Warsaw. We intend to acquire attractive areas in such districts as Nowa Praga and Ochota, as well as to finalise two large transactions by the end of the year. Both plots are prepared for construction and include buildings requiring major renovation and large-scale revitalisation," reveals Arie Koren, the president of the board of Okam Capital. Analysts and land sales agents agree that a revival in the land market is underway. "For over a year we have been observing an increased interest in land designated for residential estates on each of the major markets across the country. The buyers are mostly: large, stock exchange-listed development companies, such as Robyg, Dom Development, LC Corp and Echo Investment; those with plans to enter the trading floor, such as Atal and Murapol; as well as local developers with strong positions on their markets, such as Locum or Vantage in Wrocław, Instal and Wawel-Service in Kraków," explains Piotr Byrski of Leach & Lang Property Consultants.
On the Prague residential market the demand is clearly outstripping the supply for quality locations at the moment. "If you have a good location then this is the right time to sell, but for those looking to buy land the supply is rather limited," says Michal Marhoul, a senior consultant in the residential agency of JLL's Prague office. "But there have been no dramatic changes on the market over the last two years – a fairly stable volume is being sold. However, good plots are becoming harder and harder to find and demand is now high for these," he adds. Developers in the city are more active in the wider centre and on the outskirts, where most of the land is currently being bought. One important factor driving this is the continuing expansion of the city. "Some of the locations in the areas popular with residential developers, which we now call Prague West and Prague East, weren't even counted as being in Prague several years ago. The metro and public transport is being expanded in response to this, so we are now seeing the biggest development activity on the outer fringes of the city," says Michal Marhoul. As Prague grows, such new areas attractive to residential developers are constantly being added to the map. "Ten or fifteen years ago and before the credit crunch, such areas, in former industrial zones for instance, might not have been regarded as being so attractive. But since then we have seen the development and expansion of office parks in these locations." One example is the BB Centre business park in the previously unfashionable Prague 4 district, which is now becoming one of the most interesting residential areas, simply because people want to live close to a 'happening' place, where they can work or dine out in restaurants. But the other major factors driving the demand for new locations for residential developers are the continuing low interest rates and the availability of mortgages. As a result, "banks are currently fighting it out with each other to do business with residential developers, so the whole environment is very positive for this sector," claims Michal Marhoul.
In fact, everyone's buying
Many companies are now showing a greater interest in land and all kinds of plots are in demand. "A large proportion of developers are generally displaying an interest in the purchase of investment plots at virtually every stage of preparation for the future construction process. Plots with building permits and those that require more time for preparation – which could take from one to two years – are all being snapped up. In this way some developers are building up land banks for the next few years. The most active of these are the major players, who have considerable financial reserves, are able to use their funds to purchase land for future projects, and are able to offer a higher price than the smaller players interested in buying the same plot. We have also noted an intensification in the expansion of investors looking for new markets in towns and cities they did not use to specialise in or were completely absent from. It is now no longer unusual for a Warsaw-based company to be planning new projects in Kraków or the TriCity. Local developers are finding themselves having to compete against newcomers to their neck of the woods, who, despite their limited familiarity with the market, are able to surprise the existing competition as well as buyers by offering inexpensive apartments with a suitably high construction and finishing standard," remarks Robert Latuszek, an analyst in the investment department of Home Broker. Piotr Byrski is of a similar view: "Nowadays the most active foreign developers on our largest market, Warsaw, are Belgian, French and Israeli firms. However, there are also – to a much smaller degree than before – Spanish and Irish developers, but they are mostly those that did not fall into the trap of excessive investment in 2007 and 2008," he remarks.
The housing market in Prague has been moving along the same lines as Warsaw since the end of the credit crunch. According to Michal Marhoul of JLL, it is office and residential development at the moment that is currently driving the demand for land. "All sizes are being bought – even plots as little as 1,000 or 2,000 sqm. Each segment of the market is pretty much covered, by either large domestic or international players with prestige or large-scale developments, or by the smaller, local developers willing to take on smaller, niche projects." In his view, the best case scenario for developers is to buy land covered by zoning or with permits. But for speculative purchases to make sense, plots without such permits or zoning have to be very cheap. "With the growth of the city, all of the outer outskirts represent a good bet for residential developers. However, without zoning in place it could take time to profit from such investment. But as the metro is now being expanded, with 4–5 new stations to open next year, all these areas are in particular becoming super-interesting for developers." The main developers active on the Prague residential market at the moment are local players Central Group, Ekospol and Finep, as well as Scandinavian companies Skanska and YIT. As Jiří Vajner, the chief commercial director of Central Group, explains: "In 2009 many of the smaller developers put their investment activities on hold and focused mainly on selling out their existing stocks. However, they were mostly unable to reduce the prices of their apartments due to financing conditions, the generally higher costs and other inefficiencies. So they have simply reduced prices step-by-step and just very, very slowly got rid of their existing stocks, providing them with a long-term but low cash-flow." Nevertheless, at this point they had still not been forced to sell their land or prepared projects to their competitors at reasonable prices and their price expectations remained at the same level as before the crisis. "Bigger, stronger players with strong equity backgrounds then used the slight revival in demand that came in 2010 to produce a new wave of apartments: these were brand new, often even of a higher standard than those finished before and – most importantly – far more affordable. Logically, the existing stock couldn't compete with this new wave. So the market started to consolidate and this process accelerated as the demand began to rise again. Between 2009 and 2013, the total amount of apartments sold in Prague rose from 1,900 to more than 5,000," says Jiří Vajner. And as the market consolidates and the number of players shrinks, it is the buyers who have been the main beneficiaries, as the quality of homes has improved but the cost of buying them has fallen.
...and buying for more
With the return of the residential market to rude health, the prices of land designated for new projects have also been growing. It is difficult to find a good plot and it is even harder to buy one at a good price. "We need to compete against other companies from the sector for the most attractive plots, but the increased competition is having an impact on the price of land designated for residential construction, which has increased on average by 5 pct so far this year. The reason for the increase in prices is their earlier depreciation. Over the next two to three years we will see increased demand and a growing supply of land designated for residential construction," predicts Arie Koren of Okam Capital. The legacy of the boom is still having a detrimental impact. Polish developers point the finger for this at the gaps in the law that permitted the irrational land purchases, mainly by foreign investors, that characterised the period. "In my opinion," says Piotr Byrski, "allowing a situation where foreign companies based elsewhere in the EU did not need any permits for land purchases, leading to an inevitable hike in prices, was a grave mistake. Unfortunately, we are still having some serious problems on the market because of this short-sightedness, since high land prices translated initially into the lack of any economic activity on the plots bought this way – nobody was willing to build on such expensive plots because they would never have been able to make any profit from the sale of the apartments. Now the problem is that land owners are still labouring under the illusion that they are sitting on a gold mine. They have a plot which they think is worth x – an excessive sum – but virtually nobody will buy it for x. In fact, there is no chance at all of this." Clearly plots are over-priced. But what exactly does this mean? "Nowadays, when the volume of apartment sales in some of the largest cities in the country is reminiscent of the red-hot year of 2007, the prices of land are also starting to get dangerously close to the levels registered just before the collapse of the financial markets. Smaller projects, with residential and useable areas of up to 10,000 sqm and with building permits on the two main housing markets, i.e. Warsaw and Kraków, are reaching prices of or sometimes even more than PLN 2,000 per sqm of useable and residential space in good locations. And there are firms queuing up to buy them. Increasingly often the prices of large housing projects, with areas of over 50,000 sqm and local zoning plans or site development conditions, reach PLN 1,500 per sqm," claims Piotr Byrski.
So what is the main factor fuelling the increased activity of developers on the investment market? Is it the higher demand leading to easier apartment sales in existing projects or those under construction? "The bull market is encouraging more development companies to plan future projects for the beginning of the next year. So it is not only inexpensive plots in the suburbs that are enjoying a great deal of interest, but also locations in fashionable and prestigious districts," remarks Arie Koren. There is also the other side of the coin to consider. "It is a mistake to increase the number of development projects at a time when the level of apartment prices is high. At such a juncture it is too late to do so, since this is everyone's harvest time. Buyers are purchasing homes on a massive scale, so they should stop buying soon, considering how many can buying flats at the same time," warns Wikana's president Sławomir Horbaczewski. Okam, nonetheless, is planning to invest in properties in Warsaw and intends to develop further. According to the company's strategy, 1,000 apartments in Okam's portfolio will find buyers in 2015 and the number should increase even threefold over the next five years. "Since entering the Polish market in 2004, we have invested more than PLN 150 mln in the purchase of land. In the next few months we want to earmark another PLN 80 mln for this purpose," reveals Arie Koren. And for the largest Czech residential developer, Central Group, this year has so far been the best in its history in terms of acquisitions. "We are literally on a shopping spree right now," Jiří Vajner explains, "this year we have already acquired eleven new locations suitable for projects with a total investment value exceeding CZK 5 bln [EUR 185 mln]." These are quite impressive figures, given that the company generally allocates CZK 1.5 bln for acquisitions each year. "All the land pruchases are being made with a view to the strategic development of the company. Some are made with definite plans to build and sell in a specific period – and these secure our cash-flow and funding. Others are bought with just a vision that develops over time. In both cases, the purchasing price is the alpha and the omega," concludes Jiří Vajner. ν