Golden brown
Warehouse & industrial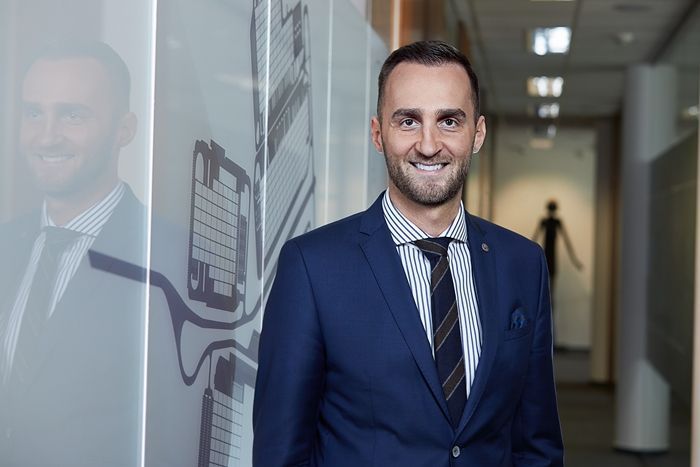 Lukáš Répal of Accolade Group
Once brownfield sites were completely off the radar for warehouse developers. Now they see them as a lucrative opportunity
Former industrial buildings, old warehouses and contaminated land make life difficult for developers as they mean higher costs, lengthier processes and more specialised knowledge. Nevertheless, some investors are no longer being put off by these hurdles.
One example is Accolade, a sizeable Czech company that operates on the Polish market in partnership with Panattoni. As well its Polish and Czech operations, last year it also entered the German and Slovakian markets. Over the last nine years it has built up a portfolio of 670,000 sqm of brownfield logistics space, which makes up 37 pct of its 1.8 mln sqm portfolio. But why is such a large proportion of it built on brownfield sites? On the one hand, there's the issue of the rising importance of such locations, while on the other, investors are becoming more concerned about environmental sustainability. "Why would we build something on a greenfield site, when there's brownfield land right next to it? I'm not saying we've always opted for the more difficult path, but we like to choose whatever is more environmentally sound. In this way, we can make our projects both more attractive and more sustainable," explains Lukáš Répal, the chief operating officer of Accolade Group.
Eco-warriors
Lukáš Répal goes on to add that an industrial investor who focuses on abandoned brownfield sites can usually count on the support of the local authorities. "With a greenfield site, the question always arises of why it is being put to industrial use. Such projects do not always have everyone's full support. But local authorities quite often don't know what to do with derelict brownfield sites where production used to take place, and so there's always that desire to bring somebody in to put such sites back into use. This would be a huge task and investment for a town or city by itself, but with a little help from an investor they are happy to revive such sites or bring back the production that was there originally," explains Lukáš Répal. In Poland, the regulations are less stringent and impose fewer environmental requirements on investors than in the Czech Republic or Western Europe. Perhaps this is why brownfield projects make up a greater proportion of Accolade's Polish portfolio (53 pct) than they do elsewhere. Right now, the company is building Panattoni Park Szczecin – a complex of over 220,000 sqm on the site of a former Messerschmitt production plant for the Luftwaffe in the Second World War. Accolade has also invested in a 50,000 sqm park on the site of a former Zachem chemical plant in Bydgoszcz as well as in two buildings totalling 30,000 sqm on the site of the Polnam steelworks in Częstochowa. Environmental sustainability is one of the key selling points for such projects; and, indeed, Panattoni Park Cheb South, one of Accolade's Czech parks, has recently been awarded a BREEAM New Construction certificate with a rating of 'Outstanding', having racked up a score of 90.68 pct – the highest of any industrial facility in the world.
Going down to brown town
Hillwood Polska has also never been shy when it comes to taking on brownfield projects. The developer bought and pulled down the CH Sosnowiec shopping centre in 2017 in order to build the 54,000 sqm Centrum Logistyczne Hillwood Zagłębie. It has also completed brownfield projects in Ruda Śląska, Mysłowice, Marki and in Warsaw's Targówek district. Segro is currently preparing to demolish buildings that were once part of the FSO car factory in Warsaw's Żerań in order to build a 21,000 sqm urban logistics centre. Examples of such projects are sure to become more numerous because – as Marek Kosielski, the BTS director at Axi Immo, points out – the growing interest from developers in this kind of land has been a clear and growing trend for the last few years. "There are fewer and fewer development plots available in cities. Prices are very high, which makes investment in brownfield sites more cost effective – even taking into account the higher extra outlay required for preparing the land," he says. Furthermore, the importance of city locations has continued to grow as a result of e-commerce and its need for projects to be situated nearer the end-customer.
Brownfield projects also have a number of advantages. Their access to public transport is an important factor, as investors begin to pay more attention to how employees travel to work. "Brownfield sites are almost by definition located in built-up areas and so have all the conditions needed for development, the lack of which is often an obstacle for other projects," insists Marek Kosielski. Another advantage they have is their ownership status. Abandoned factories and rundown warehouses are usually owned by single entity – and it's always easier to talk with one party. There are parts of the country, such as Upper Silesia, where the multiple ownership of plots can be quite a problem. Axi Immo once prepared an investment site where over 100 plots had to be joined together and that had almost 200 owners to deal with. But even having just a handful of owners can be quite a problem. "It once happened that I had to put together a difficult project where there were only six owners. But one had just died and another lived in New Zealand. Of course, things like that only lengthen the time needed to make a sale," admits Marek Kosielski.
Looking further afield
MLP Group has for the last few years been expanding into Germany and Austria, where 90 pct of its projects are brownfield. "In western Germany and Austria it is virtually impossible to buy undeveloped land for industrial use, because cities there will not give permission for this. So the only option is to convert rundown properties into modern warehousing centres. We have bought, for example, a plot next to the main road leading to Niederrhein, not far from Mönchengladbach. It's a former industrial site and regarded as an eyesore in the district," explains Radosław T. Krochta, the CEO of MLP Group. The developer is also in the process of finalising a deal to buy the site of a former refinery in Vienna owned by Italian petrochemicals company Eni, where it intends to develop a business park.
Careful due diligence is extremely important for such deals. MLP has so far walked away from the purchase of half the brownfield sites it has looked at in Austria and Germany after detailed surveys were made of them. "We scrutinise each of them very closely so that we can assess the environmental risks as accurately as possible. Each time we need to have a highly detailed report on the costs of demolishing the existing buildings, remediating the land and recycling the materials on site," explains Radosław T. Krochta. No project is too difficult, because from a technical standpoint every plot can sooner or later be decontaminated or adapted for different uses, but the problem that can arise is that this might all be prohibitively expensive. Surveying the land comes on its own to a few thousand euros, but the demolition and recycling costs can be in the millions, not to mention the remediation costs and investment risk. "And the fact that we've done a survey doesn't mean that during the building work there won't be ground subsidence resulting in contaminants seeping into the ground water. We aren't able to predict things like that. There's always a risk, but with greenfield sites it's a lot less," he points out.
Worth the effort?
This situation has been further complicated by the current pandemic. Covid-19 has boosted e-commerce and this should result in increased demand for urban sites; but at the same time it has dampened the investor appetite for risk. "Before the outbreak of the pandemic, there was more demand for difficult brownfield sites. At the moment investors have to look at each and every aspect of real estate and are wondering if now is the right time to invest in difficult plots. The development of such sites can take many years. It's only when the price of brownfield sites becomes competitive that they are prepared to take on such risks," insists Piotr Litwin. Nonetheless, instead of investing in land that won't generate any revenue for some time, it's still better to buy sites for which it's easier to get the permits for a project without wasting time.