Poland

From record highs to declines

Warehouse & industrial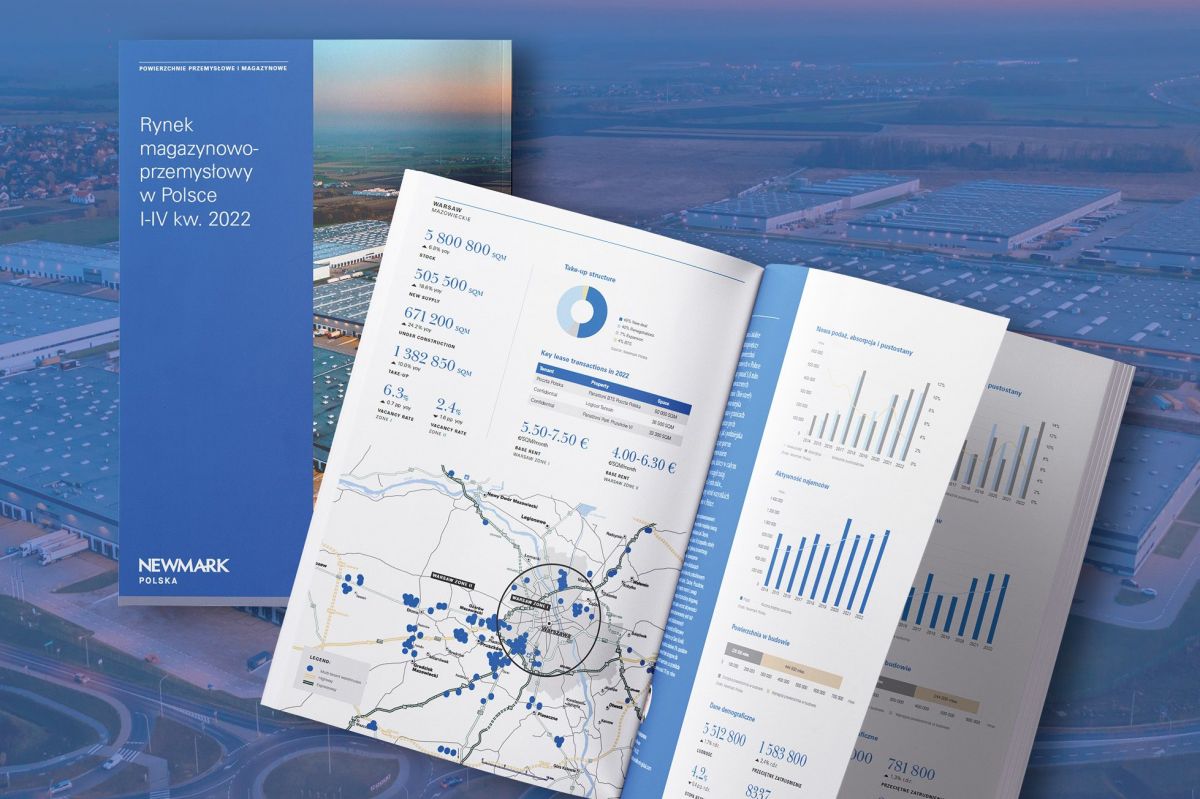 1 / 1
According to a report "Industrial & Warehouse Market in Poland" prepared by Newmark, 2022 was a record-breaking year for new warehouse and industrial completions, with occupier activity remaining relatively strong amid a gradually shrinking development pipeline.
The Polish industrial and warehouse market closed out the year with a record-breaking supply of over 4.4 mln sqm following a period of intense development activity. This was against the backdrop of a relatively strong demand throughout the year, with take-up hitting nearly 6.7 mln sqm, the second highest level on record. This shows that the Polish warehouse and industrial market remains a very attractive destination in Europe. 2023 is expected to see an increased focus on the redefining of supply chains, cost optimization and savings. Meanwhile, Poland's total industrial stock will surpass the 30 mln sqm mark.
Jakub Kurek, Head of Industrial and Warehouse, Newmark Polska
At the end of 2022, Poland's total industrial and warehouse stock reached 28.3 mln sqm, up by 18.9 pct over the year. Last year's new supply hit a record 4.4 mln sqm, representing an increase of over 42 pct on 2021. That said, new completions in the Q4 of 2022 amounted to just over 820,000 sqm, down by close to 31 pct compared to the Q3.
At the end of December 2022, more than 3.4 mln sqm of warehouse and industrial space was under construction, down by 14.6 pct on the Q3 of 2022 and by close to 30 pct compared to the Q1 of 2022, when the development pipeline totalled over 4.8 mln sqm, the highest on record. This suggests that developers have adopted a more cautious approach towards commencing new projects, expecting new developments to be at least 50 pct pre-let before starting construction. By far the most significant fall in development activity over the year (Q1 vs Q4 2022) was recorded in Central Poland (close to 388,100 sqm, down by 51 pct) and in Lower Silesia (237,700 sqm, down by 38 pct).
Occupier activity remained relatively strong throughout 2022. Total take-up was close to 6.7 mln sqm, the second strongest in the history of the Polish industrial market and 8.9 pct below the 2021 record performance. Leasing activity for the Q4 of 2022 amounted to almost 1.53 mln sqm, a 2 pct increase over the previous three months. The best-performing quarter in 2022 was the three months to June, with 2.09 mln sqm transacted. Net warehouse and industrial take-up came to 4.46 mln sqm, accounting for 67 pct of gross take-up.
In 2022, new lease agreements accounted for 60 pct of all deals, followed by renewals and expansions which made up 33 pct and 7 pct, respectively. The growing occupier focus on cost optimization saw renewals increase their share of the total take-up to over 40 pct in the Q4 of 2022. It is also worth noting that 345,200 sqm was transacted in 2022 under shorter leases of up to one year.
The largest transactions of 2022 included VidaXL's renewal of its lease for 123,000 sqm in VidaXL BTS Września and BestSecret's 90,000 sqm lease in its BTS facility developed by Panattoni.
At the end of December 2022, Poland's overall vacancy rate stood at 4.1 pct, marking a marginal fall of 0.2 pp quarter-on-quarter but a 0.4 pp increase year-on-year. Vacant stock comprised 1.17 mln sqm in existing buildings and 1.56 mln sqm in projects underway.
Warehouse rental growth which in 2022 averaged 15-20 pct, peaking at 30 pct and varying by location, is now beginning to plateau. However, Poland remains a very competitive destination for warehouse and industrial investment in Europe, with headline rents in newly-built warehouses standing at over EUR 4 /sqm/month.
Relatively high construction costs and funding constraints will produce a drag on development activity in Poland throughout 2023. This trend is expected to continue at least until the second half of the year. Developers will be increasingly willing to commit to BTS or BTO projects, with speculative construction undertaken mostly by market players relying on their own funding. In addition, in its quest for optimization, the industrial market will be increasingly shifting its focus to sustainable and ESG solutions.
Agnieszka Giermakowska, Research & Advisory Director, ESG Lead, Newmark Polska