Go West
Warehouse & industrial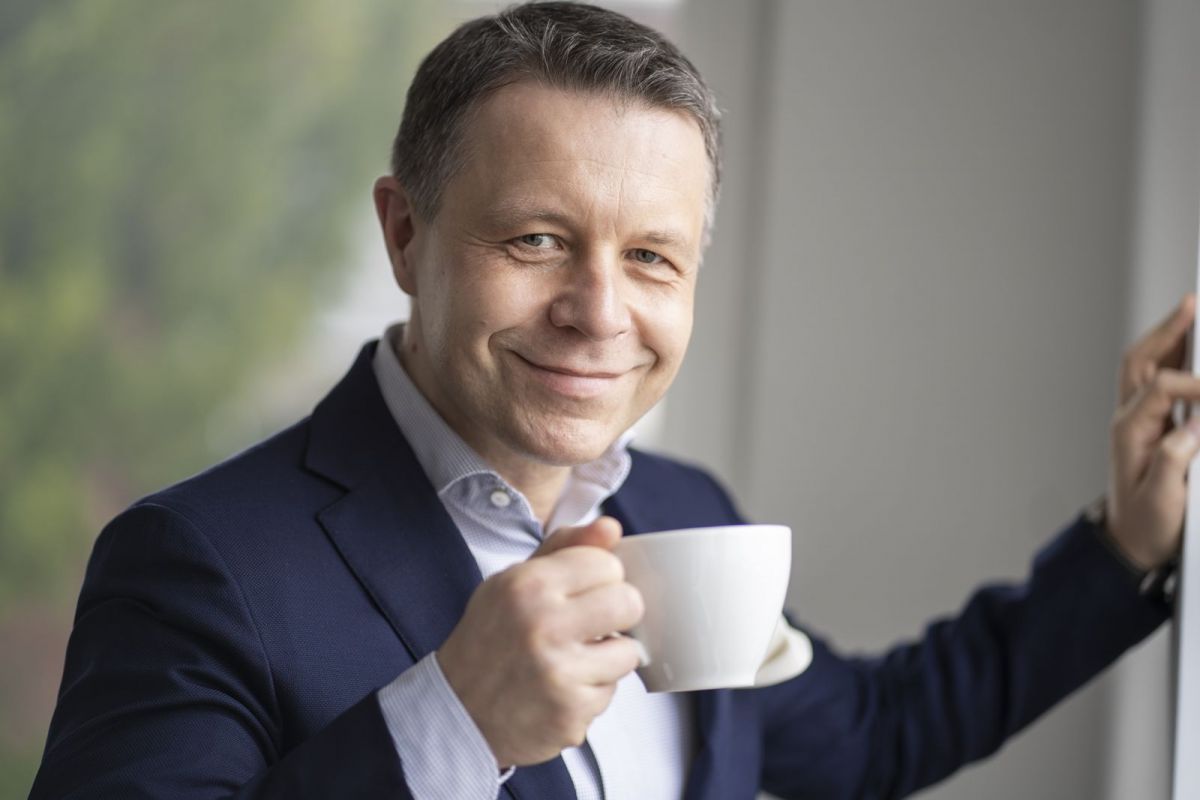 "Everyone thinks that the quality is always high in Germany, but a developer aiming to provide the highest possible quality at competitive prices has relatively little competition in Germany," explains Radosław T. Krochta of MLP Group
For successful companies in Poland, entering Germany could be an opportunity to sail into wider and calmer waters. Other rewards might also include higher margins and competition that's less cut-throat
When Warsaw Stock Exchange-listed developer MLP Group entered Germany in 2017, through the acquisition of 12.5 ha in Unna near Dortmund, it might have come as a bit of a shock to those who hadn't been following the warehouse market particularly closely. This is a sector that had, up to this point, been moving in the opposite direction. It had been coming here from abroad for many years, with all the capital investment and know-how required to tap into the huge potential of the emerging Polish real estate market. Since then, one shining example of a company that originally established itself in Poland but has now built upon this largely through expansion into Germany, is warehouse developer MLP. According to the company's CEO, Radosław T. Krochta, by 2023 its German portfolio will match its properties in Poland – both in terms of its income and value.
The Polish school of business
It's worth noting that MLP's Polish portfolio comprises twelve logistics parks, the first of which was built 23 years ago in 1998. MLP wants to achieve the same scale in Germany in around six years. Radosław T. Krochta believes that it is possible for MLP to expand this quickly mainly because of the experience that it has gained in Poland. "You could say that we've been in training on our home market, in quite challenging circumstances where rents are highly competitive. We had to learn how to survive in Poland by lowering costs while at the same time raising our quality standards. Taking the lessons we've learnt from competing in Poland and applying them in Germany is proving to be very, very successful," he claims. In his view, industrial developers in Germany do not compete so much over the price, nor are they under any pressure when it comes to the quality. "Everyone thinks that the quality is always high in Germany, but a developer aiming to provide the highest possible quality at competitive prices has relatively little competition in Germany," explains Radosław T. Krochta.
Investing in German warehouses generates very high rates of return. To buy a plot in Poland, you would have to pay on average EUR 50 per sqm, while in Germany prices are higher, at around EUR 70–80 per sqm. Building costs are also a little higher, by about 10 pct. Nonetheless, such higher costs are more than made up for by the rents. In Poland they come to around EUR 2.5 per sqm, whereas in Germany the average is EUR 4.5. When all of this is factored together, it turns out that across the border you can realistically expect to achieve margins about 50 pct higher.
The barriers to entry in Germany are also different. The main difficulty is the availability of suitable land. "In Germany, once you've managed to secure a good site, leasing the building is relatively simple. A good location is what determines whether you are going to be a success," explains Radosław T. Krochta. He then points out that preparing the site takes two to three times longer than in Poland. MLP Germany is actually entirely autonomous from the MLP Group in Poland, although Radosław T. Krochta is the CEO of both. It is staffed by local workers and uses local financing, local design studios and local contractors. In effect, the only connection between MLP Germany and MLP Group is that they are both run from the same headquarters. "Of course, at the beginning we showed them our way of doing business and what our projects should be like, how to optimise them and how to be assertive on the market. However, we split off all the operations of the company leaving none of them in Poland. Everything is done locally. That is also an important element of success," claims Radosław T. Krochta.
Growing before a takeover
Last December, Polish prefabricated concrete manufacturer Pekabex bought the FTO Fertigteilwerk Obermain factory in Bavaria, which produces up to 30,000 cubic metres of such concrete a year. In 2019 it had revenues of EUR 20.6 mln with net profits of EUR 408,700. This was the first foreign investment for the company from Poznań, which owns five plants in Poland. Previously, it had acted as a subcontractor for several German companies and exported its products to Germany. However, because the cost of transporting such goods abroad is so high, it had never been able to offer its full range of goods abroad. For Pekabex, which had just completed its most successful three quarters ever (the company reported a net profit of EUR 44 mln between January and September 2020), buying such a factory was an obvious way to increase its production capacity. As a result, as the chairman of the board Przemysław Borek puts it: "The company will be able to think bigger and more boldly." However, there were other strategic reasons for this takeover. "Through buying up a healthy, profitable company, we will be able to learn how to appreciate the differences and the requirements of the German market better. By owning a factory in Germany we can come to a better understanding of what our clients there need," he explains. His company is now learning all it can about the German market and hasn't ruled out further acquisitions. "It's a large stable market, so it's definitely a place where we can grow our business, since we are the best in Poland," claims the CEO. Currently, the company is working on the Am Tacheles estate in Berlin as well as the Am Strandkai estate in Hamburg, for which it is producing white prefabricated concrete elements. Pekabex is also working on the construction of a server building in Frankfurt and a tunnel underneath central Berlin.
Erbud is another Polish company looking to invest in Germany - and indeed, in 2018 it acquired Ruhr-based IVT Weiner + Reimann, which installs and services industrial equipment. In the year before the takeover, the German company generated revenues of over EUR 23 mln and a profit of almost EUR 1 mln. According to Erbud CEO Dariusz Grzeszczak, one of the reasons it bought the company was its high-profit margin of 6 pct, as compared to Erbud's Polish service branch, which is registering a profit of 2–3 pct. "Buying IVT hit the bulls-eye. At the time it was the largest acquisition by an engineering and service company in Poland. IVT continues to grow and its profits are rising," he argues. It services for the industrial sector in Germany are estimated to be worth EUR 20 bln and so Erbud believes that it is going to grow quickly in this market. "We've been looking around for some time now for another German company to acquire as part of our strategy to diversify both our business lines and geographically," reveals Dariusz Grzeszczak. Meanwhile, Erbud's share of the big-box construction and the civil engineering markets, where it used to make much of its money, has been shrinking. Dariusz Grzeszczak, however, can see many opportunities stemming from Erbud's foreign operations, emphasising that over the last year these markets have boomed. "Our revenue from abroad shot up. Over the first three quarters of 2020, we had 60 pct more revenue than in the same period of the previous year," he points out. Erbud has been operating in Germany for 30 years, over which time it has worked on the ICE train tunnel between Bonn and Cologne, several apartment blocks, retail centres and hospitals. Most of its projects have been in North Rhine- Westphalia, where GWI – its German general contractor subsidiary – is headquartered.
Unter einem guten Dach
Polish residential developers have also been busy in Germany (a phenomenon Eurobuild took a look at exactly one year ago). Atal, Murapol and Victoria Dom have all gone hunting for higher margins across the western border. Covid-19 related turbulence has had some effect on their fortunes, however. "Despite the pandemic and the economy having been put on hold, we've seen demand holding steady over the last quarter, apart from the first few weeks. Both Poles and Germans still want to buy flats and apartments," insists Zbigniew Juroszek, the CEO of Atal, which is developing Mika, an 800-apartment estate in Dresden. But in Germany, there have still been some difficulties when it comes to executing projects. "For quite some time the border closures were a problem as well as the restrictions imposed on travel, as some of the work was being carried out by workers from Poland. Nevertheless, there hasn't been any major disruption to the work of our German subcontractors and, as a result, the development of the project has been able to continue without interruption despite all these difficulties," says Zbigniew Juroszek.
Room for a few more
According to Maciej Balabanow, the director of the Expansion Abroad Fund at PFR TFI, Polish construction companies and developers are certainly becoming more active in Germany. "Our fund is in talks with several companies, including developers and general contractors that are interested in entering Germany," he says. TFI helps to finance projects both at the land acquisition stage and during their development. For example, the director reveals that the fund helped finance the Pekabex factory acquisition that was previously mentioned (PFR TFI took a 24 pct stake and the rest went to Pekabex), as well as Atal's transaction. Nonetheless, Radosław T. Krochta believes that the real wave of Polish expansions in Germany has yet to begin. "When I talk to the CEOs of other companies, they ask me detailed questions about how we did it, I can see a lot of interest. I expect that in the next few years we'll be hearing more often about Polish companies being successful in Germany," he predicts.
There are already examples of such investments, but there could still be a lot more. Dariusz Grzeszczak believes that the barriers to entry are more mental than real and that companies should overcome their complexes, take the plunge, and enter tenders: "This is, after all, one of the big advantages of being a member of the EU. We can conquer the national markets of old Europe where everything is paid in euros. All you have to do is offer services tailored to their needs and listen carefully to your clients," he claims. Radosław T. Krochta agrees with this approach. "The Polish market is – in many sectors and not just in real estate – more competitive than in the West. In his view, "the only barrier is in our minds."
Over there
Polish construction companies have been active in Germany for many years. Those that are currently present there include Budimex, Mostostal Zabrze, Zakład Techniczno-Budowlany 'Polbau', Grupa Izolacje and Chemobudowa Kraków. Polish building material supplier Izodom is also worth a mention. In 2019 it took over its German distributor based in Düren in North Rhine-Westphalia, now been renamed Izodom Deutschland. The firm supplies technologically advanced products for passive and zero-energy homes as well as providing construction and development services.