Fuzja of man and machine
Technology
schedule 11 February 2020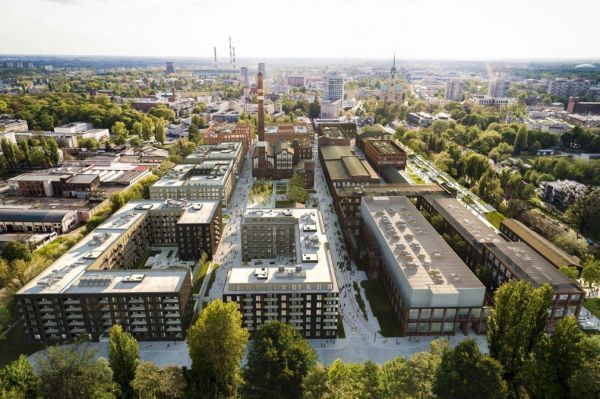 The apartments in Fuzja in Łódź will have hi-tech systems installed as standard
1 / 1
POLAND Echo Investment has unveiled the hi-tech systems that will feature in the apartments in its Fuzja project in Łódź. These are being installed in cooperation with such tech companies Samsung and ABB, among others.
What would it be like to live in such an apartment? you will have a fridge connected to the internet that will be able to order products by itself as the food runs out. And if your child has forgotten their key, you'll be able to use your smartphone to remotely let them in. Integrated sensors programmed to take into account the schedule of the residents will automatically maintain the ideal temperature and sunlight levels. Just by using an app you'll be able to book a table in a nearby café, shop in a local supermarket and locate the closest electric scooter to you. And morning coffee will be served to you in bed... by your robot.
"Each time we talk about creating attractive places or 'destinations', we mean those that provide a new, urban experience in which modern technology combines with classic construction. Humans and their needs are what are bringing this together," believes Waldemar Olbryk, a board member of Echo Investment. "We have responded to such needs in Fuzja by introducing smart technology to the apartments, along with modern systems and amenities close at hand, to the public space," adds Waldemar Olbryk.
"Our clients already manage their own money via a smartphone, which is why they easily take to remotely controlling the temperature, light and access to their apartment. They value mobility, which is why they want by-the-minute cars and bike rental. Because we want to follow these trends and provide the best solutions for cities and their inhabitants, we have to take on board many more variables and new trends than ten years ago. Gone are the days when developers acquired clients solely by offering a certain price or size of apartments," explains Dawid Wrona, the sales director of Echo Investment's residential department.
The evolution of the Internet of Things, which will soon be based on the 5G network, will be crucial for improving to the quality of life in the city.
"Unexpected guests? On the way home you can just instruct your robot to vacuum the apartment; you can also remotely check the contents of the fridge if supplies need replenishing or turn on the dishwasher while at work. We can already appreciate the convenience of using such devices connected into one ecosystem. And the big thing today is the Internet of Things. According to our research, the concept is only understood by around 25 pct of Poles," insists Tomasz Chomicki, the director of business development at Samsung.
"The future introduction of the 5G network will mean that up to a million different devices can be connected in this way in one square kilometre, involving automatic data transmission of between 1GB and 10GB per second. As a result, it will be possible to connect anything to the network: cars, trains, power plants as well as things we have at home – the fridge, the oven, the vacuum cleaner and other devices. The future based on connectivity promises a great deal. According to analysts, all this will come to pass within the next five years," adds Tomasz Chomicki.
Technological education and raising the awareness that technology can be a tool to create safe, efficient or energy-saving space in a city is still something of a challenge.
"Education can encourage consumers to make informed and more environmentally-friendly choices about their way of life and work," points out Przemysław Zakrzewski, the director of the corporate technology centre at ABB. "Providing sustainable mobility improves the air quality, reduces noise levels and guarantees greater energy savings, as do intelligent systems in buildings and residential estates. In the future, new systems – such as 5G, cloud computing and cooperating robots – will be used for the overall management of the entire residential estate, its security and energy efficiency," adds Przemysław Zakrzewski.
A survey carried out by JLL for Echo Investment clearly shows that Poles are ready to pay more for convenience, technological systems and urban services – every fifth person surveyed is more likely to buy an apartment in a residential estate where such services as scooter rental or car-sharing stops are available.
Fuzja's residents will have access to electric car chargers, smart mail boxes that can operated using a smartphone app, for car-sharing parking, bicycle racks and other amenities. The apartments will have built-in smart function management systems, so residents will be able to add new functions and apps without the need for a new installation or laying new cables. Lighting regulators and an automatic temperature control system will be installed in the two-room and larger apartments. All of these systems will be included in Fuzja as standard, without any additional charges.