Poland

Biuro Na Miarę - more comprehensive, across Poland

Material partner
schedule 22 December 2022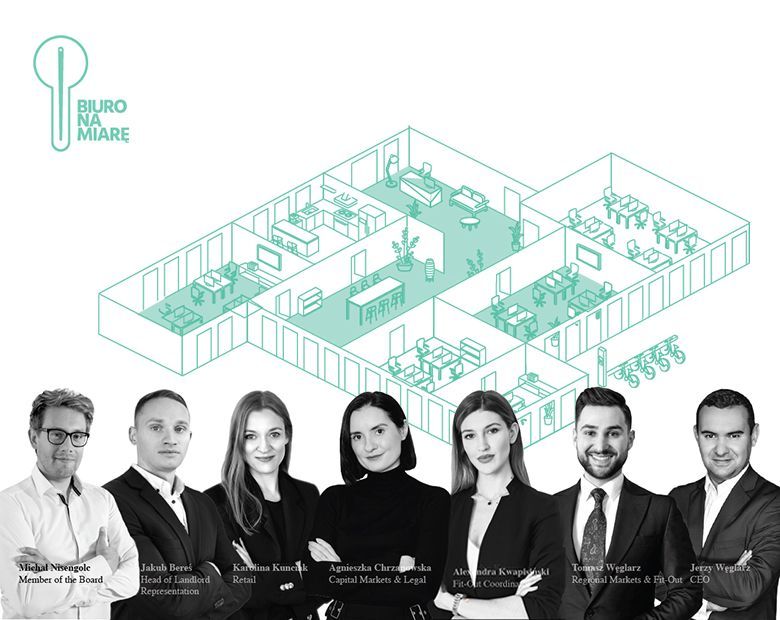 1 / 1
The company has been strengthening its position on the commercial real estate market as a specialist consultancy providing comprehensive tenant and landlord services.
"We have now been operating for seven years, since when we have built up a strong reputation and have become well known, but above all we have proven that we are effective. Everyday a company signs a deal supported by us," declares Michał Nisengolc, an associate and vice-president of Biuro Na Miarę, with some pride. Next to office leasing, we also provide fit-out services as well as retail, capital markets and legal advisory, as the company is also involved in lease contract negotiations and the sale of commercial real estate.
Poland-wide coverage with local professionals
"Our professionals are known for their initiative and their exceptional involvement in the services they provide to clients", claims Tomasz Węglarz, who for the last few years has been responsible for the expansion of Biuro Na Miarę's network across Poland's largest cities. "We are now able to serve any company across many cities without any loss of dynamism, because we have branches with people on the ground. The strengthening of our presence in regional cities represents the latest natural step in our development, which I intend to supervise over the years ahead of us, while at the same time broaden- ing the competencies of our superb team," he stresses. The markets we currently operate in are Warsaw, the TriCity, Poznań, Łódź, Wrocław, Katowice, Kraków, Rzeszów and Lublin. In 2022, we brokered lease transactions with a total value of more than PLN 100 mln.
Landlord representation based on results and trust
Due to our experience, we are able to lease office buildings of any class – even in the most difficult periods for the market. "We began our landlord representation services in the middle of the pandemic by representing the landlord of an office block in Warsaw's Praga district. Despite the unusual circumstances on the market, we were able to fully lease out the building," explains Jakub Bereś, the manager of the landlord representation department. We do this by identifying the unique advantages of each building and publicising them to the maximum possible extent by using the most effective promotional tools. Our young, dedicated team produces marketing materials in line with the latest standards, while our well-trained professionals effectively run the operational processes. Our agents have built a reputation for their availability, their responsiveness and their excellent knowledge of the buildings. "The key to the commercialisation process is being able to work together effectively with landlords, managers, architects and others," Jakub Bereś explains. This trust allows us to achieve measurable results, so it should come as no surprise that office owners often decide to employ us as the exclusive agent for their subsequent projects.
Flexibility for office owners
Our standard model is to supplement the landlord's services through the preparation, leasing and management of coworking space. Ready-made room layouts can be adapted using simple and effective solutions to breathe new life into the space. It is clear from the market that landlords increasingly want to have their own flexible space, but not all of them know how to set this up. Through working with landlords, we can commercialise a building in a traditional manner while also being able to apply a flexible space model.
Retail – a solution for the ground floors
For the landlords, we bring in verified tenants whose reliability and financial situation have been previously examined. We also try to thoroughly understand how the tenant operates his new business or creates a new one. Our clients include chains, governmental institutions and private businesses, while our landlords are usually funds and developers. We know when and how to bring both, very different sides of the transaction, together. In our opinion, to effectively fill a ground floor with new occupiers you have to clearly separate office tenants from services and retail. "We know the way to improve and speed up the leasing of the ground floor while minimising the risk to the landlord. First of all retail businesses require more understanding and individual attitude", emphasises Karolina Kunciak, a retail leasing specialist.
Fit-out – essential when leasing an office
As the prices of materials and finishing services rise, we will continue to look for alternative solutions for our landlords and tenants to allow the finishing work and fit-out budgets for their offices to be managed effectively. "Organising tenders, helping with choices and resolving conflicts are our bread and butter," reveals Alexandra Kwapisiński, the main coordinator in the fit-out department. By working hand-in-hand with brokers, we lead the process for our contractors to complete projects more quickly and effectively. We also currently buil
Capital markets – to sell or invest
During transactions, we bring together the two sides interested in an investment product based on the building's projected turnover and the land available on the real estate market. Our product portfolio also includes smaller, cosier properties with attractive rates of return, fully commercialised A-class office buildings and plots intended for PRS projects. Our transaction services are supplemented by legal consultancy as part of our legal package. "The services of an experienced lawyer not only help our clients to understand the intricacies of real estate law, but also and above all this supports them at each stage of the transaction and effectively leads to its final closure," points out Agnieszka Chrzanowska, a legal counsel at Biuro Na Miarę.
Our strengths – stable growth and people retention
What we are most proud about is the fact that most people recruited by our company tend to stay with us over the long term. We still employ people who joined us when the company was founded. They continue to improve their skills and acquire valuable experience on the way to becoming reputable experts. We value their individual skills and offer them attractive remuneration along with opportunities to develop further, and what they like is our non-corporate way of working. We are in a constant process of creation and demand a lot from ourselves. We use the latest technology and are quick to adapt to change. From the very beginning, our company has been both profitable and transparent. We have been growing at a rate of 20% each year and we already know that 2022 is going to be better than that. And that's what excites us the most!
Jerzy Węglarz
the CEO of Biuro Na Miarę